K. Lang-Slattery
Filed under: Authors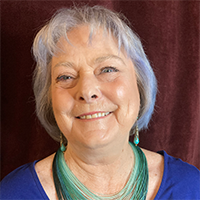 K. Lang-Slattery is a lifelong traveler. She has visited every continent except Antarctica and has had a valid passport since the age of sixteen.
Lang-Slattery's adult historical novel, Immigrant Soldier, The Story of a Ritchie Boy, has earned an Eric Hoffer award, a National Indie Excellence award, an IPPY award, and an Indie Bragg Medallion. Published in 2020, her travel memoir, Wherever the Road Leads, recounts two years living in a VW van and driving 40,000 miles across four continents in the 1970s. The book was awarded a Silver Medal from the Independent Book Publishers Association in the 2021 Travel category. She has been published in several highly rated magazines in the youth market and is the author of the children's early-reader chapter book series, Caitlin at Camp. The three books, Tagalong Caitlin, Caitlin's Buddy, and Caitlin's Party, are summer camp stories about friendship, outdoor activities, and goal-setting.
Lang-Slattery, whose friends call her Katie, lives in her childhood hometown near the Pacific Ocean in Southern California. Visit her blog, on Facebook, and on Instagram.
Website: https://www.klangslattery.com/
Contest Won: Tom Howard/John H. Reid Fiction & Essay Contest 2021, Honorable Mention