Mark Osaki
Filed under: Authors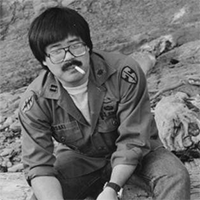 Mark S. Osaki was born in Sacramento, California. He attended the University of California, Berkeley as an Alumni Scholar and went on to do graduate work in International Relations and Security Studies.
His work has appeared in various journals and anthologies, including: The Georgia Review, Carrying the Darkness—The Poetry of the Vietnam War (Avon, Texas Tech University Press), South Carolina Review, Men of Our Time—An Anthology of Male Poetry in Contemporary America (University of Georgia Press), Breaking Silence—An Anthology of Contemporary Asian American Poets (Greenfield Review Press), Onset Review and Báo Giấy—Vietnamese Poetry.
He has received awards for his poetry from the Academy of American Poets, University of California at Berkeley, San Francisco Arts Commission, Seattle Arts Council, National Endowment for the Arts, and is a multiple Pushcart Prize nominee. He is active in domestic violence organizations and animal rescue shelters.
Website: http://amazon.com/author/markosaki
Contest Won: North Street Book Prize 2021, Honorable Mention