Michael H. Ward
Filed under: Authors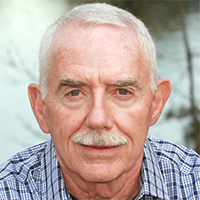 Michael H. Ward was born in Omaha, NE, in 1944, the sixth of eight children, to Irish-American parents. Financial resources in the family were limited but love was abundant. Michael attended the University of Nebraska at Omaha, where he received a BA and MA in English literature. After teaching college-level composition and literature for five years, he spent eight years as a test development specialist at Educational Testing Service. At the age of 34, Michael completed a training program in Transactional Analysis in New York City and moved to Boston where he practiced psychotherapy for thirty-five years, until his retirement in 2013.
Michael was active in the gay rights movement in the 1970s and in 1981 met Mark Halberstadt, who was diagnosed with AIDS in 1983 and died within a year. Thirty years later, in retirement, Michael responded to a personal need to integrate the impact of Mark's death and a social need to chronicle the early epidemic in Boston. The result is The Sea Is Quiet Tonight.
Michael was also instrumental in the development of The Shared Heart (William Morrow, 1997), which presents the portraits and coming out stories of 40 gay and lesbian teenagers. The Shared Heart won the American Library Association's Gay, Lesbian, and Bisexual Book Award in the nonfiction category in 1998. It was also on ALA's Best Books for Young Adults list in 1999.
Happily married, Michael lives on Cape Cod with his husband, Maurice Melchiono, and cat, Jack.
Website: https://www.theseaisquiettonight.com/
Contest Won: North Street Book Prize 2017, Honorable Mention