Sarah Totton
Filed under: Authors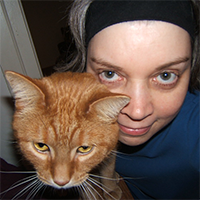 Sarah Totton is thrilled to receive her second honorable mention in the Wergle Flomp Humor Poetry Contest. She is a regular contributor to McSweeney's Internet Tendency and Points in Case. Her humor has also appeared in Slackjaw, Little Old Lady Comedy, and The Belladonna. She has twice received a dishonorable mention from the Bulwer-Lytton Fiction Contest (2008 and 2019) and once received an honorable mention in the Lyttle Lytton Contest. Her biggest comedic influences are David Renwick, Saki, and the monkeys she looked after when she worked as a zookeeper in England.
Her more serious short fiction has appeared in The New Quarterly, The Five Senses of Horror, and Nature: Futures, among other journals and anthologies, and is forthcoming in Event: Poetry and Prose. Her debut short story collection, Animythical Tales, was published in 2010 by Fantastic Books. This is the second time her poetry has received positive notice.
Sarah received a DVM from the Ontario Veterinary College and a doctorate in Epidemiology from the University of Guelph. Her thesis focused on the impact of a spay/neuter/rabies vaccination program on the health of stray dogs in Jodhpur, India. She works as a veterinary epidemiologist in the areas of animal health and food safety.
Website: http://www.sarahtotton.com/
Contest Won: Wergle Flomp Humor Poetry Contest 2019, Honorable Mention
Contest Won: Wergle Flomp Humor Poetry Contest 2021, Honorable Mention