Threa Almontaser
Filed under: Authors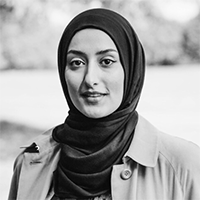 Threa Almontaser is an award-winning author and multimedia artist from New York. She holds a B.A. and M.F.A. in addition to a TESOL certification from North Carolina State University. She is an editor for Tinderbox Poetry Journal and a national board member in the American Association of Yemeni Students and Professionals, with a focus on promoting the creative arts. A judge for the Pen America Writing for Justice Fellowship and the Scholastic Arts and Writing Awards, she currently teaches English to immigrants and refugees in Raleigh and is the recipient of a Fulbright candidacy to Malaysia. Her debut poetry collection, The Wild Fox of Yemen, is a Rumpus Poetry book club selection, and has been listed as one of the most anticipated books of 2021. Selected by Harryette Mullen for the Walt Whitman Award from The Academy of American Poets, and chosen as a finalist for both the Tupelo Press Dorset Prize and the YesYes Books Pamet River Prize, Threa's poetry has gathered many accolades, some of which include the 2017 Unsilenced Grant for Muslim American Women Writers, the 2018 Brett Elizabeth Jenkins Poetry Prize, the Ninth Annual Nazim Hikmet Poetry Competition, and the 2019 Claire Keyes Poetry Award.
She is an Honorable Mention for the 2019 Elinor Benedict Poetry Prize, a semi-finalist for the 2019 Djanikian Scholars program, and shortlisted for the 2019 Fair Australia Prize in Poetry. She is also the recipient of scholarships and fellowships from the Civitella Ranieri Foundation in Italy, the National Endowment for the Arts, Tin House, Community of Writers, Idyllwild Arts, the Kerouac Project, the Vermont Studio Center, and the Fine Arts Work Center in Provincetown. Nominated and published for the Pushcart Prize, Best of the Net, Best New Poets, and Best Small Fictions, her poems can be found in The Nation, The Offing, Duende, Passages North, The American Poetry Review, The Rumpus, The Slow Down, Ambit Magazine, and elsewhere.
When not storytelling or coming up with conspiracy theories, she attends comic conventions, speaks on community engagement panels, trains her koi to do tricks, and keeps an eye out for pretty rocks. She believes writing should not only entertain, but provoke, and can be found most likely sitting hunched over her desk thinking obsessively about the placement of commas.
Website: https://www.threawrites.com/
Twitter: https://twitter.com/ThreaWrites
Contest Won: Tom Howard/Margaret Reid Poetry Contest 2020, Honorable Mention, Tom Howard