W.R. Rodriguez
Filed under: Authors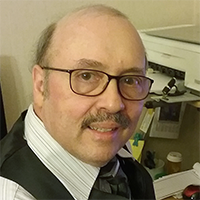 W.R. Rodriguez grew up in the South Bronx. He was blessed to have loving parents, and his neighborhood abounded with aunts, uncles, and cousins. When he was eleven, he began working in the family business: the shoe shine parlor that his family had owned since the Depression.
Rodriguez attended Fordham University where he found calculus and physics to be boring, so he declared himself an English major, and took several creative writing courses with Marguerite Young. He moved from The Bronx and earned a master's degree in English from the University of Wisconsin-Madison. He left the doctoral program and took a year off to write, though he is not sure he accomplished much during that time. After failing to procure employment as a taxi driver or Cadillac salesman, he returned to the university and obtained a teacher's license.
Rodriguez stumbled into a substitute job that became permanent. He taught English at James Madison Memorial High School for thirty-three years. He inserted creative writing into the curriculum, started an extracurricular writing club, and published thirty-one annual issues of Pressions, the school's literary magazine. He initiated the Youth Poetry Festival, which he coordinated for twenty-five years: a competition for high school students in which the winners read alongside the poet-judges.
Rodriguez wrote what he considers to be his first "good poem" in a laundromat on 184th Street while watching the family's wash tumble in the dryer. The poem recounts his Spanish and Italian ancestry, and mentions the shoe shine parlor where he worked "seven years...not speaking spanish or italian but laughing anyway / at the customers' dirty jokes." He proceeded to write narratives about people and events: the neighborhood's pretend policeman, the junkie who overdosed and returned to seek the money collected for his funeral, a cop clubbing a super who was sweeping up after a minor riot. These poems became the basis of the shoe shine parlor poems et al, which was published by Ghost Pony Press in 1984.
In pursuit of new ideas, Rodriguez began to research Bronx history. At the Wisconsin State Historical Society Library, he came upon a copy of The Bronx County Historical Society Journal, which eventually published three of his pieces. Each received the Halpern Memorial Award for best reminiscence article. He recently published them in a book titled The Bronx: Three Memoirs.
While teaching and raising a family, he continued to work on Bronx themes. His second book began to reflect the borough's history, with mentions of Jonas Bronck, Gouverneur Morris, Jordan Mott, and the Native Americans who lived in a land of pristine beauty. The manuscript had a couple of near misses with publishers, but did not see print for many years. In 2008, he decided to do his own book, and published concrete pastures of the beautiful bronx under the Zeugpress imprint.
Rodriguez retired from teaching in 2013, and was faced with the terrifying prospect of actually having time to write. He gathered up poems and incomplete drafts, searched his notes for ideas, and eventually began work on a third book of poetry about The Bronx. An early version was published on Smashwords in the fall of 2016. He spent several months revising and editing. In early 2017, the print edition of from the banks of brook avenue was completed, and the electronic edition was republished.
His website includes the text and audio recordings of the shoe shine parlor poems et al and of concrete pastures of the beautiful bronx. He hopes to include text and audio of from the banks of brook avenue in the near future. Rodriguez calls his work The Bronx Trilogy: Three Books of Poetry about The Bronx and Its Environs, and has issued an e-publication that includes all three books.
If Rodriguez has not completely left The Bronx, he has not completely left teaching either. He recently e-published From the Banks of Brook Avenue: An Annotated Edition. The book's purpose is to give the reader an understanding of the creative process: the text of the original edition is included, along with commentary on the people, places, and events that inspired each of the poems. The Appendix offers a look at the task of revision, and, whenever possible, includes an earlier draft of each poem. Find his ebooks at Smashwords or email him at wrrodriguez@tds.net with the subject line "FBBA" for a print edition of From the Banks of Brook Avenue.
As for self-publishing, Rodriguez has found it to be a rewarding experience: "A book is a work of art, and a self-publisher can have complete control! When you are ready, give it a try!"
Website: http://www.wrrodriguez.com
Contest Won: North Street Book Prize 2018, First Prize