In the Pink Arms of the City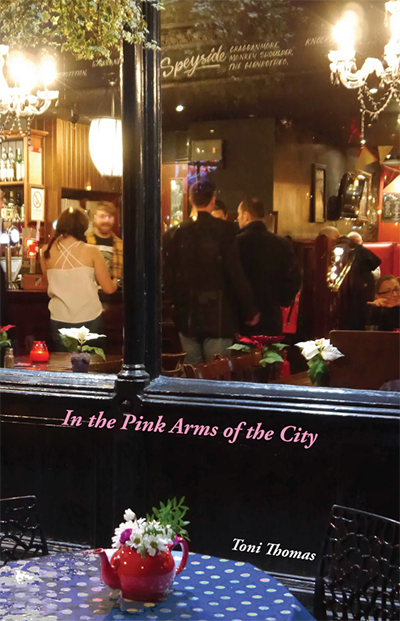 Critique by Ellen LaFleche
Let me begin by noting that Toni Thomas's poetry collection In the Pink Arms of the City wins my unofficial award for most aesthetically pleasing book. Each section opens with pencil sketches by Peter Wadsworth that reinforce the book's themes. The cover photo, taken by Thomas herself, features a busy pub scene. The lively images of pub-goers contrast with the bottom half of the photo: a red teapot filled with wildflowers on a blue and white tablecloth. Like the sketches, this cover is an apt visual representation of the poems inside. Even the book's paper is appealing, with an off-white shade and a smooth softness that makes the book a pleasure to hold. I am pleased to come across an entrant who took the time to pay close attention to these small details; after all, part of the skill of self-publishing is making design choices that not only invite the reader to look inside but enhance the book's contents.
Thomas is a very skilled poet. Her poems are filled with original metaphors and word choices that add layers of meaning to a line or stanza. She has a poetic voice of her own, a quality much appreciated during judging.
I'm especially impressed with her ability to write lists of ordinary objects that may at first glance seem mundane, but that emerge, as the poem progresses, as poignant commentary on her themes of homelessness, hunger, and working-class concerns.
The first poem opens with a list of wealthy pleasures:
bright tabled cafes, lit houses
Persian rugs, grilled sea bass, Argentine reds
Without using verbs in these lines, the poet conveys a scene of wealth, comfort, gourmet food and wine. Someone offstage— a hidden waiter, cook, servant—is performing the actions/verbs.
The next part of the stanza, also a list, shows us the mundane and sometimes exhausting activities of a less privileged family:
someone in a flat deals cards
brews tea, folds laundry
reaches for the story of the three bears
a boy plays with his dog.
In this list, the use of verbs signals that the occupant of this flat ("someone") is performing the activities of daily living. There are no waiters bringing coffee, no cooks serving sea bass or pouring wine.
I appreciate the poet's commitment to writing about social justice. As my co-judge Jendi Reiter commented, "People who've experienced homelessness are not represented enough as writers, because of shame and financial barriers to publishing. It was good to get that perspective. Mundane lists of foods and objects become meaningful, not trivial, to include in a poem by someone who has food insecurity."
My favorite poem is "Even when the river ran clear", a short and powerful poem about working in textile mills, a job that both my parents held when I was growing up. The final stanza was especially powerful and resonated with the adult conversations I'd heard as a child.
They say over the course of years
Helen R. wove a record 1,365 sweaters
for a mill up in Slaithwaite
before the arthritis claimed her.
Both Jendi and I felt that the poems were unnecessarily challenging at times because of unorthodox comma placement and line arrangements. Jendi commented: "It was often hard to tell if a line was meant to be enjambed or a new thought. Why did the poet leave out commas randomly at the ends of some lines but not others?" These are small complaints when taken in the context of poems with such a strong individual voice, startlingly strong imagery, and commitment to social issues. I congratulate Toni Thomas for her courage and commitment to writing about hunger, mill work, abuse, and classism.
Read excerpts from In the Pink Arms of the City (PDF)
Buy this book at Annalese Press