Inheriting Our Names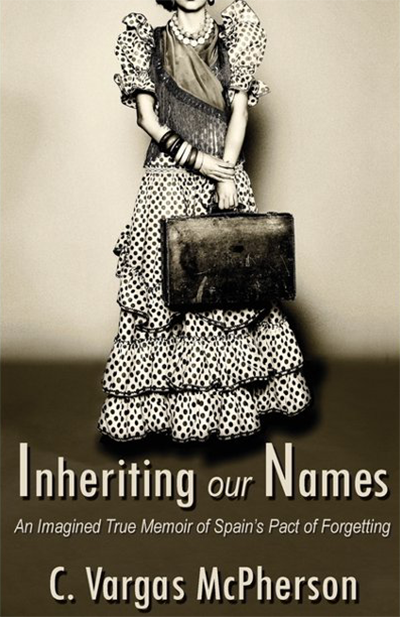 Critique by Jendi Reiter
Inheriting Our Names, C. Vargas McPherson's lyrical account of the Spanish Civil War's impact on her family, is subtitled "An imagined true memoir of Spain's pact of forgetting." This paradoxical description expresses the dual consciousness of living with traumatic memories that one's society refuses to acknowledge. These fraught political silences are paralleled by personal bereavements that disrupt mother-daughter bonding for two generations.
"I was born on the only day God is dead." With this striking, poetic first sentence, Vargas McPherson signals that Inheriting Our Names will be a story of tragedy and the mystical interpenetration of the spiritual and factual realms. Building on scraps of family history, she reconstructs the emotional truth of her grandparents' life in Sevilla during General Franco's fascist takeover in the 1930s.
The Virgin de la Esperanza Macarena, a locally venerated figure of the Virgin Mary as Our Lady of Sorrows, appears as a character in the narrative, holding heartfelt conversations with the author's grandmother Aurora as she struggles with starvation, despair, and the death of her young daughter. This grassroots, woman-to-woman devotion stands in sharp relief to the corruption of the Catholic clergy, who collaborate with Franco because he promises a return to "traditional values". (Sound familiar?) Aided by Hitler and Mussolini, the right-wing coup is able to overthrow the elected socialist government. The author's grandfather, an ironworker and leftist activist, then faces the terrible choice to let his family starve, or craft luxuries for the Church. His covert act of resistance, revealed at the end, provides a ray of hope in this grim tale.
Aurora's loss of her child Esperanza makes her unable to bond with her next daughter, Dolores, the author's mother. With an eerie symmetry, Dolores and her American husband dote on their first daughter, who becomes developmentally disabled from a childhood illness. The pattern repeats itself, as Vargas McPherson relates how she lived in the shadow of her mother's lost dreams for her older sister.
On both the political and the personal level, then, Inheriting Our Names underscores the importance of remembering history so we will not repeat it. The Spanish Civil War is given scant attention in classrooms and historical dramas, as the Nazis tend to steal the spotlight. Yet through this book I discovered chilling similarities to our current situation in America, where reactionary religion and foreign authoritarian governments also collaborated to put a demagogue in power.
There's also an analogy to our fraught debates about how—or even whether—to teach painful truths about racism and colonization. Vargas McPherson notes that in 1977, two years after Franco died, Spain passed the Law of Amnesty, which limited what could be written or spoken about the atrocities of his government. "While those who fought for the nationalist cause were glorified by Franco's regime and the Roman Catholic Church, the bodies of those who opposed Franco are buried in countless unmarked shallow graves all over Spain." In 2007, the country enacted the Law of Historical Memory, which finally acknowledged and condemned the Nationalists' violence, gave descendants the right to look for the victims' remains, and established a Truth Commission. Inheriting Our Names is part of that opening-up project.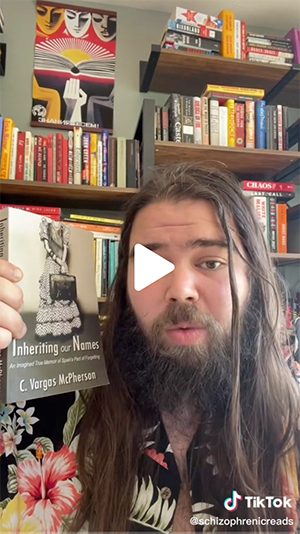 In terms of pacing, this memoir was taut and well-balanced between past and present storylines. The author kept the focus on her grandparents' story, where the most dramatic events took place, and wove in her personal memories and present-day experiences in small amounts as needed to depict the long aftermath of historical trauma. Dates were mentioned smoothly throughout the narrative so that the reader could usually tell what year it was and how much time had passed.
Gorgeous writing, with recurring motifs and images to structure the story, elevated this book to Grand Prize material. First-round judge Annie Mydla said, "The focus on parentage and ancestry feels very Gothic, and the inclusion of Gothic visual elements supports that material quite well. It's all very delicate, like a stained-glass window—it's amazing to find so much lightness in a story about decades of brutality and trauma."
The print book was well-designed, with no noticeable errors, an elegant sepia-toned cover image, and good binding. This impeccably crafted memoir could have been published by a major press. We hope that its lessons become more widely known.
Read an excerpt from Inheriting Our Names (PDF)
Buy this book on Amazon
We commissioned a one-minute Nathan Shuherk #BookTok review of Inheriting Our Names. Enjoy!