Lentils in Black Rice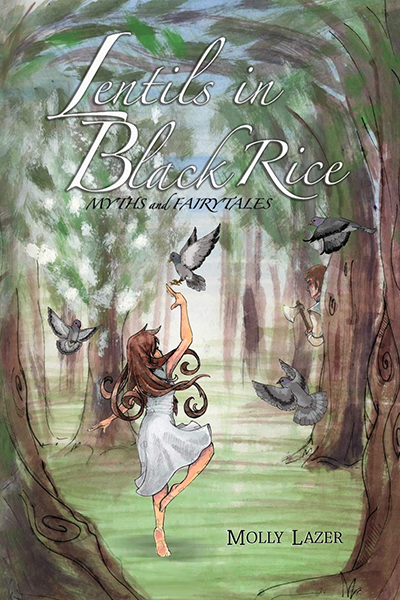 Critique by Ellen LaFleche
Fairy tales and myths have survived across time and culture, and constitute a rich repository of archetypes. Fairy tale "retellings" abound in poetry and fiction these days; they often provide a modern backdrop as well as surprise plot twists and psychological commentary on current social and political problems.
Molly Lazer's collection Lentils in Black Rice is fairy tale retelling at its absolute best. Each of the eleven short stories in this slim volume is psychologically layered and written in a style that is satisfying on both lyric and narrative levels. The best stories here are "mash-ups" in which the writer melds two myths or fairy tales in creative and strangely satisfying ways. Imagine the Pied Piper appearing in the bedroom of Snow White's wicked stepmother! Think of "The Giving Tree" as a character in the myth of Apollo and Daphne. Jendi's favorite was a reinterpretation of Bluebeard that earns its happy ending without romanticizing a villain.
An added bonus is the writer's strong social awareness and ability to forge fresh insights into the characters and to thrill the reader with plots that twist, turn, and amaze. I especially appreciate her knowledge of mythology. A helpful bibliography (under "Sources and Inspiration") at the end of the book provides resources for readers who had their appetites for mythology and fairy tales whetted.
A sample of Lazer's exquisite writing style:
"Her beauty plagued her. [Helen] cut off her hair after her abduction by Theseus, sliced the strands with a kitchen knife. When she woke the next day, locks licked unheeded at her shoulders. Five and forty suitors arrived, and she carved five and forty slashes into her skin. As each suitor kissed her hand, her flesh knit together until it was virgin, untouched."
The judges had a few concerns. As Jendi noted, "Not all the stories are equally substantial. The first two are over too quickly. Some clever themes could have benefitted from being expanded upon." I agree with Jendi's assessment. In our opinion, the first two stories were the weakest; this was a common problem in many of the short story collections we saw this year. We are not sure why we saw so many examples of this issue this year, but a content or developmental editor can be helpful.
There are very few typographical errors in the book and the cover is aesthetically pleasing. The binding is just right; type could be a bit larger for readability. The book contains 95 pages. Although I would have enjoyed reading a few more pages, I felt sated at the end, and was delighted to have the stories remain in my mind like memories of favorite delicacies. A number of the stories in this book were initially published in literary journals, and I look forward to reading more of Lazer's work in journals and her future books.
Read an excerpt from Lentils in Black Rice (PDF)
Buy Lentils in Black Rice on Amazon