Margo Barnes
Filed under: Authors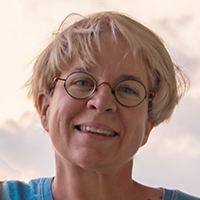 Margo Barnes graduated from Purdue University with a Bachelor's Degree in French Literature. Bored with her study of the French philosophers of the Seventeenth Century, she redirected her attentions to the more interesting and lucrative fields of corporate public affairs. Her most recent position was as senior vice president of the pharmaceutical and chemical giant Bayer Corporation.
After 25 years, she walked away from her academic career and everything and everyone familiar to her and moved to Tucson, Arizona, where the beauty and serenity of the high desert, its hot, dry climate and endless sunshine, sustained and enchanted her. In this environment, she has found endless inspiration, and she now writes and paints full time.
She writes primarily personal essays, memoir and the occasional short piece. Her work has been awarded the Mathiesen Award for Nonfiction (University of Arizona School of Medicine), and published in Ireland's Fish Anthology; Goddard College's Clockhouse Review; the University of Wyoming's Owen Wister Review; the virtual reality project Eleven Eleven; and the national mental health project Awakenings. She has been a finalist in the Tucson Festival of Books. Her short piece, Falling, has been widely published and purchased for use in a university creative writing course with a circulation of 40,000. She is completing her first memoir, A Gift From My Father: My Family's Life-and-Death Battle with Manic Depression.
Website: https://margobarnes.com/
Contest Won: Tom Howard/John H. Reid Fiction & Essay Contest 2019, First Prize