Petula Caesar
Filed under: Authors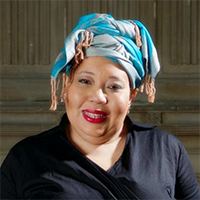 Born in Paterson, New Jersey, Petula has resided in Baltimore, Maryland since she was a teenager. "I am glad to be from both Paterson and Baltimore. Growing up in Paterson made me physically tough. I spent my days climbing over rocks, running down hard asphalt streets. Concrete is everywhere. The texture of the city itself where I lived was rough. Living in Baltimore made me psychologically tough. Mental toughness is important to have in a place where it is easy to get swept up in a current of bad decisions. Baltimore is a city that was an active part of the slave trade, and I genuinely believe the collective anguish of the stolen Africans who landed here still festers here. Baltimore has a lot of Southern influences and a certain kind of hospitality for those willing to get past the hard, gritty exterior. It gives my cynical nature a kind of charm and grace and humor it wouldn't have otherwise."
Petula also considers West Virginia, McDowell County specifically, as ancestral homeland. "All of my family on both sides came through those coal mining towns all around the Pocahontas Coal Company—Jenkinjones, Anawalt, Pageton, O'Toole, Welch. I spent summers in West Virginia when I was a child, learning to see beauty and be close to the Creator without interference. All the strength I possess is deeply rooted in the soil of Jenkinjones, West Virginia."
Petula's parents feared she would become a "starving artist," so they steered her down practical career paths. Attempting to abide by their wishes, Petula began her adult life as a fundraising professional, working at institutions of higher learning and nonprofits. But ultimately Petula has spent just as much of her adult life as a creative. Petula got her professional start as an author when she was published in New York Times bestselling author Zane's erotica anthology Caramel Flava. A penchant for short stories and storytelling in general led to audio recordings and performances as an erotic performance poet up and down the East Coast. Petula branched out into freelance writing as a reporter and essayist, and she has been a contributing writer for Baltimore's former alternative weekly City Paper, The Afro-American Newspapers, and Baltimore Magazine, and has been senior writer and editor for Mic Life Magazine and Speakerbox Magazine.
Petula greatly enjoys being silly with friends, food, tequila, dancing and music, especially live music. In addition to writing, Petula owns/operates a small event production company. Petula has two adult children, a daughter in college majoring in history, and a son on the autism spectrum who loves video games and anime. And both are writers like their mom. Her memoir She's Such a Bright Girl: An American Story is available on Amazon.
Contest Won: North Street Book Prize 2018, Honorable Mention