Rachael A.Z. Mutabingwa
Filed under: Authors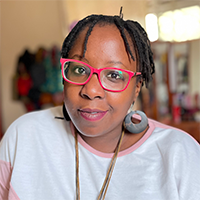 A guru I follow once said that if you want to live a fulfilling existence, you must invest what little life you have in doing the things you are passionate about, doing the things you love. Very early on in life, I learned that the thing which gave me immeasurable joy was telling stories: Scribbling them down, narrating them, gesturing them, dreaming of them. Believe me, if I could draw them, I would have done that too. Being the last of five children gave me tons of time to talk to myself and add textures and colors to the most mundane activities. Thus, I was pretty convinced that the cups and plates in our kitchen had personalities in my early childhood. I was also continually following my mother in and out of rooms, rattling off about the most random topics and weaving entire narratives around my version of reality. It's no surprise that my older sister's secret lives were rich fodder for my tales. Who kissed which boy at the gate? Who was fighting with who? There were stories all around me begging to be told, and in my innocence and stubbornness, I was happy to do the telling. May this serve as an apology to my patient and resilient sisters for my shenanigans and loose lips. I love you guys!
Looking back, I think telling stories was my way of articulating my understanding of reality and my place in the world. I made up stories about what life must have been like in my mother's womb or what it would feel like to fall in love with the boy next door. (Fun fact, I married the boy next door.) I especially loved watching people's faces as they listened; how they looked transported and sufficiently distracted from the business of the waking world. I loved it, and I lived for it! While I managed to "pass" as a serious student for most of my school years, the thing I looked forward to was the end of every school day. I would fix myself in the most comfortable spot of the schoolyard and captivate my friends (or anyone who was stuck with me) with a story I was conjuring up in real-time. I could tell you word for word what some of those stories were about, but God help us all if the fate of humanity hinges upon my grasp of Civil Procedure—a course I performed relatively well in during Law School.
The obstacles (to me) sprung up as I grew older and became unnervingly aware of how differently I perceived things such as sex, love and spirituality. The status quo demanded that I perform the role of a well brought up Ugandan Christian girl who went to school, got married, got babies and was happy about it. But I had questions about all these things I was naturally supposed to do and be. I didn't understand why we couldn't express ourselves freely. Why our thoughts on death, sex and Jesus were to be silenced in the name of propriety and culture. Because for me, my stories were my way of filtering life. And if I couldn't filter life (out-loud), I would have to focus on the role I was to perform and pursue the things I was supposed to pursue, all the while hoping that fulfillment was a childish concept best left in the schoolyard.
By my thirtieth year, I was done with school, I was a certified lawyer, I was married to my best friend and I was a mother. Forgive the cliché, but there was something missing. I felt like I had hidden the truest part of me and if I didn't finally sit down to write my stories, I would die. Literally, I imagined that the universe would tire of me and send me off to my next life or in the very least, one day I would open my mouth to tell a story and my voice would be gone or something. At this point, my husband took it upon himself to dare me to move. When I casually said I'd be writing a book soon, he announced on Facebook (of all places) that I would have a book out by the end of the year. That was June 2018. Honestly, I internalized that "dare" as the narrator of my life giving me an infinite blank page to write to my heart's content.
With that "good" pressure applied, the words of my first novel, Adavera, poured out of me like a flood bursting out of a dam. And of course, I named it Adavera, that was one of my nicknames as a child. As I wrote it, I drew from many places and people in my world. Adavera might be a fictional island but in many ways, it resembles all the different versions of me and the different faces of my country, Uganda. There are words our vernaculars share, feelings we all brew, and demons we all fight.
After Adavera was published at the end of 2018, Kunda came rushing through on the heels of her predecessor in 2019. Kunda, which is a variation of my maiden name, Atukunda, means Love. So you can imagine how much I loved writing a book called love. It was like digging deeper into myself and slowly unraveling what love means to me. It's a book about truth and sacrifice and about embracing all of who you are, even if the people you love the most don't understand. Having Kunda gain this level of recognition is all the validation the little girl on the schoolyard could ask for. Now, I know for sure that there is room in the world for my voice, my stories and my perception of reality. The icing on the cake is that I also help other writers tell their own stories through my editing work at Zaaz Press, an independent writing and editing consultancy based in Kampala, Uganda. Our goal as editors and advisors is to create a space for budding storytellers, regardless of age and gender, to feel supported as they journey into themselves to find fulfillment in their own existence. A thing I happen to be passionate about.
You can follow me on Facebook, Instagram, and Twitter.
Website: https://www.facebook.com/razmutabingwa/
Twitter: https://twitter.com/razmutabingwa?lang=en
Winning Entry: Kunda
Contest Won: North Street Book Prize 2020, First Prize