Ryan Poirier
Filed under: Authors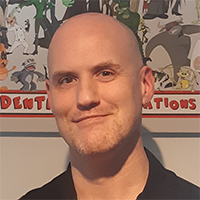 A lifelong passion (obsession) for drawing and writing stories led me down the path of being an entrepreneur artist and author. I graduated college with a degree in multimedia design and went on to work for different television and media companies. However, I was only finding contract work versus something more stable and I still felt I wanted to tell my own stories, rather than work on someone else's. I left the media field to get a more stable career to meet my needs at the time and went into the IT field, where I still am today.
A few years were then spent developing my stories, their characters, and universes. I wrote 7 different graphic novel series, between drawn comic form or just a script. All these projects and anything else I develop is what I call my "Accidental Creations—Accidents waiting to happen!"
Between 2017 and 2021, I published a series of 4 books based on one of my many stories, The Herd. These books are 4 parts to an entire 500-page volume (1) of an ongoing series I have planned out. After completing The Herd, I went on to my next project: Farm Freaks. This 7-book project will be my focus in 2022. The first 2 books of this saga are now available in print.
Currently, I live out in Bowmanville, Ontario with my wife and our two beautiful daughters. I am still working in the IT field as a Global Systems Operator while continuing to develop projects with my Accidental Creations. Visit my Amazon author page.
Website: http://www.accidentalcreations.ca
Twitter: https://twitter.com/RPoirier_Author
Contest Won: North Street Book Prize 2021, First Prize