Omaha Perez
Filed under: Authors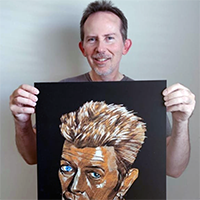 Yes, Omaha is my actual given name; I was named for the tribe of Native Americans. Over the last 25 years, I've created comic books, illustrations, and graphics for DVDs, TV shows, movies, newspapers, books, magazines, and video games. Among other jobs, I have been a staff artist for Disney Interactive and DreamWorks Interactive. My artwork has been recognized by the Society of Illustrators New York, the Society of Illustrators Los Angeles, and the Spectrum and 3x3 Illustration Annuals.
My original Graphic Novels include Bodhisattva v1: Instant Karma (Writer/Artist), Holmes v1: Haydn's Head (W/A), The Drude v1 (W/A), Super Terre.r (W), and The Drude v2: Lost Angeles (W). New titles in production include Holmes: Voodou (W), Super Terre.r 2: In-A-Gadda-Da-Vida (W), Holmes v2: Holmes Vs. Holmes (W/A), and Bodhisattva v2: Shiva The Destroyer (W/A).
Visit my website and join my mailing list for news on my newly revised and colored Bodhisattva v1: Instant Karma.
Website: https://www.omahaperez.com/
Twitter: https://twitter.com/OmahaPerez
Contest Won: North Street Book Prize 2020, Honorable Mention