Rick Lupert
Filed under: Authors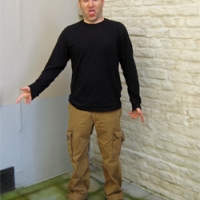 Rick Lupert has been involved in the Los Angeles poetry community since 1990. He served for two years as a co-director of the Valley Contemporary Poets, a nonprofit organization which produces readings and publications out of the San Fernando Valley. His poetry has appeared in numerous magazines and literary journals, including The Los Angeles Times, Rattle, Chiron Review, Zuzu's Petals, Caffeine Magazine, Blue Satellite and others. He edited A Poet's Haggadah: Passover through the Eyes of Poets anthology and is the author of thirteen books: Sinzibuckwud!, We Put Things In Our Mouths, Paris: It's The Cheese, I Am My Own Orange County, Mowing Fargo, I'm a Jew. Are You?, Feeding Holy Cats, Stolen Mummies, I'd Like to Bake Your Goods, A Man With No Teeth Serves Us Breakfast (Ain't Got No Press), Lizard King of the Laundromat, Brendan Constantine is My Kind of Town (Inevitable Press), and Up Liberty's Skirt (Cassowary Press). He has hosted the long-running Cobalt Café reading series in Canoga Park since 1994 and is regularly featured at venues throughout Southern California.

Rick created and maintains Poetry Super Highway, an Internet resource and weekly publication for poets.

Currently Rick works as a music teacher at synagogues in Southern California and as a graphic and web designer for anyone who would like to help pay his mortgage.
Contest Won: Wergle Flomp Humor Poetry Contest 2002, First Prize
Contest Won: Wergle Flomp Humor Poetry Contest 2007, Honorable Mention
Contest Won: Wergle Flomp Humor Poetry Contest 2008, Honorable Mention
Contest Won: Wergle Flomp Humor Poetry Contest 2011, Finalist