DECEMBER Magazine: Marvin Bell Memorial Poetry Prize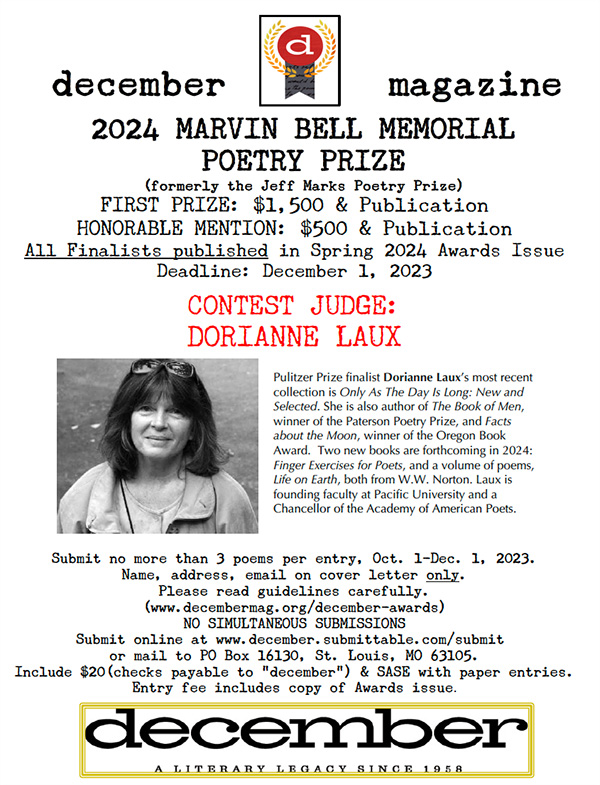 Atmosphere Press: The Publishing Potential Quiz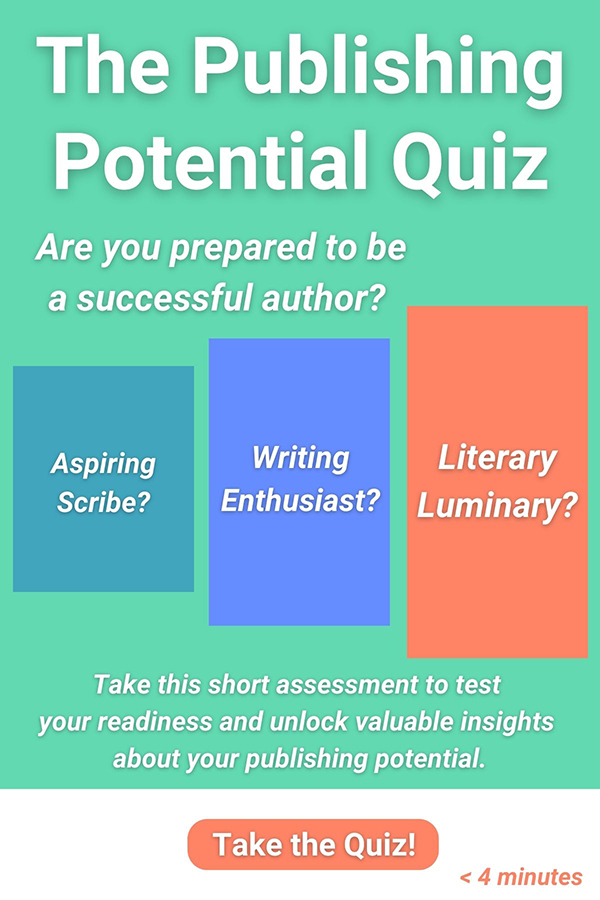 Have you ever wondered whether your manuscript is ready for the next step? And if it is, what that next step could be?
This short (and fun!) ten-question assessment about your manuscript and timeline will help clarify your choices about cover design, editorial assistance, and marketing. Completing this quiz will reward you with actionable advice, all of it based specifically on your quiz answers. Then you can go forward with confidence!
Take the Publishing Potential Quiz today!
Black Spring Press: Best Opening for a Crime/Thriller Novel Prize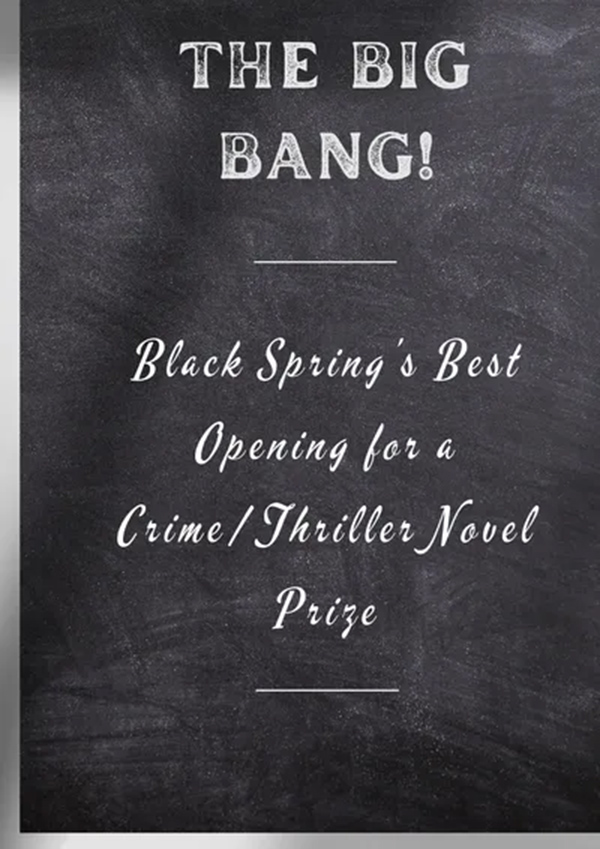 Deadline: December 7, 2023
The Black Spring Crime Series is delighted to announce that the inaugural judge for its new crime-mystery prize will be Lee Child—world-famous, best-selling author of the Jack Reacher series, whose books have sold over 100 million copies.
The competition—The Big Bang! Black Spring's Best Opening for a Crime/Thriller Novel Prize—is open to anyone worldwide 18 or over who wants to write in the English language and has an interest in crime, thriller, or mystery novels.
We are looking for the best 50-200 words of an 'opening' for a crime-mystery-thriller. The work must be unpublished (including online), original to the author, and ideally written for this prize. It need not be connected to a completed book. Indeed, we very much hope the prize encourages people to start a novel with this first page—and maybe go on to complete it.
Writers can enter as many times as they want. The winner will receive £200, an hour-long online mentoring session with leading crime writer Luca Veste, and be offered a publishing contract should they decide to complete the novel. Entry fee: £10.
Moment Magazine-Karma Foundation Short Fiction Contest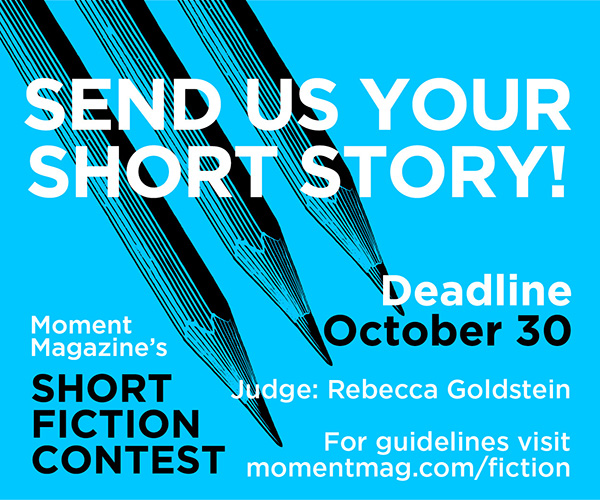 Deadline: October 30, 2023
The Moment Magazine-Karma Foundation Short Fiction Contest encourages writers to submit stories related to Judaism or Jewish culture or history.
Established in 2000, this contest has brought in distinguished judges and special guests including Joyce Carol Oates, Robert Pinsky, Walter Mosley, Nicole Krauss, Erica Jong, Jonathan Safran Foer, Geraldine Brooks, Andre Aciman and Dara Horn. This year's judge is Rebecca Goldstein.
The contest is now accepting submissions for the 2023 contest. For each entry, submit an original, unpublished short story—maximum length 5,000 words— with Jewish themes. Entry fee: $25. Moment will award up to three prizes, including $1,000 for first place.
"Winning the contest, and being treated so kindly by everyone from Moment, was as magical an experience as I've had. And to appear on the same bill as Andre Aciman, Debra Granik, and Joan Leegant—what a thrill! That Moment and the Karma Foundation, in the face of ever-dwindling interest in fiction—nay, in reading—continue to sponsor the Short Fiction Contest is a testament to those institutions' enduring belief in the written word, and I'm over the moon to have been recognized by two organizations so vital to Jewish culture (and culture, period)." —Jed Cohen, 2018 contest winner
Rockvale Writers' Colony: The First TEN Pages Fellowship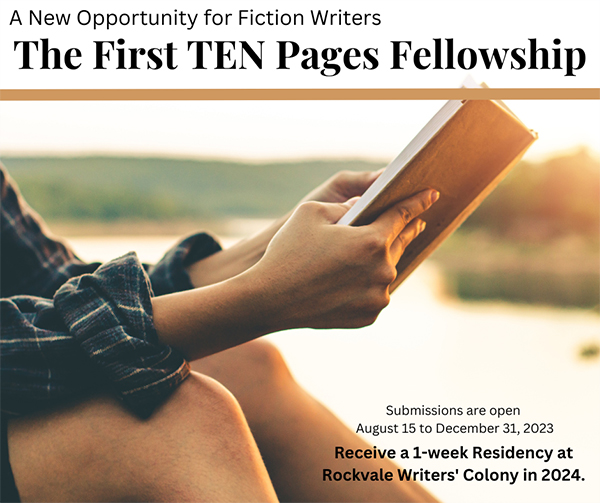 Deadline: December 31, 2023. Rockvale Writers' Colony in College Grove, TN offers a fellowship to writers of fiction. Rockvale exists to support, promote, and educate writers of all backgrounds who write in any genre. We provide a safe, comfortable, and inspiring environment where resident writers can work on a writing project.
The Writing
Writers may submit the first ten pages of an unpublished novella or novel. The work will be evaluated for movement and action, tone, theme, introduction of characters, description of the setting, the voice of the narrator, the introduction of conflict, the inciting incident, and originality. We want to be enticed to continue reading.
The work will be read "blind". Do not put your name on your writing sample or in the title of the file.

The Application
The application fee is $25.
The application requires a paragraph detailing how the fellowship would aid the writer.
The uploaded 10 pages should be presented in one document, either pdf, doc, or docx. It should also be in 12-point font and double-spaced.
The recipient of the fellowship will be announced by the end of January 2024.

The Prize
The recipient of this fellowship will receive a one-week writer's residency at Rockvale Writers' Colony. The residency must be completed by December 31, 2024.
A small stipend of $100 will be given to the fellowship recipient upon arrival at the colony to compensate for travel and food. Expenses beyond $100 are the responsibility of the writer.
Click for your fellowship application. Questions? Please email Sandy at sandy.rockvale@gmail.com.
Next Generation Short Story Awards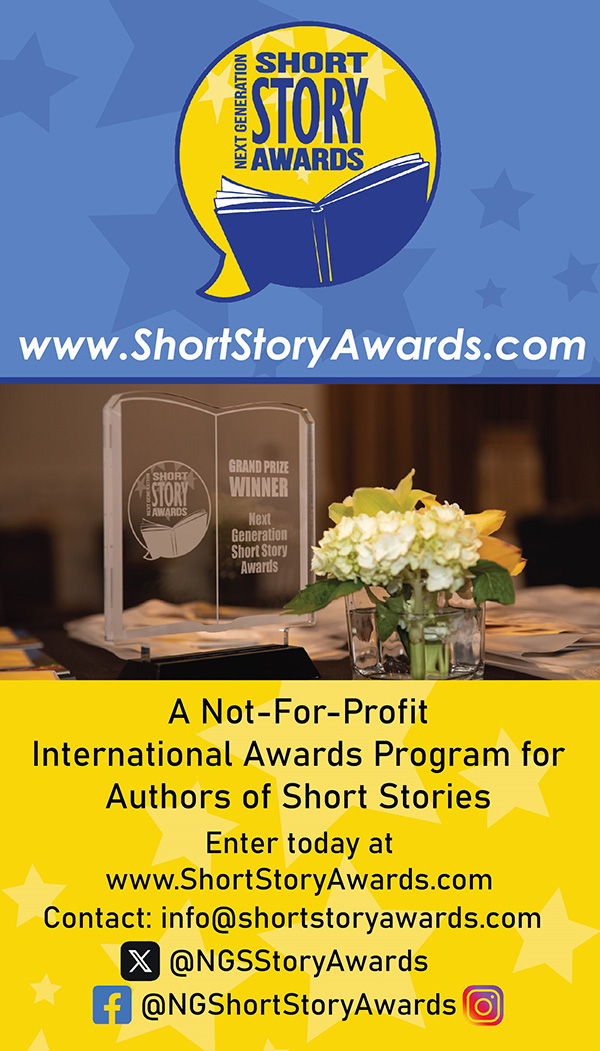 Deadline: February 28, 2024
Entries are now being accepted for the 2024 Next Generation Short Story Awards, a new and exciting awards program celebrating authors worldwide who have written a short story in English. The Next Generation Short Story Awards is a not-for-profit awards program brought to you by the Next Generation Indie Book Awards, the largest international book awards program in the world for independent and self-published authors.
There are 25+ categories to choose from, so take advantage of this exciting opportunity to have your story considered for cash prizes, awards, exposure, and recognition as one of the top stories of the year! Winners will have their story published in the annual Anthology. Enter today at www.ShortStoryAwards.com.
Happy Harper: Grandpa Comes Home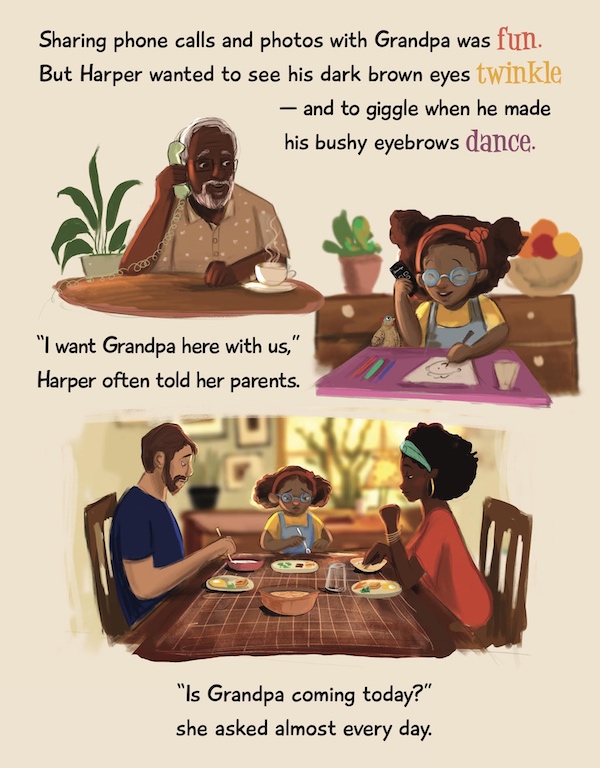 First Prize, Children's Picture Book, 2022 North Street Book Prize
Dive into Brooklyn's bustling streets with the Happy Harper series! Meet Happy Harper, a vivacious Haitian-American girl with boundless curiosity, a heart as vast as the city itself, and an endearing wish for a pet chicken. In the first heartwarming tale, excitement bubbles as Harper prepares for a special arrival—her beloved grandfather, all the way from Haiti! Vibrant illustrations sweep readers into a tale that bridges miles and melts hearts. Grandpa Comes Home isn't just a story—it's an experience that resonates across generations. Tailored for ages 6-8, but a delight for all. Add this timeless treasure to your child's shelf today!
North Street Book Prize judge Jendi Reiter writes,
There was so much to appreciate about this book, from the genuine New York feel of her illustrated neighborhood, to the storyline that was tightly structured and perfectly pitched to the concerns of this age group. My co-judge Ellen LaFleche said, "I love that Grandpa is in a wheelchair but it's not made into a big deal—so much dignity." Screener Annie Mydla observed, "The book will stir feelings of joy in readers who remember the magic of having loving grandparents, or being a loving grandparent." Stories that appeal to the adults as well as the kids in the family are a guaranteed re-read.
Read an excerpt from Happy Harper: Grandpa Comes Home (PDF)
The Desert Rat Poetry Prize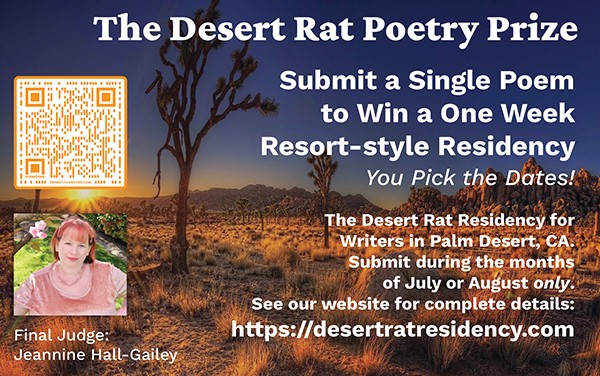 Submit a Single Poem for a Nine-Day Residency in the Sunshine by the Pool
Deadline: August 31, 2023
Submit one poem with a $20 entry fee during July and August. The judging process is anonymous. Our final judge for 2023 is Jeannine Hall-Gailey, author of Flare, Corona (BOA, 2023). Questions? Please email jeffwalt@rocketmail.com. We'll announce the winner on Facebook on October 1.
Atmosphere Press: Free Webinar on Book Publicity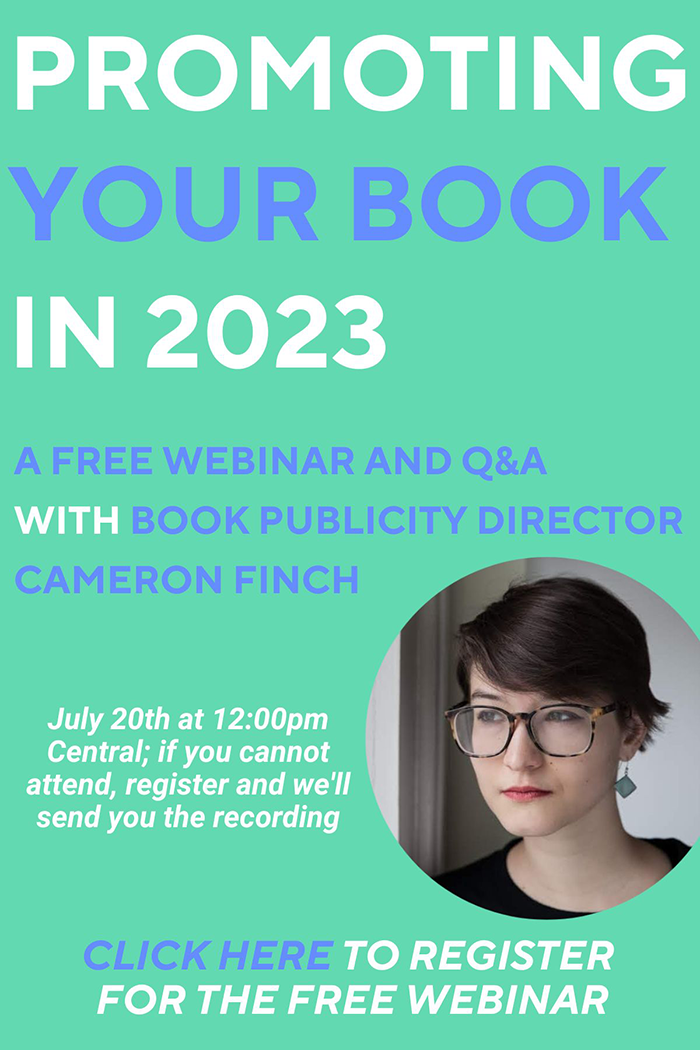 Mark your calendars for Thursday, July 20, 2023! You're invited to a special free 30-minute webinar with Cameron Finch, who has worked with the editorial and marketing teams of various presses and literary journals, including McSweeney's, Dzanc Books, Rizzoli New York, Archipelago Books, Isele Magazine, Hunger Mountain, Mount Island, and Midwestern Gothic. A well-published writer, Cameron is currently the Book Publicity Director at Atmosphere Press.
This is your opportunity to learn about the ins and outs of meaningful book publicity in today's publishing climate, and you'll walk away with plenty of tips and actions to start discovering and connecting with your own readers. You'll be able to ask Cam questions about how you can launch your book into the world, whether you have a publisher or are self-published. And even if you can't attend the live event, register and we'll send you a recording afterward!
American Writers & Artists Institute (AWAI)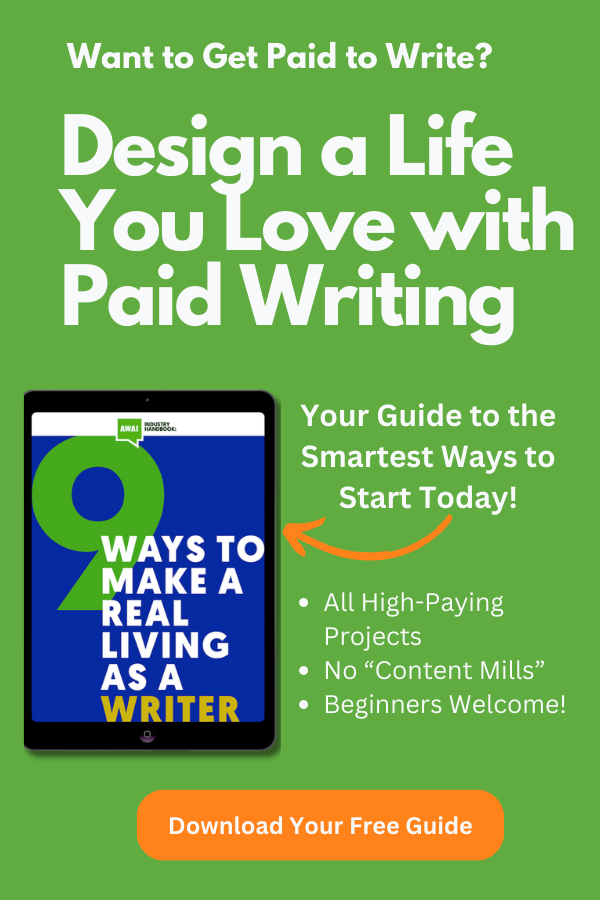 Mysteries of the Mist by C.A. Rand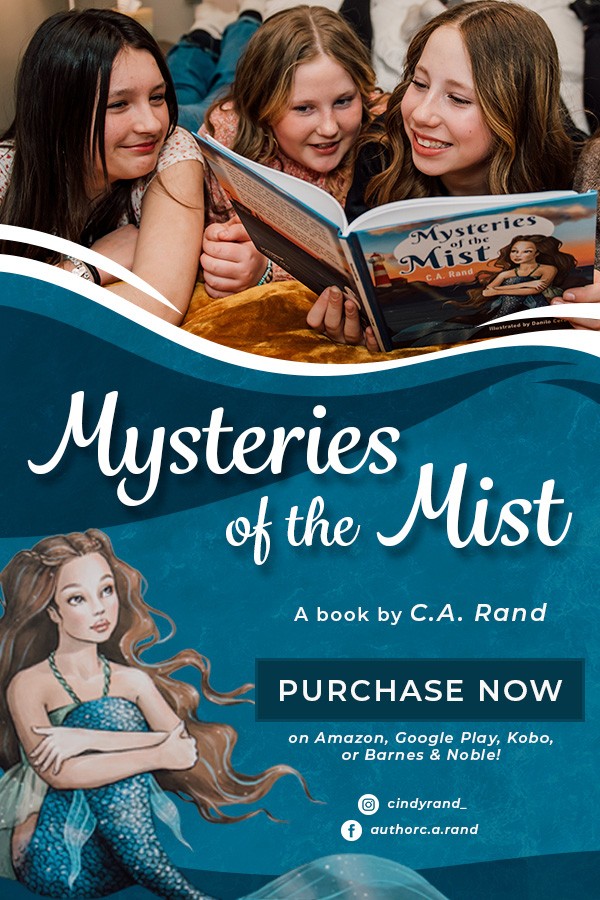 Coralee, who just turned sixteen, is spending her summer vacation at the Silver Wing Point lighthouse with her beloved grandfather. She loves the smell of the briny sea and the way it crashes against the sandy beach and this year she discovers something so fantastical, so secret that she knows this will be the best summer yet.
But a fun vacation soon turns into a stormy disaster when her grandfather goes out to sea and doesn't return. Coralee must rely on the newfound secrets of the sea to save him. Will she do it in time to save his life?
"Perfect for 7+" — Kidliomag review
Endemic by Robert Chazz Chute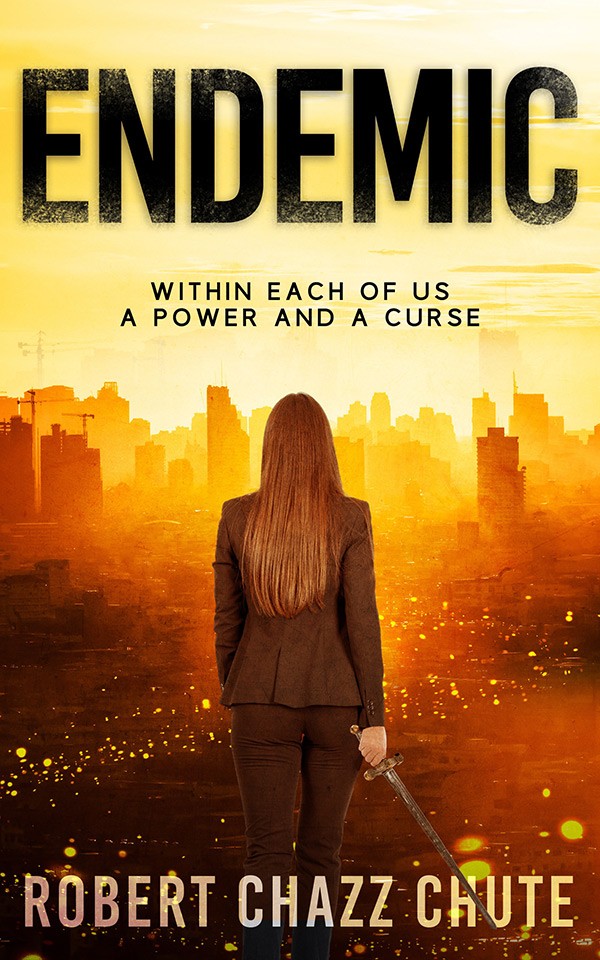 When civilization falls, what's a nerdy book editor to do?
Rise to rule all as queen, of course.
"Endemic is an adventure novel with plenty of innovative survival strategies and high-stakes battles to keep those pages turning. But even more than that, it's about a misunderstood woman's journey out of isolation and cynicism."
~ Jendi Reiter, North Street Book Prize judge
A cruel neurological virus erases everything we know. As marauders take over New York, Ovid Fairweather must evolve from introverted book editor to urban farmer. Fate will demand she carve out a brave destiny for herself and the children she protects.
This riveting novel won first place in Genre Fiction from the North Street Book Prize, and first place in Science Fiction at both the New York Book Festival and the Hollywood Book Festival.
Read an excerpt from Endemic (PDF)
Sunspot Literary Journal: Rigel Contest for Fiction, Nonfiction, Poetry, Art, or Graphic Novel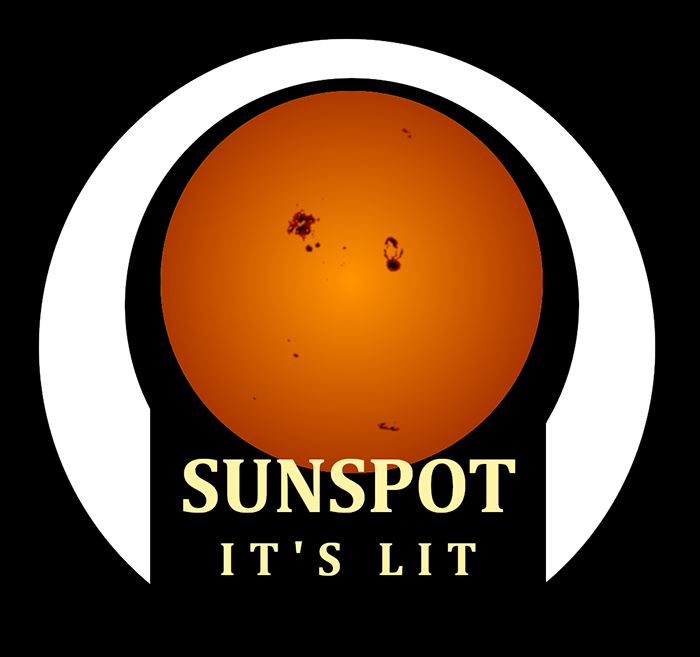 Deadline: May 31, 2023
Authors & Artists Eligible
Rigel is the brightest star in the Orion constellation. Sunspot Lit is looking for the single short story, novel, novella, artwork, graphic novel, or poem that outshines all the rest. Literary or genre works accepted; the only requirement is quality.
Rigel offers $500 plus publication to the winner, and offers publication to select finalists. No restrictions on theme or category. The length for prose is restricted to a maximum of 5,000 words for short stories, or ten pages for poetry, scripts, and graphic novels.
Excerpts from longer works are eligible. These should start with the beginning of the manuscript and must include a synopsis. The synopsis counts toward the entry's total word/page count. An excerpt selected as the winner or as a finalist will be offered publication only for the submitted sample.

Titles do not count toward the limit for any prose piece. Epigraphs are included in the word count for works of prose. Artwork should consist of a single piece.

Feedback is available for fiction, nonfiction, and graphic novels for an additional fee. This is entirely optional and will not impact the judging process. The written comments will consider the work's strengths, point out critical weaknesses, and make recommendations for any changes that would make the work stronger. The commentary will be provided 4-6 weeks after the contest closes. Please note that feedback is only available through the Submittable form.
Entry fee: $10
Prize: $500 cash and publication for the winner; publication offered to runners-up and finalists.
Sunspot asks for first rights only; all rights revert to the contributor after publication. Works, along with the creators' bylines, are published in the next quarterly digital edition an average of two months after contest completion, as well as in the annual print edition.
Works should be unpublished except on a personal blog or website. Artists offered publication may display their pieces in galleries, festivals or shows throughout the publication contract period.
Enter as many times as you like, but only one piece per submission. Simultaneous submissions are accepted, but please withdraw your piece if it is published elsewhere before the winner is selected.
Enter through Sunspot's Submittable form or through Duotrope.
From Mormon to Mermaid by Lorelei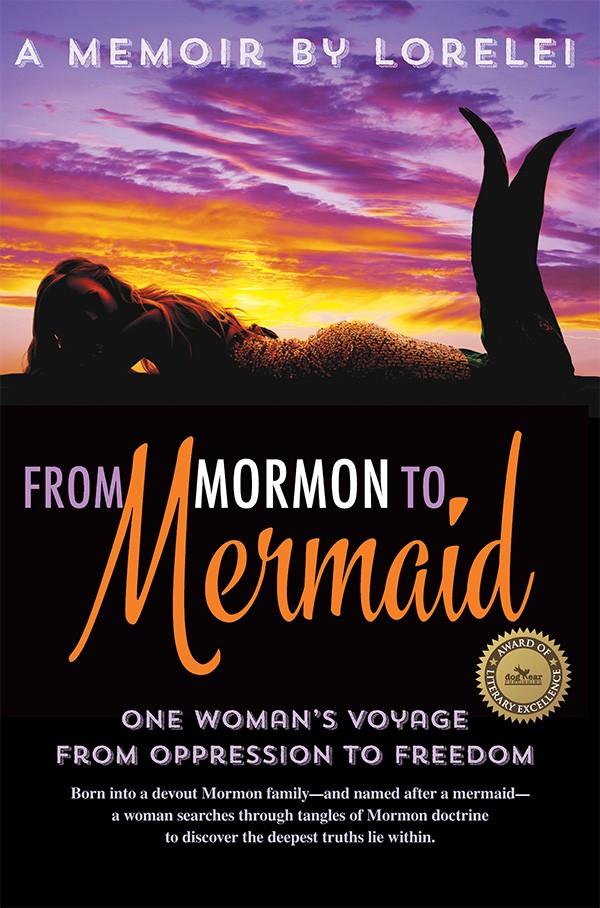 Winner of the 2022 North Street Book Prize for Creative Nonfiction & Memoir
For fifty years Lorelei lived the life of a devout Mormon woman.
As a child, her mother told her stories of her pioneer ancestors who crossed the plains to find religious freedom. She grew up in Salt Lake City, was baptized in the Tabernacle font on Temple Square, performed baptisms for the dead in the Salt Lake Temple, and also played the world-famous Tabernacle organ. She attended Brigham Young University, was sealed to her husband for time and all eternity in the Los Angeles Temple, and always said yes to the many callings her bishops extended to her.
Her life revolved around Mormonism and its clearly outlined path leading to exaltation. Then life's dilemmas thundered around her as she studied and prayed, and the doctrinal foundation she had built her life on crumbled.
From the North Street critique by Jendi Reiter:
The author recalls how her Sunday School teacher told her at age seven, "When the prophet speaks, the thinking is done." Lorelei's father made a convoluted effort to reconcile this directive with believers' free will, but her subsequent life showed that the compromise was unworkable.

Like many traditional religious organizations, the Mormon church depended on an army of female volunteers whose leadership was not acknowledged or compensated. When Lorelei was a teenager, the church threw its financial and political clout behind blocking the Equal Rights Amendment. Decades later, they were instrumental in passing Proposition 8, the (thankfully short-lived) ban on same-sex marriage in California. The author's devotion to the church was continually tested by cognitive dissonance between the amount of labor that women did, and the official stance that excluded them from authority...

First-round judge Annie Mydla said of this book: "At a time when religious fanaticism is growing stronger in our country and worldwide, I'm finding books with an inside view irresistible… The author is not content to escape and then expose the unhealthy aspects of the system she was born into. She also finds something rich and strange within herself… [The mermaid theme] communicates that freedom is not just escape, it also involves the responsibility of creating new and sustainable conditions in which the real self can live every day."
Read an excerpt from From Mormon to Mermaid (PDF)
Buy this book on Amazon
Paisley Invasion by Alicia Czechowski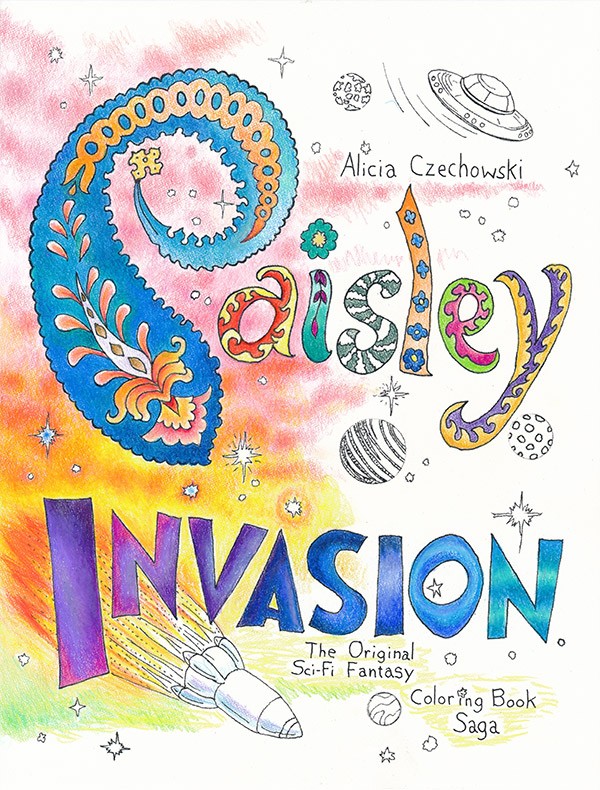 Winner of the 2022 North Street Book Prize for Graphic Novel & Memoir
Extraterrestrial beings in paisley form arrive on Planet Earth. Seemingly benign, Paisleys proceed to invade human spaces with little regard for decorum, or existing décor. Confronted with swarms of Paisleys, people watching TV, dog-walking, or showering are variously intrigued, terrified, or enraged. Humanity is faced with a conundrum: Why have Paisleys come to Earth, and what will be the outcome of their peculiarly strange visitation?
Formatted as a coloring book, Paisley Invasion is a story presented in a sequence of images that entice the reader to "read" between the lines, and outside the lines, too, to create a unique narrative. You are invited to spin-out and color-in the provocative fantasy that awaits within its covers.
From the North Street critique by Jendi Reiter:

While the vibe is definitely Summer of Love record album covers, not haunted Edwardian mansions and silent movie stills, I recognized the same spirit in Paisley Invasion as in Gorey's enigmatic Les Passementeries Horribles, a wordless book in which monstrous tassels stalk unsuspecting ladies and gentlemen. The mood of both books balances on a razor's edge between comical and sinister. You laugh, but glance nervously over your shoulder, in case one of those ornate blobs is coming for you. The absurdity can't quite dispel the tension that has no rational cause—how much harm could those things do?

It's the uncanny, all by itself, that spooks us. These floating objects have no faces for us to read their emotions, yet they seem conscious and determined. We can't understand how they could be alive, let alone what they want. Wisely, Czechowski doesn't privilege one human reaction over another. We are free to add our interpretations to the story when we color it in, like the illustrations in the Anti-Coloring Books that were deliberately incomplete so that children could make their own drawings.
Read an excerpt from Paisley Invasion (PDF)
The Blessed by Kyle Derek McDonald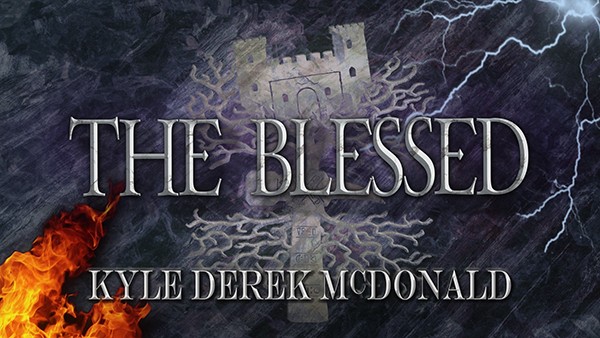 Poet and voice-over artist Kyle Derek McDonald, winner of the 2007 War Poetry Contest sponsored by Winning Writers, is proud to present The Blessed, an audio experience unlike any other! Having completed his boyhood dream of composing a grand epic poem, Kyle has since recorded it as a full cast, fully scored and sound-designed audio experience that's a banquet for the ears and a jumpstart for the mind.
A tale of bravery in a world overrun by chaos, The Blessed follows the journey of three heroes—Virilus, a great warrior with a troubled past, Sagir, a young wizard afraid of fighting, and Fré, a pixie whose enthusiasm is too large for her wee body—as they seek to master themselves and to push out a violent, megalomaniacal invader.

Ambitiously composed in Sesta Rima—rhyming six-line stanzas—and with a compelling cast of unique characters, The Blessed offers a galloping fantasy epic experience unlike anything else.

Shakespeare meets the Avengers.

Go to The Blessed website and start listening right away at no cost!

And, feel free to reach out to Kyle with any questions or reactions at theblessedepic@gmail.com.
Poetry Masters 2023 sponsored by Oprelle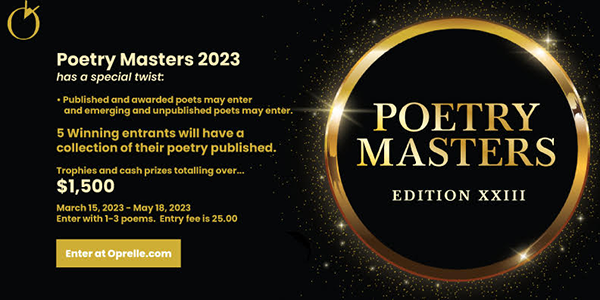 Deadline: May 18, 2023
Cash awards of $500, $400, $300, $200, and $100, plus trophies for our top five winners. We will showcase up to 20 poems from each of these poets in our 2023 Poetry Masters Anthology.
For poets aged 14+. To enter, submit 1-3 of your best poems. Entry fee: $25. Finalists may be asked to submit a few more poems before our final decisions are made. Both published and unpublished poems are acceptable, any subject or style. Length limit per poem: 20 lines (excluding the title and any blank lines). International poets welcome. English only, please. Winners will be announced on Oprelle's website on or before June 30.
Submit online via Submittable.
Sunspot Literary Journal: Geminga Contest for Tiny Fiction, Nonfiction, Poetry, or Art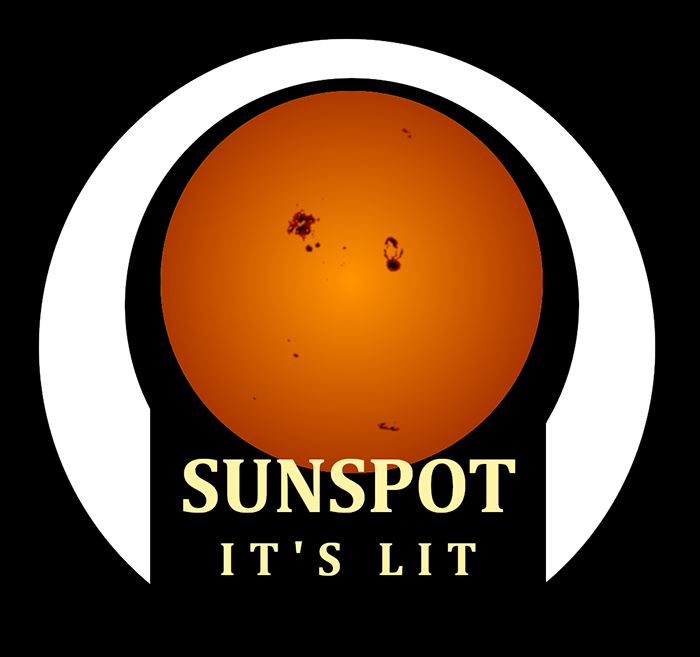 Deadline: March 31, 2023
Authors & Artists Eligible
Geminga is a neutron star so small it was difficult to detect. It was named, in part, for a transcription of gh'è minga, meaning "it's not there."
With Geminga: $500 for Tiny Fiction, Nonfiction, Poetry, or Art, Sunspot Lit honors the power of the small. No restrictions on theme or category. Word limit is 100 for fiction and nonfiction. Micropoetry is limited to 140 characters. Graphic novels should be 4 pages or fewer.
Titles are not included in the word count. Compound words separated by hyphens, numbers, and letters of the alphabet are counted as a single word. In the micropoetry category, characters include spaces, punctuation, numbers, and letters of the alphabet.
Visual art entries should be paintings, drawings, or sketches no larger than 25 inches square. Sculptural forms should be no larger than 25 inches in any dimension (length, height, or width).
Entry fee: $10
Prize: $500 cash, publication for the winner, publication offered to runners-up and finalists.
Enter through Sunspot's Submittable form or through Duotrope.
Helen in Trouble by Wendy Sibbison
Winner of the 2022 North Street Book Prize for Mainstream/Literary Fiction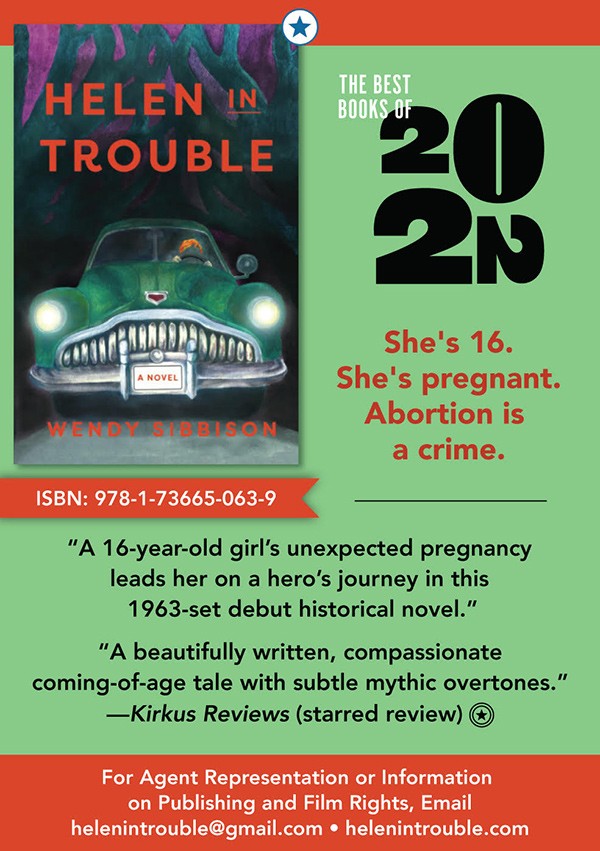 ​Wendy Sibbison offers an insightful, thought-provoking perspective in this coming-of-age novel; a poignant exploration of burgeoning womanhood, mother-daughter relations, family dynamics, and sexual awakenings rooted in the mores of an era that offers lessons for the present. Beautifully written, a meaningful read for mature readers of all ages and for book groups interested in the debates about Roe v Wade.
Read an excerpt from Helen in Trouble (PDF)
Buy this book at Barnes & Noble, Massive Bookshop, and other fine booksellers
The Art of Symeon Shimin by Tonia Shimin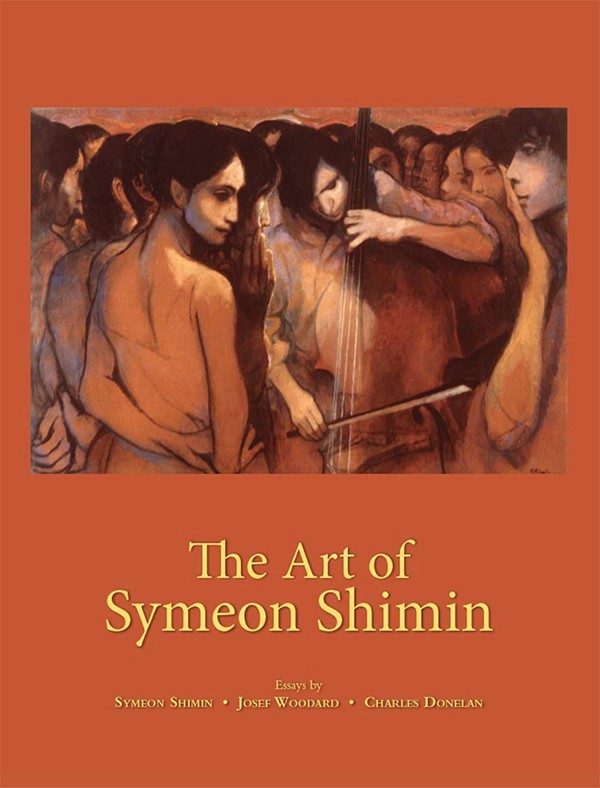 The Art of Symeon Shimin presents a striking collection of the fine art of this exceptional Russian born Jewish artist. Curated by the artist's daughter, it is the first collection and overview of Shimin's work. Including an autobiography by the artist, essays by noted arts journalists Josef Woodard and Charles Donelan, and over 100 plates and archival photographs, this book showcases art of rare beauty and raw expression.
Shimin is particularly noted for his masterpiece, the mural "Contemporary Justice and the Child", commissioned in 1936-1940 for the Department of Justice Building in Washington, DC. With paintings held in collections including the Chrysler Museum of Art, this is the first complete collection of his fine art.
Since publication, The Art of Symeon Shimin has received the following awards:
Winner of the North Street Book Prize in the art book category, 2022
The Independent Press Awards named The Art of Symeon Shimin the Distinguished Favorite for Fine Arts, 2020
Winner of 2020 NYC Big Book Award in Arts and Entertainment
Winner of The 2021 Book Excellence Award for Art
Winner, Pinnacle Book Achievement Award from National Association of Book Entrepreneurs
The 2021 Eric Hoffer Honorary Mention Award for Art
Next Generation Indie Book Awards Finalist: Art
2021 BRONZE Medal Award in Art - Independent Publisher Awards
2022 Maincrest Book Award
Critics of The Art of Symeon Shimin say:
"Shimin was a vessel for the unheard voices of his time. Those who were shunned, he highlighted; for those who were unseen, he provided a stage. He saw the common man for what he was—beautiful, exceptional, and equal." —Lauren Kinsley, Research Assistant
"A loving survey of an artist's varied career." —Kirkus Reviews
"This coffee-table style volume is an impressively informative presentation that clearly and effectively showcases the life and work of one of the 20th Century's most gifted artists—and should be considered an essential and core addition to personal, professional, community, college, and university fine arts collections." —The Midwest Book Review
"A social realist." —Time Magazine
"The incomparable emotion of Shimin's drawings and paintings are on full display in this beautiful collection. Humanity is the subject, presented in humble iconic imagery and complex gestures alive with every turn of the page." —Eric Hoffer Awards
"His name will mean something in the long history of painting." —The Architectural Forum
"As long as we seek to understand and express the value and significance of human experience as such, there will be a place for artists such as Shimin." —Sam Ben Meir
Read an excerpt from The Art of Symeon Shimin (PDF)
Buy this book on Amazon, Barnes & Noble, and Pathway Books. For wholesale orders, please contact Pathway Book Service, Ingram, or Baker & Taylor. See also this listing at Edelweiss.
The Geography of Absence by Gayle Lauradunn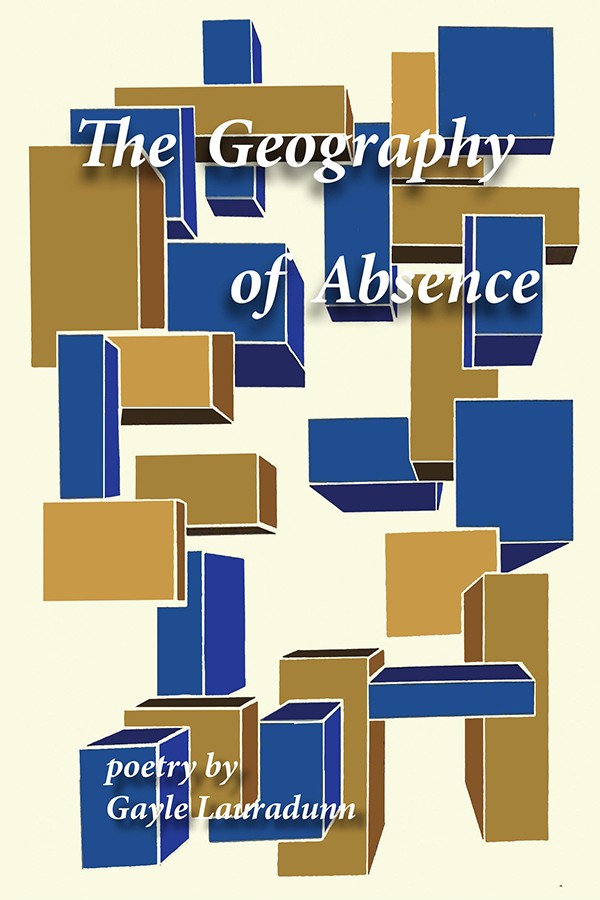 The Geography of Absence is the third poetry collection from Gayle Lauradunn, winner of the 2022 North Street Book Prize for poetry for All the Wild and Holy. In Geography we journey through the absences in her life and the search for what those absences contain.
Poet Morgan Parker says "Absence implies a memory of what once took place." How true are those memories? Can we trust the memories? Ms. Lauradunn writes poetry to learn what the world is about, to learn who she is. The poetry she wrote as a child did not survive her family's many moves. That in itself is an absence.
Ms. Lauradunn has moved many times during her life, as well as travelling to over 40 countries exploring the ways in which both landscape and geography contain absence. But, above all, absence is present in the geography of relationships and the geography within one's self.
Lost love, lost children, lost life are all in this collection. Some absences may be filled, many are there to savor, to love, to hold onto, and respect as absences. And yet, those absences are not holes, and Lauradunn fills those absences with beauty and light.

A wonderful book, one to read and contemplate, to chew and savor as a rare meal of perfectly spiced foods, as often as wanted.

—Lenora Rain-Lee Good, author The Bride's Gate and Other Assorted Writings
Buy The Geography of Absence now on Amazon.
A sample poem: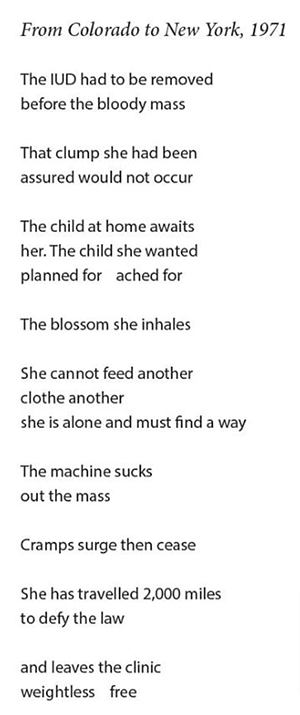 One More Day by Diane Chiddister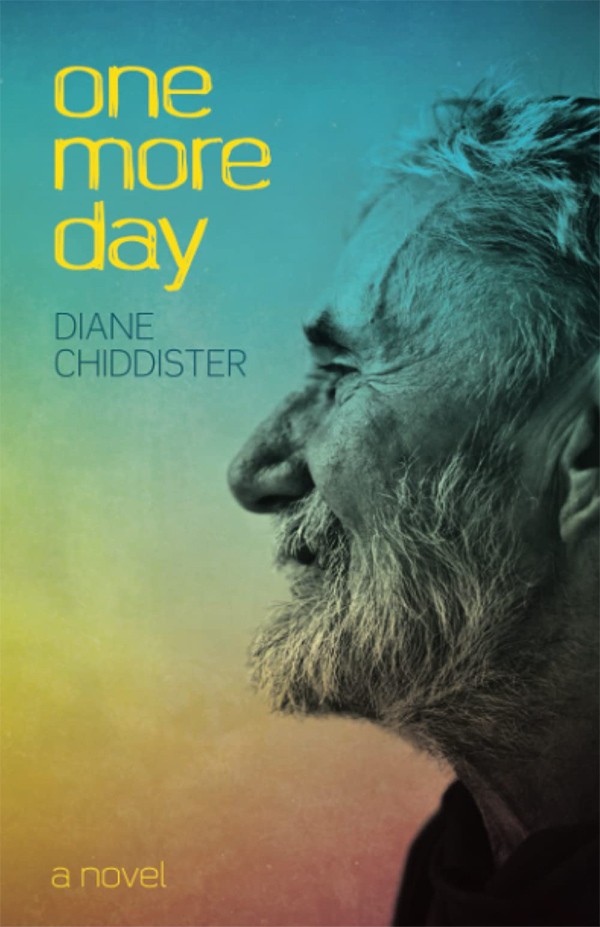 Grand Prize, 2022 North Street Book Prize Competition sponsored by Winning Writers, and Finalist in the First Novel category, Next Generation Indie Book Awards
From the North Street critique by Jendi Reiter:
Diane Chiddister's exquisite literary novel One More Day delves into the inner lives of four denizens of an old-age home. Full of tenderness that stays on the right side of sentimentality, One More Day braids its characters' paths into a journey that leaves all their lives richer. The action is intimate and small-scale, but as Robert Frost said, "the game is played for mortal stakes." Nothing less is at issue here than how we might die well.
Read an excerpt (PDF), see the trailer, and buy now at Amazon.
"Achingly beautiful, heartbreaking and ultimately a tender celebration of life."
—Natalie Symons, novelist
Award-Winning Poetry and Prose 2023
Summer 2023: Poetry
ELIZABETH BISHOP INJECTS HERSELF WITH ADRENALINE FOR ASTHMA
by Susan Okie
Winner of the 2023 Off the Grid Poetry Prize
Entries must be received by August 31
This contest for full-length poetry manuscripts by authors aged 60 and older gives $1,000 and publication by Off the Grid Books in print and audiobook formats. Okie's collection Woman at the Crossing was the most recent winner. The speaker of this narrative poem imagines inhabiting a body that has been brought to a pitch of heightened energy and sensations, a state that may be medically induced but overlaps with the mental discipline of poetry.
THE BLUE MIMES/LOS MIMOS AZULES
by Sara Daniele Rivera
Winner of the 2023 Academy of American Poets First Book Award
Entries must be received by September 1
This prestigious award for a first full-length collection by a US citizen or legal resident gives $5,000, publication by Graywolf Press, and a writing residency in Italy. The title poem of Rivera's prizewinning book weaves back and forth between English and Spanish stanzas, past and present events, as the narrator tends a family member whose memories are slipping away.
EPITHALAMIUM
by Stacy Gnall
Co-winner of the 2022 Juniper Prize for Poetry
Entries must be received by September 30
This long-running poetry series from the University of Massachusetts Press gives two prizes of $1,000 and publication, one for a debut full-length collection and the other for a collection by a poet at any stage of their career. An epithalamium is a wedding poem, but in this poem from Gnall's winning book Dogged, the human couple does not appear directly; rather, their passion seems to have brought them into psychic union with animals, plants, and other beings that communicate without human language.
DEEP SOUTH GRAFFITI and other poems
by Éric Morales-Franceschini
Winner of the 2022 Philip Levine Prize for Poetry
Entries must be received by September 30
This prestigious poetry manuscript contest from Fresno State University gives $2,000 and publication by Anhinga Press. Morales-Franceschini's debut book, Syndrome, was the most recent winner. This vivid poem jump-cuts between moments of familial love and racist attacks on his Puerto Rican family, giving the lie to the patriotic ideals whose imagery pervades their Southern town.
Spring 2023: Fiction and Nonfiction
THE WOMEN IN THE CLUB
by P. Jo Anne Burgh
Winner of the 2022 Gemini Magazine Short Story Contest
Entries must be received by March 31
This long-running contest gives prizes up to $1,000 and publication in an online journal that is welcoming toward emerging writers. Burgh's heart-wrenching story slowly reveals what this group of mothers has in common, and how one family struggles with the limits of loyalty.
NUMBER EIGHT DAUGHTER
by Jeannie Tseng
Winner of the Fall 2021 Narrative Magazine Story Contest
Entries must be received by March 31
Narrative Magazine offers several contests each year, with prizes up to $2,500 and web publication for literary short fiction and essays. The Winter 2023 contest is open through March 31. Tseng's story is set in a rural Chinese household where surplus daughters and disabled children have to fend for themselves from an early age.
THE POWER OF WORDS
by Lauren St. George
Winner of the April 2022 Tadpole Press 100-Word Writing Contest
Entries must be received by April 30
This twice-yearly contest gives $1,000 and website publication for a work of flash poetry or prose, 100 words maximum. The 2023 theme is "using humor as healing". Scroll down the winners' page for the most recent results. St. George's short-short story captures a moment of welcome for a refugee.
THE UNSEEN
by Treanor Wooten Baring
Winner of the Spring 2022 Ghost Story Supernatural Fiction Award
Entries must be received by April 30
This twice-yearly contest gives $1,500 and web and anthology publication for a story with a supernatural or magical-realism theme. In Baring's atmospheric tale, a Mississippi debutante's tryst with her boyfriend is interrupted by apparitions from her family's slave-owning past, alerting her to inequalities that continue to bleed into the present.
The Frugal Editor, 3rd Edition, by Carolyn Howard-Johnson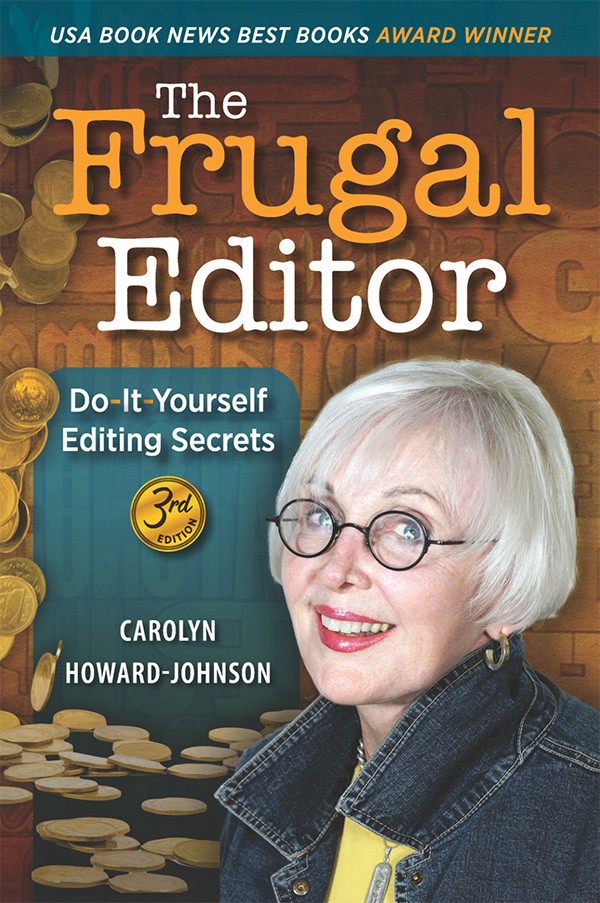 "I have been in [the publishing business] for 23 years, and I was dumbfounded at the little tricks, suggestions, and how-tos on so many topics...like MS Word, which I thought I knew everything about! Take it from someone who has traditionally published 17 novels...knowledge abounds in this book, and no author is too advanced to pick up this book and NOT glean something. I'm impressed...and I don't impress easily. Well done."
—Hope Clark, author and Vine Reviewer, founder of FundsforWriters
Why a third edition?
Carolyn explains, "It surprises people when they learn that grammar rules change over time. Or that what they learned in high school or college is either passé or may not apply to fiction. Further, as my client base grew, I kept running into common misconceptions and outright annoying style choices that would never fly in the publishing world. Thus, a new edition of The Frugal Editor was a must!" Here is a smattering of what's new:
• Beta readers and peer reviewers
• What you probably don't know about custom dictionaries
• Up-to-date rules for accommodating gender-specific and other cultural needs
• A chapter for word-lovers and poets
• Quickie reviews of word processors
• What front and back matter can do for your book sales, your career, and your readers
• Considerations around sensitive language have evolved greatly over recent years
• How to spot publishing scams
Get your copy now from Modern History Press (paperback $26.95) or Amazon Kindle ($8.95).
Oprelle's Invincible Spirit YA Book Contest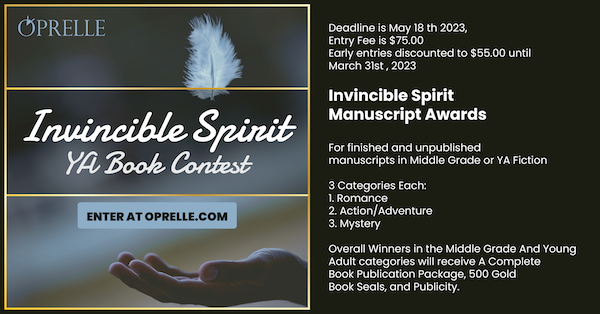 Ploughshares
Ploughshares' Fall 2023 Issue is out now! Edited by Ladette Randolph, the Fall 2023 Issue features prose by Anthony David, Parul Kapur, John Keeble, Diane Hinton Perry, Austin Woerner, Nafis Shafizadeh, Wiam El-Tamami, Jamie Lyn Smith, and Jim Shepard.
Subscribe to Ploughshares and get the Fall 2023 Issue, and submit to our regular reading period for free! The submission window closes on January 15.
Achilles and the Queen by Kyle Derek McDonald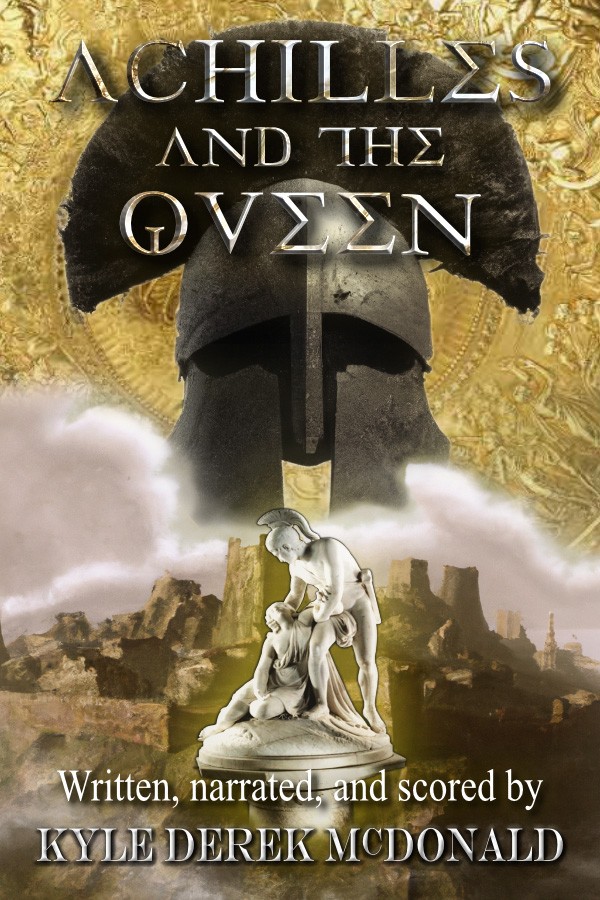 Based on the winning poem from the 2007 War Poetry Contest sponsored by Winning Writers
What happens when two Greek Demi-Gods meet on the field of battle and fall in love in the most glorious war of all time?
"Achilles and the Queen" is an award-winning poem in rhyming couplets about the doomed and forbidden love between Achilles and Penthesilea, Queen of the Amazons. This new recording features narration by the author, in-line text, sound design, and an entirely original musical score.
Written, narrated, and scored by award-winning poet and voice-over artist Kyle Derek McDonald.
Experience "Achilles and the Queen" now on YouTube.
Tennessee Williams Museum Short Story & Poetry Contests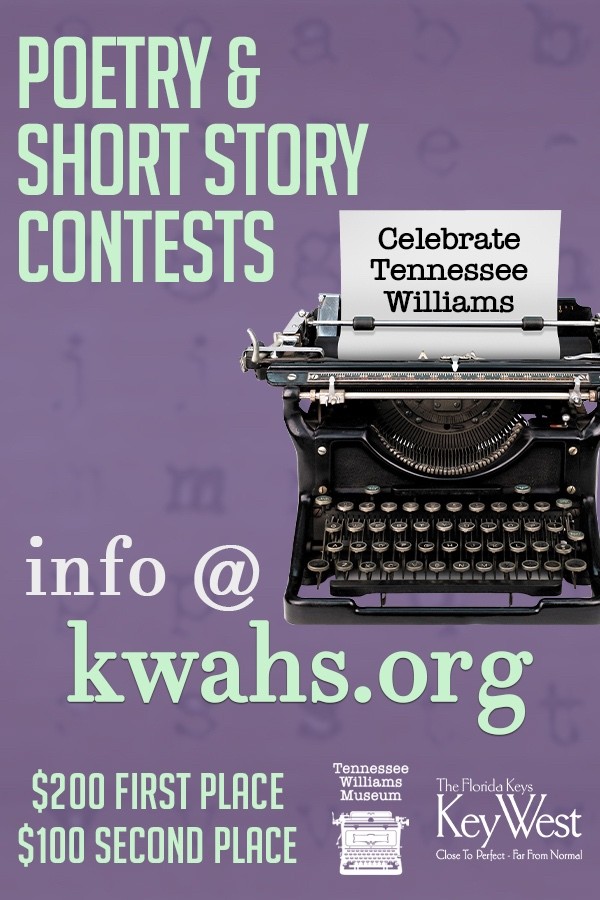 Deadline: March 11, 2023
In commemorating Tennessee Williams's 112th Birthday, the Tennessee Williams Museum in Key West is convening short story and poetry contests. Submissions must in some way reference Williams and must not have been written before 2022. Authors may choose to write a poem or short story referencing Williams, his family, one of his characters, or one of the actors/actresses who played a role in his plays or films. Cash prize of $200 for 1st place and $100 for 2nd place in each competition. Entry fee: $10. Learn more and enter here.
The winners will be announced on March 26, 2023 at a special Birthday Party at the Tennessee Williams Museum and published online.
ink & peat podcast: Promote Your Book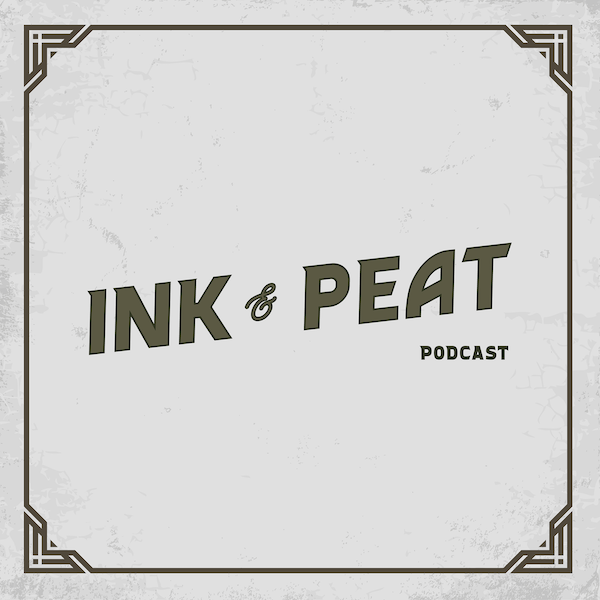 At ink & peat we believe in the power of story to shape the world.

We help emerging authors promote their books through conversation, shared on the airwaves via the ink & peat podcast. For free.

One listen is worth a thousand words. Check out an episode of ink & peat here.

And imagine it's your voice, spreading the word about your book.

Contact craig@inkandpeatpodcast.com for details about how you can be the featured author on ink & peat.
The de Groot Foundation Grants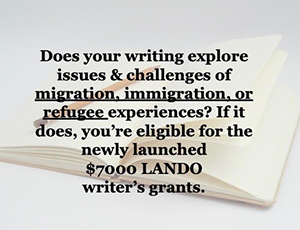 Deadline: February 15, 2023
The de Groot Foundation announces the newly launched LANDO GRANTS for WRITERS. These grants are $7,000 each, designed to encourage and support writers writing in any genre about the migration, immigration or refugee experience.
In addition to the LANDO Grants, The de Groot Foundation also awards seven COURAGE to WRITE GRANTS to writers in any genre ($7,000 each) and ten Writer of Note grants ($1,500 each).
Cleaver's Form and Form-Breaking Poetry Contest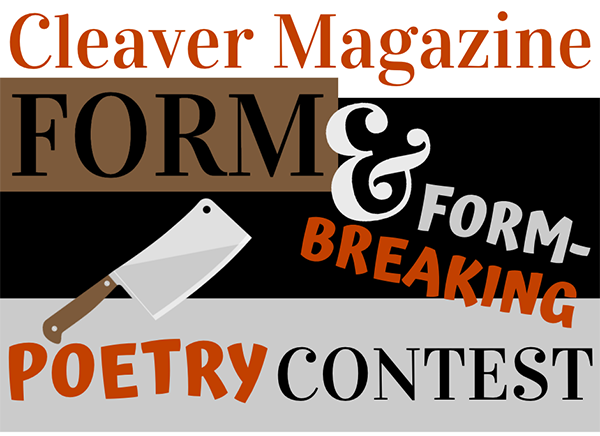 Deadline: March 31, 2023, 11:59pm Eastern US Time
Judge: Diane Seuss
$500 First Prize
$250 Second Prize
$100 Third Prize
Show us your poems that hold up the perfect iambic pentameter of a Shakespearean sonnet or crash it on the rocks of free verse. Show us a villanelle with textbook patterning or show us the villanelle who just crashed her car. Whatever the form, we want to see your poems that use form consciously, whether that's to execute them to perfection or execute their expectations. The one requirement is that your work engages with a form of poetry; whether it gets married to that form or breaks up at the last couplet is up to you.
The initial submission fee is $15 for 1-2 poems of up to 3 pages each, with an option to upload additional poems for $10 apiece.
No previously published work.
Winners will be announced in June. Prior to the announcement, all submitters will receive an email notifying them of any decisions regarding their work.
Prizewinners will be published in Cleaver's Fall Issue, September 2023. Finalists may also be offered publication.
More information at our website.
Sunspot Literary Journal: Goldilocks Zone 2023 Contest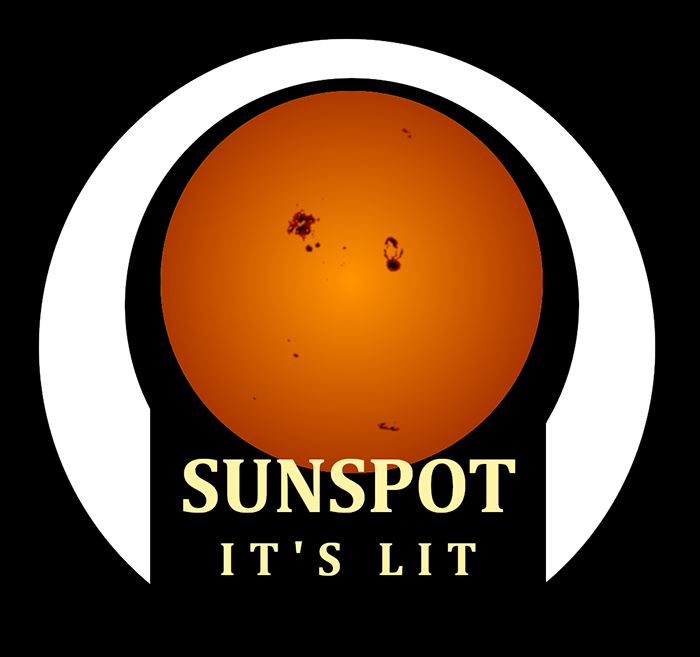 Deadline: September 30, 2023
Authors and Artists Eligible
The Goldilocks Zone appears wherever conditions make a planet habitable. Sunspot Lit seeks a short story, flash piece, book-length excerpt, artwork, graphic novel, or poem that combines excellence in craft with reader or audience appeal, and thus falls into the Goldilocks Zone. Literary or genre works accepted.
First prize is $500 plus publication. Runners-up and finalists are offered publication. No restrictions on theme or category. Maximum of 2,500 words for fiction or nonfiction, 24 lines for poetry, and 8 pages for graphic novels. No size requirements for painting, photography, video stills or sculpture, although each entry is limited to one image.
Fiction and nonfiction submissions are eligible to receive feedback for an additional fee. This is entirely optional, and selecting feedback or entering the contest without feedback will have no bearing on the judging rounds. Each submission will receive a brief writeup (about one single-spaced page) commenting on critical strengths and weaknesses. This option is not available for art or poetry. The commentary will be provided 4-6 weeks after the contest closes. Please note that feedback is only available through the Submittable form. Feedback is not available for poetry or art, and will not be provided even if the feedback fee is paid.
Entry fee: $12.50
Prize: $500 cash and publication for the winner; publication offered to runners-up and finalists.
All fees are final and nonrefundable. Revised entries can be made by withdrawing the original entry and resubmitting, paying a new fee for the new submission.
Sunspot asks for first rights only; all rights revert to the contributor after publication. Works, along with the creators' bylines, are published in the next quarterly digital edition as well as in the annual print edition.
Works should be unpublished except on a personal blog or website. Artists offered publication may display their pieces in galleries, festivals or shows throughout the publication contract period.
Enter as many times as you like, but only one piece per submission. Simultaneous submissions are accepted. Please withdraw your piece if it is published elsewhere before the winner is announced.
Enter through Sunspot's Submittable form or through Duotrope.
Ploughshares Call for Submissions: Poetry, Nonfiction, and Fiction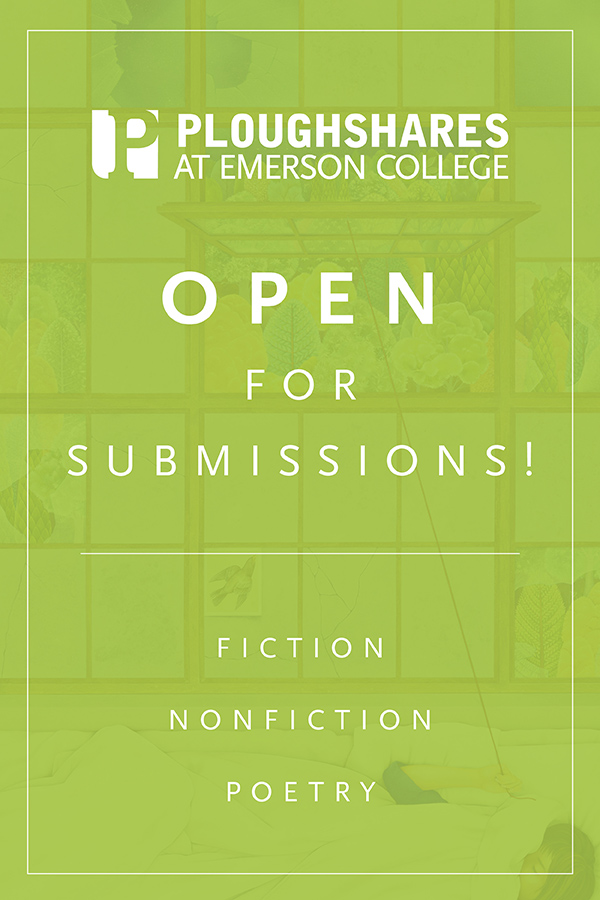 Ploughshares' regular reading period is open until January 15, 2024! Send us your fiction, nonfiction, and poetry for the chance to be published by Ploughshares literary journal. See our guidelines and how to submit.
Subscribers of Ploughshares submit for free!
Ploughshares was started in the Plough and Stars, an Irish pub in Cambridge, MA, named for Sean O'Casey's influential play "The Plough and the Stars" about the liberation of Ireland. In the early 1970s, the pub hosted a handful of regulars who started their own small revolution. Their central concern was that the work of a new generation of writers—representative of a seismic shift in the culture at that time—was going unnoticed by traditional publishing. To address the problem they decided to publish a journal that would extend their discussions about contemporary literature beyond the walls of their favorite haunt.

The history of Ploughshares is not only one of critical inquiry, but also one of active reform. The current staff of Ploughshares holds dear the history of our founding, and we pledge to uphold our founding mission of publishing exceptional work by emerging and established writers that pushes the boundaries of what is possible in art. We will continue to publish writers who might otherwise be marginalized or outright excluded. We promise to continue our work of recognizing and supporting the unique ways writers respond to and reflect significant changes in culture. More than ever, we need our writers to help us understand the world.
Made Man by Jendi Reiter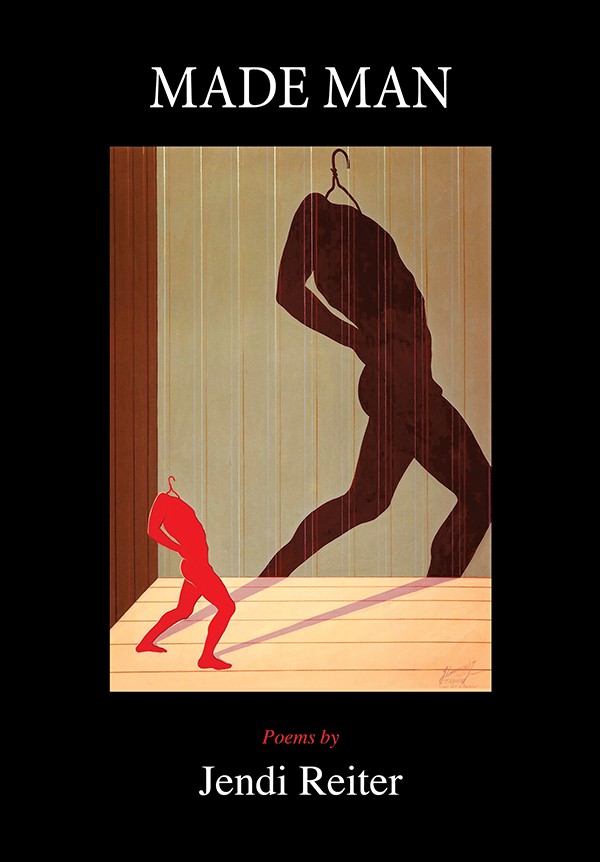 Jendi Reiter's latest poetry collection, Made Man (Little Red Tree, 2022), was featured in Q Spirit's Top 34 LGBTQ Christian Books of the Year. Lesbian minister and inclusion activist Kittredge Cherry curates this website for queer-themed and affirming spiritual artwork.
Kitt says of Made Man, "Female-to-male transition and gay identity are explored, often through the angle of Christian theology and culture, in this queer poetry collection. Literary style illuminates unexpected juxtapositions such as the Nicene Creed as interpreted by Frankenstein and an astronaut taking communion on the moon."
Please enjoy this poem from the book, first published in Ruminate Magazine. Purchase the book at Little Red Tree or Massive Bookshop.
Buzz Aldrin Takes Communion on the Moon

I don't believe I will rise again
like a wafer in an astronaut's glove,
flimsy disc set against the real
delicious zero of infinite black.
Know these words you read were put in my mouth
like the sticky dough the Irish priests
presented as a god's body to bent-down children.
I'm bones with my arms around bones
of my granddaughter in a scorched field,
dismembered a quarter-century past
suing to block the men of NASA
from forcing their god on the moon.
Lovely indifference of radio waves,
carrying alike the claiming words of man
and me,
"Madalyn Murray O'Hair, the most hated
woman in America,"
which is to say, a woman,
like the Statue of Liberty.
When your children don't slay
the heathen and the lamb
by daily recitation in school
it's me you could thank, if I wasn't ashes.
That suit-inflated Presbyterian
is still out there rhapsodizing about low-gravity wine
curling up the side of his chalice
gracefully as a teenage centerfold.
When you look up tonight
into the cold black sea of light-years
don't think of my son
or the flames he imagines licking
my vanished soul,
but praise the dust
of rocks so far-off no foot
will ever stamp it with small theories,
and let it, because unreachable,
be heaven enough.
The Colorado Prize for Poetry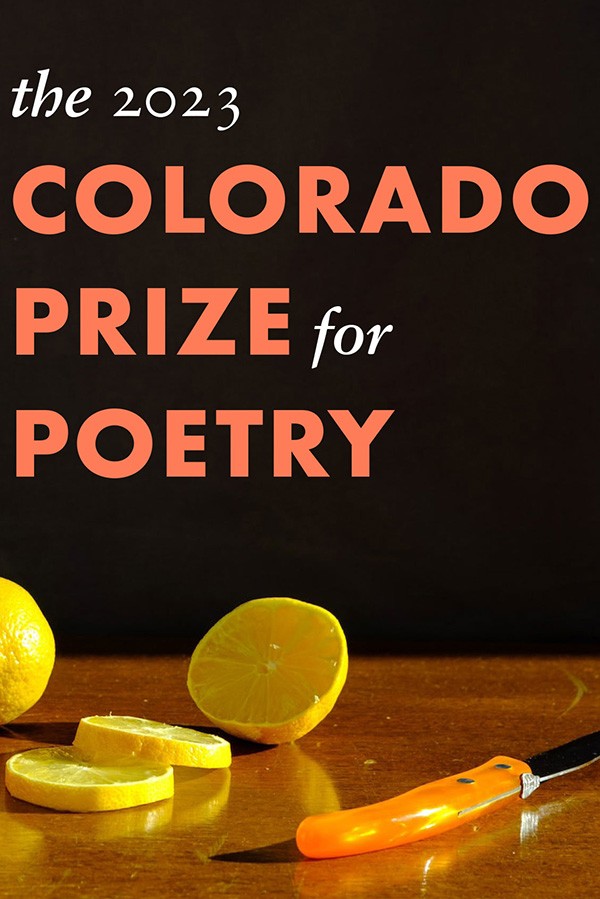 Prize: $2,500 honorarium and publication
Reading fee: $28 (includes a one-year subscription to Colorado Review)
Submit: 48 to 100-page poetry manuscript
The Center for Literary Publishing at Colorado State University is seeking submissions to the Colorado Prize for Poetry until January 14th, allowing for a five-day grace period. Authors do not need to reside in Colorado or the United States. Our final judge will be associate poetry editor Felicia Zamora.
The Colorado Prize for Poetry is an international poetry book manuscript contest established in 1995. The winning book will be published by the Center for Literary Publishing and distributed by the University Press of Colorado in the fall of 2023. To find out what sort of work we publish, please take a look at some of our previous winners.
Manuscripts may consist of poems that have been published, but the manuscript as a whole must be unpublished. Please do not submit self-published books.
We have a limited number of fee waivers available for writers experiencing financial hardship. Email creview@colostate.edu directly to request one of these waivers.
Find out more on our website and submit online via Submittable.
PocketMFA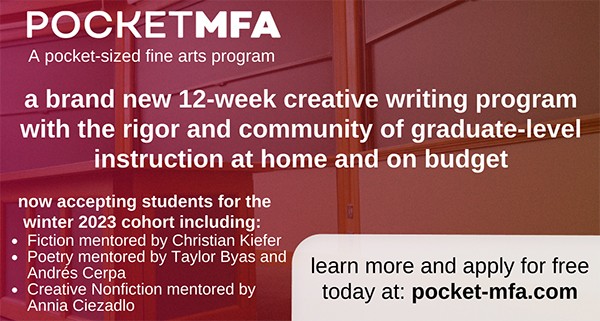 Deadline to apply to the Winter 2023 cohort: December 15, 2022
We invite you to apply today to PocketMFA: a brand new 12-week creative writing program providing graduate-level cohorts, focused on your area of interest, for a fraction of the cost of a traditional MFA.
We are thrilled to be offering Winter 2023 cohorts in Poetry, Fiction, and Creative Nonfiction mentored by an exceptional group of faculty.
The PocketMFA is 100% free to apply to and we welcome those from all backgrounds to explore a new form of higher education in the creative space. For questions or to set up a personal info session, please reach out to our Program Director, Josh: info@pocket-mfa.com.
The "Coming Home" Poetry Contest from Oprelle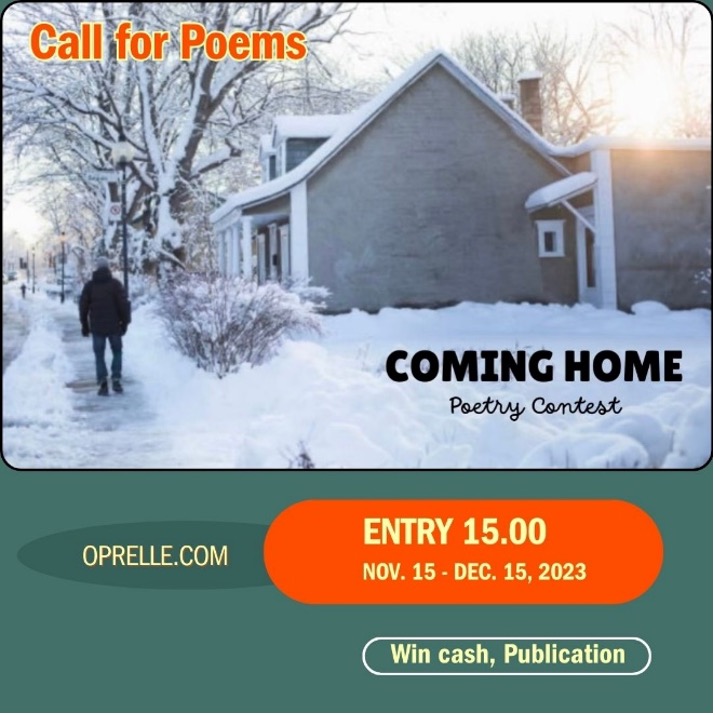 Deadline: December 15, 2023
A home doesn't have to be a building with four walls. It can be a state of being. We want to know what exactly "home" means to you!
PRIZES
1st — $200, Certificate and Publication
2nd — $100, Certificate and Publication
3rd — $50, Certificate and Publication

Please enjoy the winning poem from our 2022 contest:
Visit Home
by Roger Craik

My mother lets her bran flakes stand untouched,
it seems to me, for hours and hours. She smokes,
fills in the crossword as she's done for years.
She cuts it from The Times the day before.

The air grows thick with silence. Once again
despite my resolution that this time
I'll be myself for her, ebullient,
I sense what personality I have

drain into sullenness, taut in the spread
of empty years in every day of which
I'll know I knew what I should say this moment, now...
Instead, I watch a pigeon on a neighbor's roof

until it flaps away and I am left
to muse how habit over fifteen years
has withered us of words. And so I write
these lines you'll read when it's too late to say

my mother lets her bran flakes stand untouched
for hours, and smokes her Silk Cut cigarettes
and does the cryptic crossword from The Times
she's cut out neatly from the day before.
92NY: Discovery Poetry Contest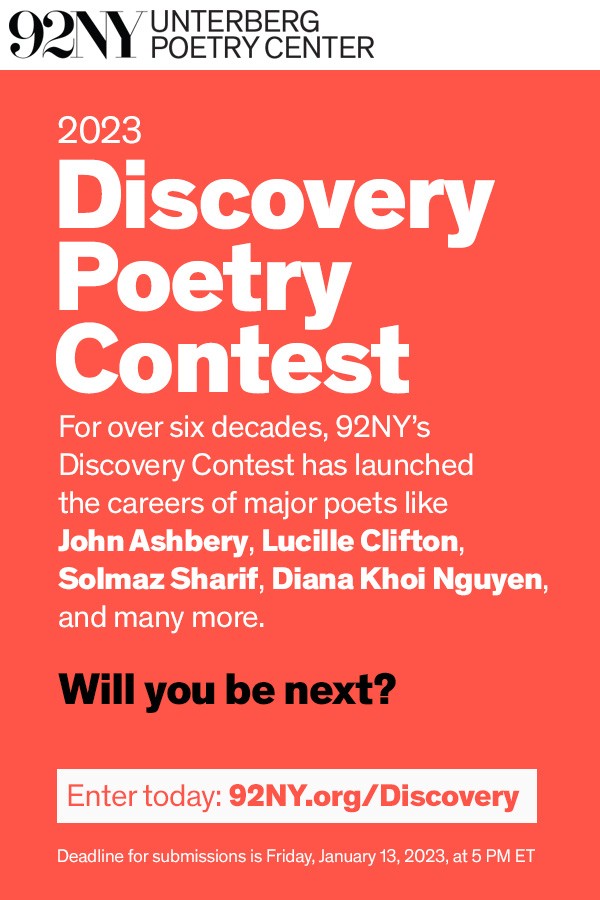 Charlotte Lit Annual Lit/South Awards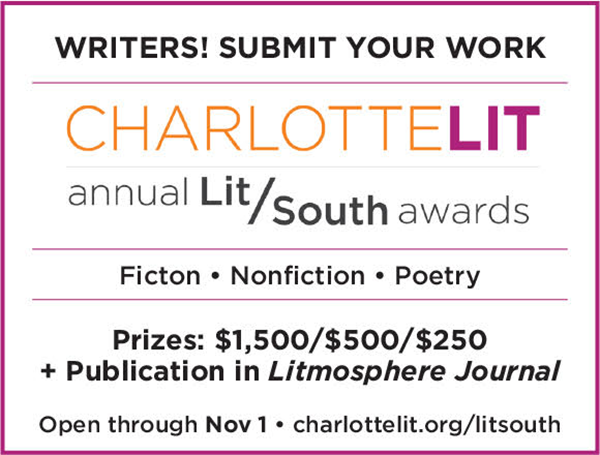 Deadline: November 1, 2022
Open to current and past residents of North Carolina, South Carolina, Georgia, Tennessee, and Virginia. Three categories: poetry, fiction, and nonfiction. All winners and honorable mentions will be published in the Spring 2023 issue of Litmosphere: Journal of Charlotte Lit, and receive prizes starting at $1,500 for first place. Guidelines & final judges:
• Nonfiction (up to 4,000 words): Melissa Febos, author of Body Work, Girlhood, and Whip Smart
• Fiction (up to 4,000 words): Bryn Chancellor, author of Sycamore and When Are You Coming Home?
• Poetry (1-3 poems, up to 5 total pages): A. Van Jordan, author of The Cineaste and M-A-C-N-O-L-I-A.
Click here for full guidelines and our submission portal.
Vestal Review's Food-Writing Flash Fiction Contest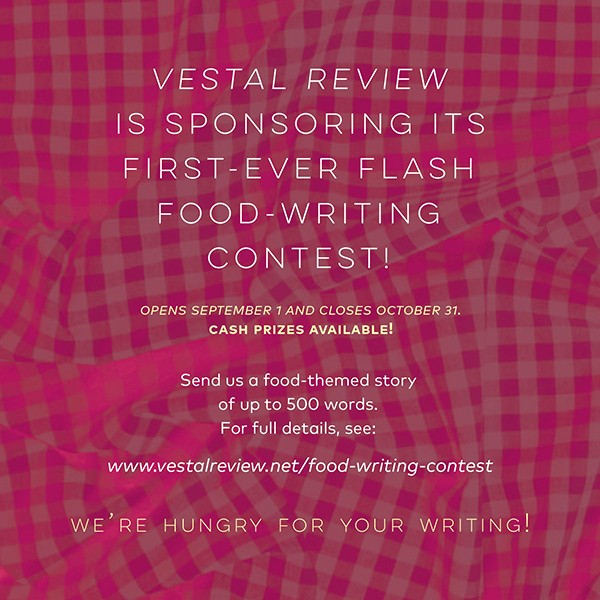 Deadline: October 31, 2022
The contest judge will be Mark Rotella, author of Stolen Figs: And Other Adventures in Calabria and Amore: The Story of Italian American Song, both from Farrar, Straus & Giroux. A former senior editor at Publishers Weekly, he is now a creative writing professor and director of the Coccia Institute at Montclair State University.
First prize: $250
Second prize: $150
Third prize: $75
Five runners-up: a cookie assortment from Insomnia Cookies
Entry fee: $7
Writers may submit as many stories as they like, but only one story per entry fee, please. All winning entries will be published in a special issue of Vestal Review and advertised ceaselessly on social media.
Learn more and submit via Submittable.
Roundtable by 92nd Street Y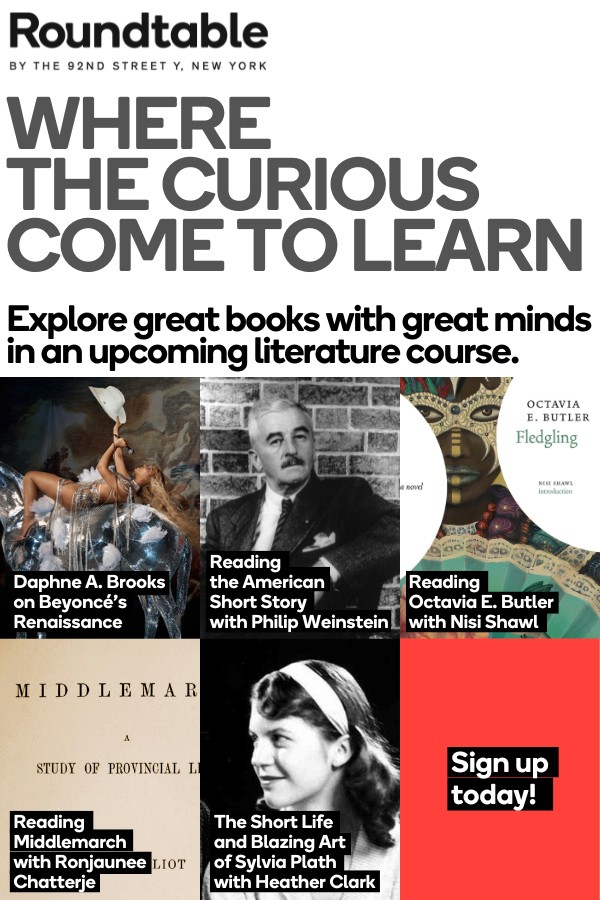 Writing Battle - Join Today!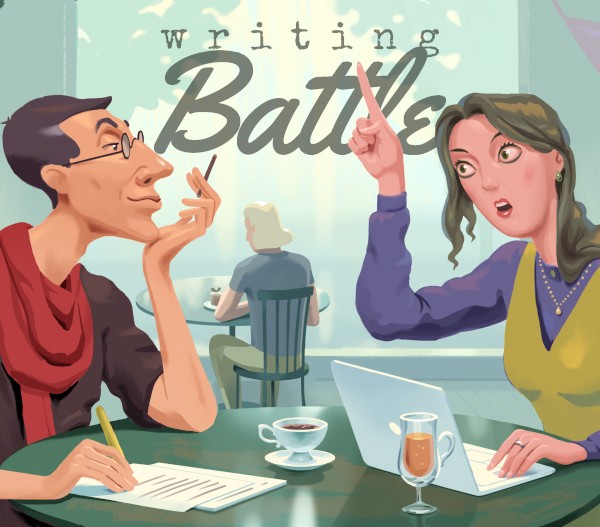 Start date: November 1, 2022
Prize: $5,000 cash, split amongst the winners from each of the four genres; publication offered to the winners; loads of feedback for all participants
Join Writing Battle today! 5 Days to write a 2,000-word short story using prompts. Writing Battle is a supportive and growing community that holds a quarterly competition for writers, by writers. Write your story and submit it within 5 days. After the submission deadline, the stories are separated by genre and battle in parallel tournaments.
The outcomes of each face-off in the tournament are judged by fellow participating writers, providing peer feedback, and judging stories in different genres than their own. After a few weeks of peer judging, industry professionals step in to decide the four winners, one from each of the four genres. Industry judges include the likes of Nebula and Hugo winner, Ken Liu (THE GRACE OF KINGS). Check out our past winners or read more about the rules. Join the Battle!
Dystopian Short Story Contest from Oprelle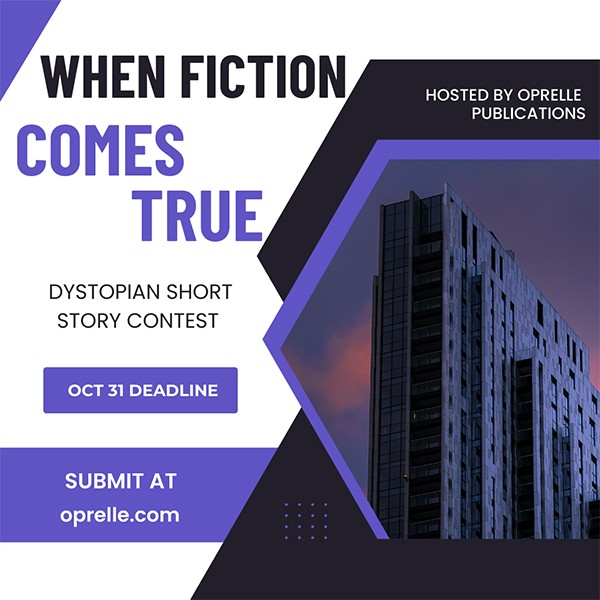 Deadline: October 31, 2022
1st Place: $250, featured writer in our newsletter, story posted on our blog, certificate
2nd Place: $150, story posted on our blog, certificate
3rd Place: $100, certificate
Published and unpublished stories accepted
Word range: 600-3,000
Entry fee: $10
A genre always eager to be an outlet for our frustration and dissatisfaction is dystopian fiction. Not just for YA readers, powerful titles such as 1984, The Handmaid's Tale, and Fahrenheit 451 prove the influence of this kind of work. Often a direct reflection of modern society, dystopian fiction is always relevant, and shows how words can move mountains and challenge corruption.
In Oprelle's first short story contest, When Fiction Comes True, we challenge our writers to write short fiction that takes place in a dystopian setting. All subgenres are accepted such as action, romance, mystery, thriller, etc. We're looking for something deeply stirring, with powerful language and allusions that give us goosebumps.
Award-Winning Poetry and Prose 2022
Winter 2022-2023: Poetry
TERRA INFERNA
by Sara Henning
Winner of the 2022 Hollis Summers Poetry Prize
Entries must be received by December 31
This long-running poetry manuscript prize gives $1,000 and publication by Ohio University Press. Excerpted from Henning's winning collection Terra Incognita, a sequence of elegies following her mother's death from colon cancer, this poem imagines a young woman's unrealized potential to resist a male lover who erases her like one of his artworks.
ELEGY FOR A CITY
by Angelo Mao
Winner of the 2019 Burnside Review Press Book Award
Entries must be received by December 31
Winners of this manuscript contest receive $1,000 and publication by Burnside Review Press, a literary publisher in Portland, Oregon. Mao's debut collection, Abattoir, brings a poetic consciousness to his work with lab mice as a Harvard research scientist. This poem uses Laplace's Law that "describes a balloon taking air from another" as a metaphor for China's takeover of Hong Kong in 2020.
A MOMENT CAUGHT IN TIME
by Joanne Jagoda
Winner of the 2022 Gemini Magazine Poetry Open
Entries must be received by January 3
This accessible online journal gives prizes up to $1,000 in their annual contest for unpublished poems. Jagoda's winning piece, accompanied by an archival family photo, poignantly reflects on the divergent fates of her ancestors.
ZUIHITSU FOR THE NEW DIASPORA
by Sahar Muradi
Winner of the 2022 Donald Hall Prize for Poetry
Entries must be received by February 28
This competitive annual award for poetry manuscripts is sponsored by the Association of Writers & Writing Programs. The 2023 guidelines are in process; the deadline is usually the end of February. Muradi's Octobers was the most recent winner. A zuihitsu is a Japanese literary form composed of free-associative thought fragments or loosely connected short personal essays. In this piece, the speaker begins "in Cornwallville, thinking of Kabul," preparing to give birth in America while reflecting on the different forms of displacement that her fellow Afghanis experience.
Summer 2022: Poetry
ODE TO THE CORPSE FLOWER
by Benjamin Garcia
Winner of the 2021 Eugene Paul Nassar Poetry Prize
Postmark Deadline: August 31
This free contest from Utica University awards $2,000 to a poetry collection by a resident of Upstate New York that was published between July 1 of the previous year and June 30 of the deadline year. Garcia's debut collection, Thrown in the Throat, won the most recent contest. In this brash and humorous poem, he defies those who would make him desexualized and tame: "I won't be anyone's nosegay…never let a man speak for you or call you//what he wants".
KWASIADA
by Kweku Abimbola
Winner of the 2022 Academy of American Poets First Book Award
Entries must be received by September 1
Formerly known as the Walt Whitman Award, this prestigious contest offers $5,000 and publication by Graywolf Press for a debut collection. Abimbola's Saltwater Demands a Psalm was the most recent winner. This imaginative elegy for Trayvon Martin, part of a series commemorating Black men and boys killed by police, allows grief to arise from the gap between what is and what could have been.
WAITING FOR THE HEAT TO BREAK INTO RAIN
by Michael McGriff
Winner of the 2021 Miller Williams Poetry Series
Entries must be received by September 30
This prize from the University of Arkansas Press, for writers at any stage of their career, gives $5,000 and publication for a full-length poetry manuscript. This compressed, tense poem from McGriff's winning collection Eternal Sentences places a child in a rural landscape filled with omens of death.
SAINT MICHAEL, THE SERPENT & THE RED LOBSTER
by Janine Certo
Co-winner of the 2022 Longleaf Press Book Contest
Entries must be received by December 15
This full-length book contest from a well-established small press gives $1,000 and publication. Certo's O Body of Bliss shared the most recent prize with Christopher Buckley's One Sky to the Next. This wry, nostalgic poem contrasts Biblical prohibitions with the everyday sacraments of a Gen-X childhood, finding more transcendence in girls' sports and the ritual of family dinners at Red Lobster than in the pronouncements at Mass.
Spring 2022: Fiction and Nonfiction
HEROIN CHIC
by Rebecca Bernard
Winner of the 2021 Non/Fiction Collection Prize
Entries must be received by March 11
This $1,500 award for a manuscript of short fiction, essays, or a combination of the two includes publication by Mad Creek Books, the trade imprint of Ohio State University Press. Bernard's Our Sister Who Will Not Die: Stories was the most recent winner. This relentlessly self-questioning essay holds space for both the romance and the sordidness of drug abuse, while acknowledging her privilege in walking away (mostly) unscathed.
COLLUVIUM
by Meredith Clark
Winner of the 2021 Sonora Review Essay Contest
Entries must be received by March 31
Sonora Review awards prizes of $1,000 each for a story and essay on an annual theme. The 2022 theme is "Rage". Clark's poetic, fragmentary piece about girlhood and trauma was the nonfiction winner for 2021's "Extinction" themed contest.
HUNGER
by Matthew Cheney
Winner of the 2014 Hudson Prize
Entries must be received by March 31
This long-running award from Black Lawrence Press gives $1,000 and publication for a collection of poetry or short stories. Cheney's prizewinning debut story collection, Blood: Stories, was published in 2016. In this haunting new story from The Dark magazine, an estranged daughter discovers—or imagines?—the horrifying way that her father has dealt with bereavement.
DEAR BARBIE ARM ON THE CORNER OF FIFTH AND MARKET
by Kelle Schillaci Clarke
Winner of the 2022 Pen Parentis Writing Fellowship for New Parents
Entries must be received by April 17
This fiction prize for writers with at least one child under age 10 awards $1,000, a year of mentorship, publication in Dreamers Creative Writing Magazine, and a reading at the Pen Parentis Literary Salon in New York City. In this evocative flash piece, a broken toy prompts the narrator to reflect on the heartache of raising a young girl under patriarchy and the threat of the pandemic.
Oxbow Poetry Contest for Emerging Poets, sponsored by Oprelle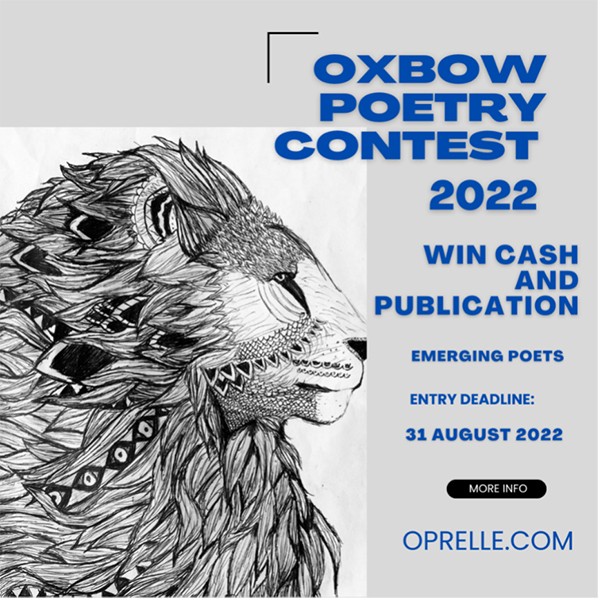 Deadline: August 31, 2022
The OXBOW CONTEST from Oprelle Publications aims to bring attention to emerging poets featured in fewer than three national publications (books or journals).
The Top Three Poems will be published in our 2022 Poetry Masters Anthology in the "Emerging Poets" section.
The first-place poet will receive $500
A shortlist of finalists will also be listed on the Oprelle website
Submit 1-3 poems with each entry fee of $15
This contest accepts both published and unpublished poems
Length limit per poem: 20 lines (excluding the title and any blank lines)
Enter the Oxbow Poetry Contest via Submittable.
Choosing Life by Leslie Sussan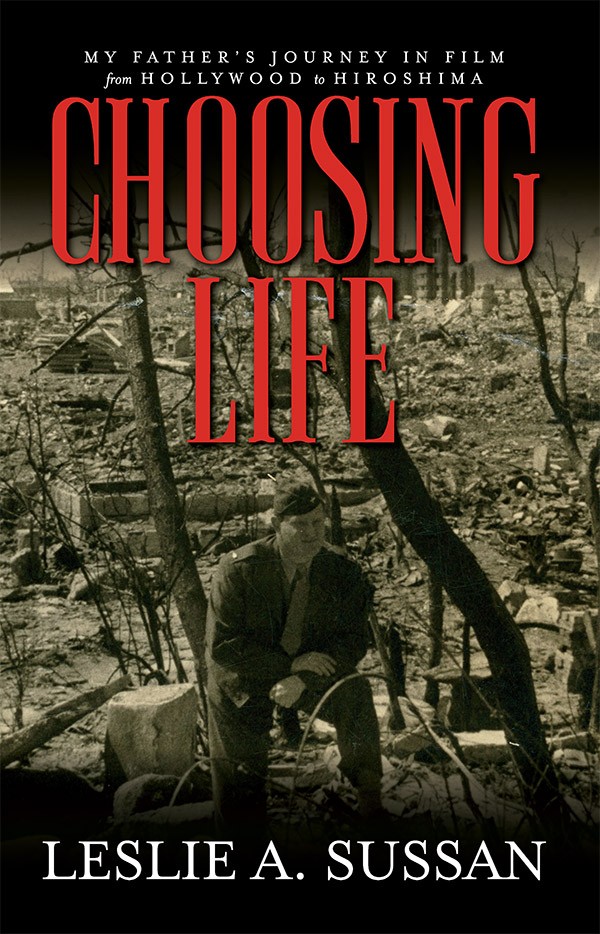 2021 North Street Book Prize, First Prize for Creative Nonfiction & Memoir
Author Leslie Sussan followed her father's footsteps to Hiroshima to try to understand his last wish that his ashes be scattered there. His crew shot the only color film of the aftermath of the atomic bombings. The book brings to life the horrors he saw, drawing on his first-hand journals and from the voices of the survivors who, decades later, shared with the author what they experienced and what the filming meant to them.
From the North Street Book Prize critique by Jendi Reiter:
Leslie A. Sussan probes questions of historical memory and propaganda in her illuminating memoir...Her intellectual clarity and balance are coupled in this memoir with a passion to right intergenerational wrongs. This braided narrative moves back and forth between Herbert Sussan's life-altering experience as a Defense Department cinematographer filming the aftermath of the atomic bomb and his daughter's pilgrimage to Hiroshima in 1987-88 to complete the exposé he was never allowed to share...
[The] films of the atrocities suffered by Hiroshima's civilians were so devastating that they were instantly covered up. Sussan no longer had security clearance to view the materials he himself had created...Choosing Life is fact-filled but always livened with deep feeling...Whereas many memoirists have to use their imagination to re-create ancestors' thoughts and experiences, here we have excerpts in his own words, as well as some of the photos he took.
Read an excerpt from Choosing Life (PDF)
Buy this book at BookBaby.
To Hull and Back Humorous Short Story Competition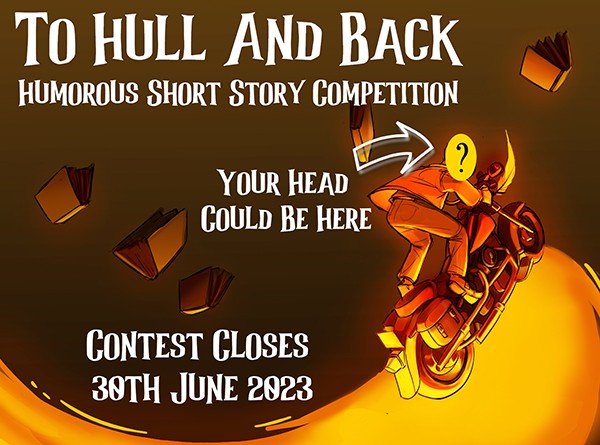 Deadline: June 30, 2023
To Hull And Back is a biennial short story competition that celebrates humorous writing and offers 40 prizes. The top prize is £1,200. The winner's face will appear on the front cover of the To Hull And Back Anthology. They will be depicted riding a flaming motorcycle and holding a quill of wrath. The winner will also receive a printed copy of the anthology. Before being sent to them, their book will be strapped to the handlebars of a Harley-Davidson and filmed being ridden to Hull and back.
The 8th To Hull And Back competition is now open for entries. There's an early-bird entry fee in place until March 31, 2023. Submit via email. Cash prizes for all shortlisted submissions.
Learn about the competition and submit here.
Erma Bombeck Writers' Workshop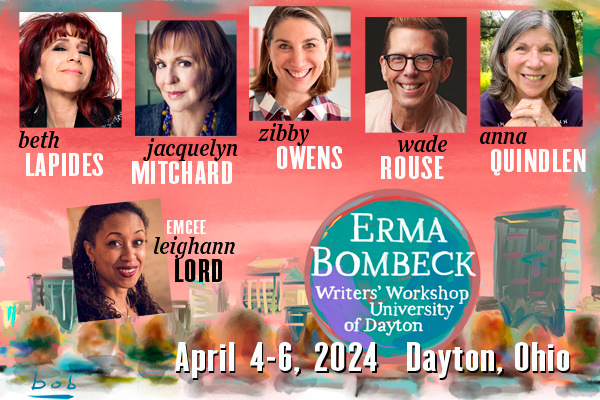 It's Erma Day (E-Day)!
Take a look at this sensational slate of keynoters and faculty for the April 4-6, 2024 Erma Bombeck Writers' Workshop at the University of Dayton and register today (November 15, 2023) at the one-day-only early bird fee of $499*.
It's more than a writers' workshop. It's an experience.
"I've attended plenty of retreats, conferences and workshops, and I usually feel a high after each one, but the high I feel after the Erma Bombeck Writers' Workshop is next-level. I feel like my brain is in a vortex, but it is a magical, life-affirming one," said one attendee about the long weekend of laughter and learning.
Your registration fee includes meals (and snacks!) Plus the opportunity to laugh, learn and be inspired by a spectacular slate of keynote speakers and dozens of accomplished faculty who will help you hone your craft, market your work and explore publishing paths. Check out all the special features and sessions—and join us!
*(After November 15, the fee is $524.)
Book Award Pro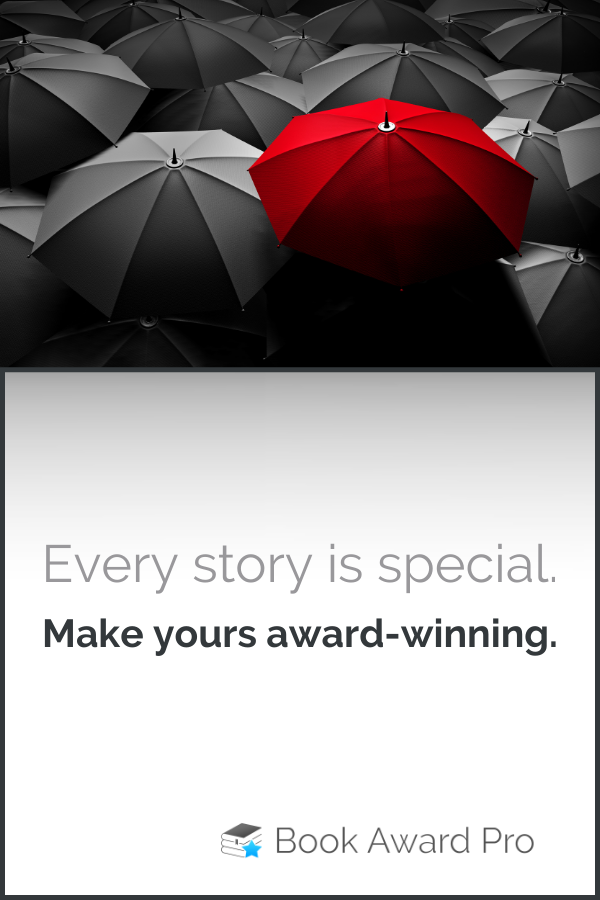 You've committed to sharing your message with the world. Whether published or in the works, it's time to turn the page and submit to become an award-winning author.
Book Award Pro matches your book to its best-fitting book awards. Our service targets your strongest opportunities and helps you connect with more readers.
You're just three steps away from winning:
Match with relevant awards
Target and submit your strongest matches
Become award-winning
With 6,000+ award matching opportunities available, you can become the next award-winning author. Read how Book Award Pro helped authors just like you become award-winning authors.
Sunspot Literary Journal: Inception Contest for Authors and Artists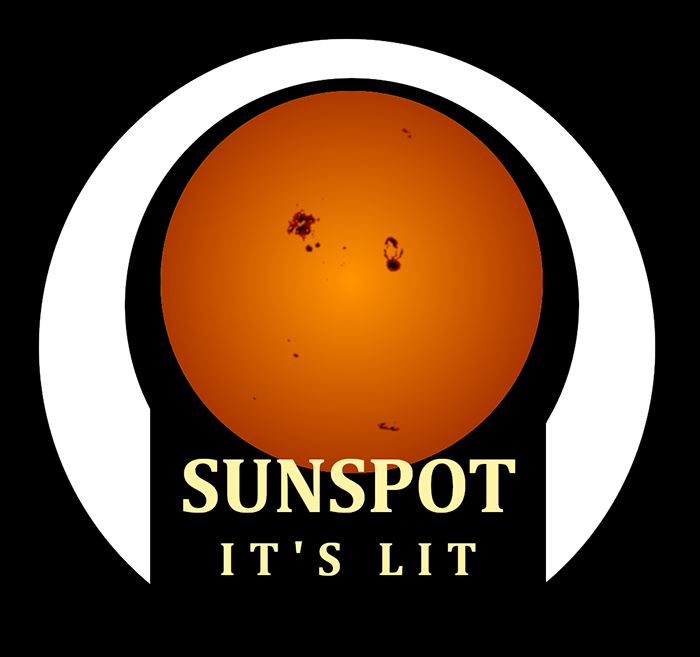 Deadline: July 31, 2023
Authors and Artists Eligible
Beginnings have the power to spark passion or curiosity. They might immediately connect a specific place and time with an emotional tone. The best openings offer a feeling, atmosphere, action, or image that is gripping, and hints at more to come.
Meaning, thoughtfulness, emotions, or tone draw audiences into the moment. A poem handles this differently than a flash piece, which handles an opening differently than a novel. The first photo, painting or frame presented in a gallery, series, or graphic novel strives for the same intent. Openings contain a spark that promises to burn.
For Sunspot Lit's current Inception contest, send your best opening. There are no restrictions on theme, category, or the length of the piece or collection from which the excerpt comes. Word limit is 250 for prose, 25 words for poetry.
Graphic novel and comic book entries should be the first page (unlimited number of panels on that page) with a maximum of 250 words (cut the number of panels in order to meet the word count, if needed).
Art entries should be the first in a series, the first in a gallery lineup, the first in a themed collection, etc. Entries are limited to one image of a painting, sculpture, mixed media form, collage, or other artwork.
Feedback is available for fiction, nonfiction, and graphic novels for an additional fee. This is entirely optional and will not impact the judging process. The written comments will consider the work's strengths, point out critical weaknesses, and make recommendations for any changes that would make the work stronger. The commentary will be provided 4-6 weeks after the contest closes. Please note that feedback is only available through the Submittable form. Feedback is not available for poetry or art, and will not be provided even if the feedback fee is paid.
Entry fee: $10
Prize: $500 cash plus publication for the winner.
Publication will be offered to runners-up and finalists.
All fees are final and nonrefundable. Revised entries can be made by withdrawing the original entry and resubmitting, paying a new fee for the new submission.
Sunspot asks for first rights only; all rights revert to the contributor after publication. Works, along with the creators' bylines, are published in the next quarterly digital edition as well as the annual fall print edition.
Works should be unpublished except on a personal blog or website. Artists offered publication may display their pieces in galleries, festivals or shows throughout the publication contract period.
Enter as many times as you like through Submittable or Duotrope, but only one piece per submission. Submission files that contain multiple pieces will be disqualified without review. Simultaneous submissions are accepted, but please withdraw your piece if it is published elsewhere before the winner is selected.
IML Publications: Fiction, Non-Fiction and Memoir Contest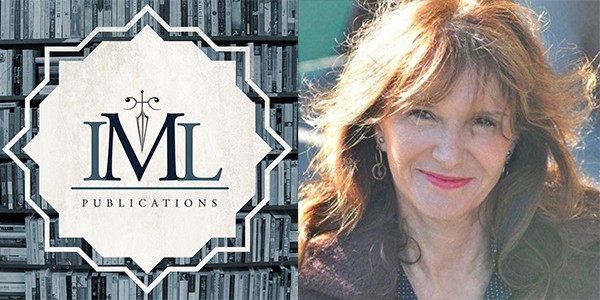 Deadline extended to October 1, 2023
IML Publications is a boutique publishing company dedicated to amplifying the voices of contemporary writers who are nomads and explorers of language, form, and the psyche. We're currently looking for high-quality, 50-page submissions of memoir, non-fiction and fiction.
To enter, please visit our contest guidelines page and submit the first 50 pages of your manuscript with a one-page synopsis. You may pay the $35 entry fee with Zelle, PayPal, or personal check.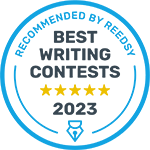 Five finalists in each category will be contacted by email and asked to submit complete manuscripts up to 100,000 words. These will be judged by our esteemed author, Jacqueline Gay Walley. The winner will receive $1,000 and possible book publication in print and digital editions.
This contest is recommended by Reedsy and has been advertised in Poets & Writers and Writer's Digest.
Questions? Please email hello@imlpublications.com.
C.S. Lakin's 8 Weeks to Writing a Commercially Successful Novel
Get ready for a deep dive into the 8 essential elements that will help you write commercially successful novels! C.S. Lakin's 8 Weeks to Writing a Commercially Successful Novel will teach you what it takes to write purposeful scenes that are carefully constructed to accomplish the important work of advancing your plot, creating and building meaningful tension, revealing crucial character bits, and manipulating your readers' emotions so they will feel what you want them to feel.
Throughout the course, you'll be mastering:
High moment and character change
Microtension on every page
Nuances of deep POV
Sensory detail
Emotional manipulation
High stakes
Purposeful backstory
Tight, distilled dialogue
Enroll by May 31, 2022 with the coupon code EARLYBIRD and receive half off registration.
Operaland by Ian Strasfogel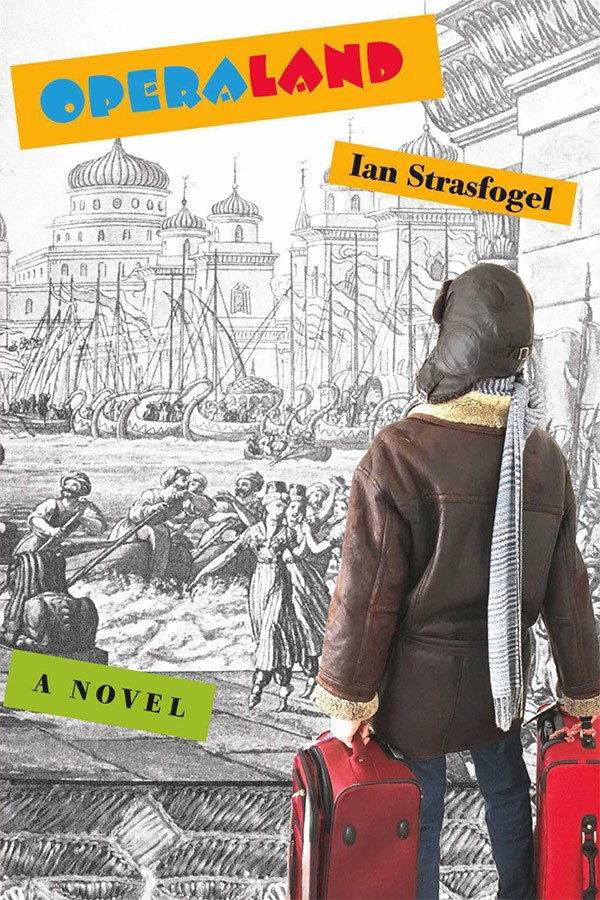 2021 North Street Book Prize, First Prize for Literary Fiction
Operaland follows Richie Verdun, a funny, fearless little dynamo, as he enters the glamorous and treacherous world of opera facing almost impossible odds. He's in his early forties, unusually old for a beginner, and without the benefit of either musical or theatrical training. To make matters worse, this irrepressible fireplug of a man is overly fond of inappropriate, almost infantile jokes that are wildly out of place in his sophisticated new surroundings.
From the North Street critique by Jendi Reiter:

"The story is given depth and tension by the complexity of Richie's psyche. He is not as simple a man as he thinks he is. One side of him is the aw-shucks American boy, contented to the point of laziness—a sore point for his coaches. He's still dazzled by the miracle of music, where his fellow performers and theater executives might be too jaded and ambitious. The other side of Richie, though, is the martial, virile power of his voice, which transforms him from a ridiculous to a heroic presence."
Read an excerpt from Operaland (PDF)
Buy this book on Amazon
Refugee, poems by Pamela Uschuk from Red Hen Press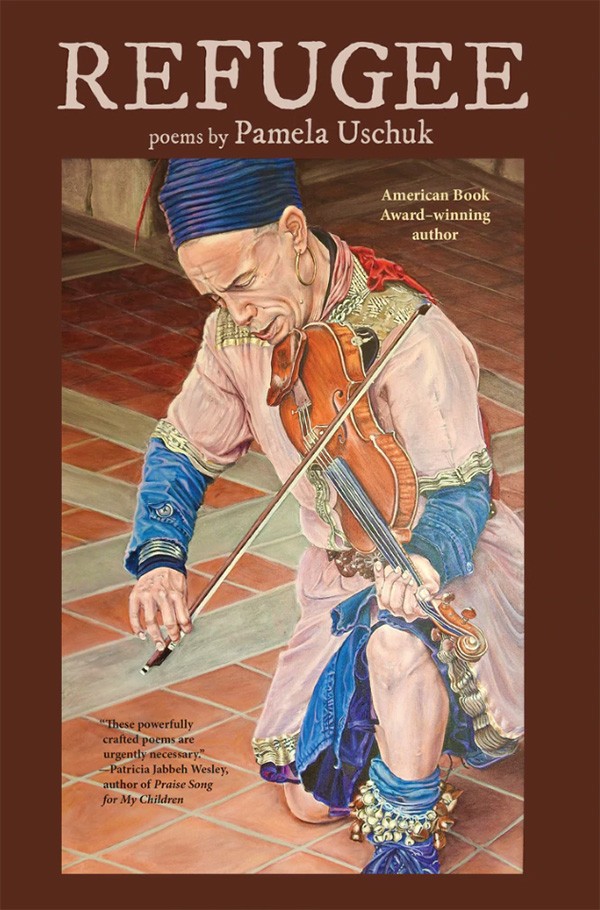 Refugee deals with refugees of many kinds—political refugees, refugees from racism, from domestic violence, from environmental destruction and disease, specifically cancer—and their stories of cruelty and courage, hardship, and hope to overcome the most daunting of circumstances.
Taking the reader across our country through the landscapes of Colorado, Tennessee, North Carolina, and Arizona, Refugee addresses the nature of seeking shelter. We are all refugees looking for a haven from whatever oppresses our lives. What constitutes a refugee is at the heart of the collection that confronts and explores xenophobia, sexism, gun violence, domestic violence, corporate greed, and their ties to environmental destruction and political and economic tyranny.
An ovarian cancer survivor, the author also writes about her own courageous confrontation with death. These inspiring poems call for a change in consciousness in the forms of action and compassion. They call for the reader to thrive. This collection is steeped in rich, sensual imagery that draws inspiration and healing from the natural world. Truth lies in recognition of the interdependence of all life. Refugee is an odyssey to find grace and unity in a besieged and divided contemporary American society.
PRAISE FOR REFUGEE

"A mordantly tender triumph rich with natural imagery."
— Starred Review in Kirkus Review of Books, November 11, 2022.

"the(se) poems elevate love, companionship, and community as the refuges in which we gather our strength and remember what in this world is so beautiful that it demands we fight for it. In a world where it seems there is nowhere left to run, Uschuk's Refugee offers more than just a vital shelter: it offers the road we need forward."
— Andrew Najberg, North American Review, Fall 2022

"Refugee reveals itself through a tapestry of well-crafted poems of urgency and the hope for meaningful change. Uschuk, winner of an American Book Award, here rejects the assumption that nature poetry is apolitical or unengaged with the social realm, instead asserting that climate crisis is inseparable from human crisis, domestic and international. She also rejects the myth of the solitary poet and draws on community, which she defines as an ecosystem of people, flora, and fauna. Through poems that powerfully render a world where individual action holds value and every life is one that matters, Refugee chronicles the many ways in which environmental and political disaster, cancer, and racism affect our ability to exist, live, and thrive."
— Tara Ballard, Rain Taxi, Summer 2022

"There is a position in yoga called 'the shining heart'. This is how Pam Uschuk has approached her poems in Refugee. Pam Uschuk is on fire. She has carried her song and vision across deserts and over mountains. Witness and beauty undivided."
— Luis Alberto Urrea, author of House of Fallen Angels

"With tenderness, expansive compassion, and profound gifts of radiant description, Pamela Uschuk considers so many ways people may be estranged and lost in this precious, difficult world. With brave ferocity, her poems in Refugee navigate new vision and reconnection, so desperately longed for right now and always."
— Naomi Shihab Nye, author of The Tiny Journalist
BUY REFUGEE NOW FROM RED HEN PRESS
Ploughshares Emerging Writer's Contest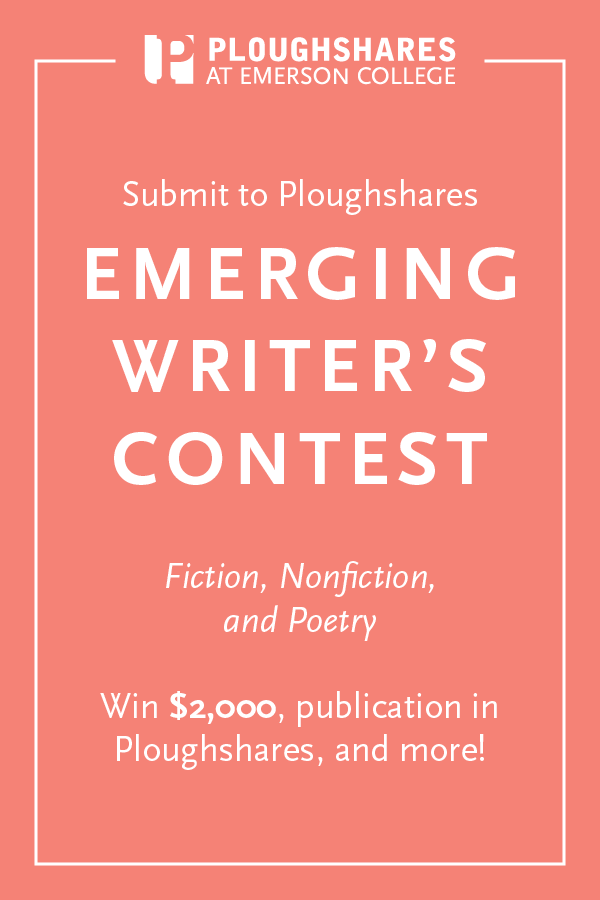 Deadline: May 15, 2023
Calling all writers: Ploughshares Emerging Writer's Contest is open now! Featuring judges Gish Jen for fiction, Sandra Cisneros for poetry, and Meghan O'Rourke for nonfiction.
Submit your fiction, nonfiction, or poetry for the chance to win $2,000, publication in Ploughshares, and a conversation with Aevitas Creative Management.
$24 entry fee includes a one-year subscription to Ploughshares (beginning with the Spring 2023 issue and ending with the Winter 2023-2024 issue) and free submissions to the 2023 regular reading period. Current Ploughshares subscribers may enter for free!
Ploughshares is a quarterly literary journal that publishes fiction, nonfiction, and poetry by award-winning writers. Our issues have been guest edited by talents such as Tracy K. Smith, Celeste Ng, Tess Gallagher, and more.
Two Sylvias Press Weekly Muse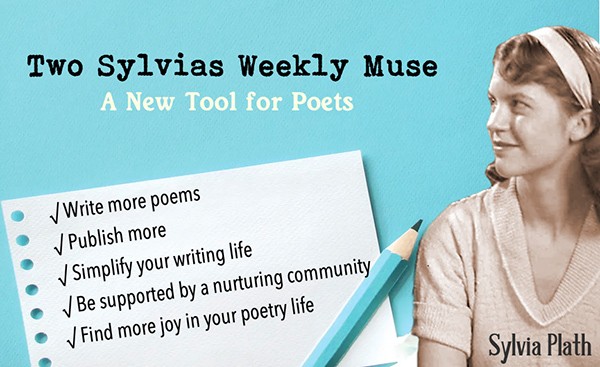 For 2023, Write More Poems, Submit More Work, and Get Organized in Your Poetry Life!
The Weekly Muse is a tool created by poets for poets that arrives in your inbox every Sunday morning to help you write new poems, find new opportunities to submit your work, and organize your week! Filled with exclusive interviews with favorite poets and your questions answered by editors, the Weekly Muse was just named a Substack Bestseller! And the Weekly Muse also has a private Facebook page where you can share poems, give or get feedback on your work from other poets and Two Sylvias Press editors, and find the nurturing community you've been missing.
"I only subscribed for the weekly poetry prompts and exercises, but the Weekly Muse has fast become one of the most valuable tools for me as a poet. I've learned so much and I've had poems accepted for publication from Weekly Muse recommendations! The editors of Two Sylvias Press really care about poets and the amount of time and energy put into the Weekly Muse is apparent. Also, I appreciate how they sometimes jump into the private Facebook page to respond to poems and answer poets' questions. I have become a huge fan of Two Sylvias and the Weekly Muse!"
~ John D., Weekly Muse Subscriber
With the new year ahead, this is the perfect time to try the Weekly Muse. For the price of a 3-4 hour poetry class, you can receive prompts, opportunities, inspiration, and ongoing support ALL year long! Click here for a subscription to the Weekly Muse with a 7-day free trial. Cancel at any time.
Special District: Harbin by Tim Stickel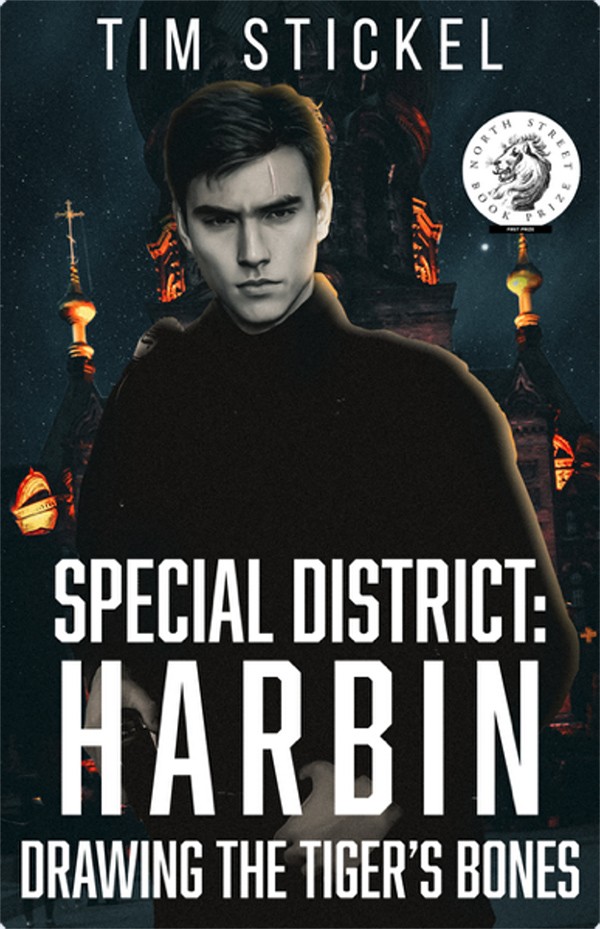 First Place Winner of the 2021 North Street Book Prize for Genre Fiction
Russian troops pour across the border
Russian infiltrators sow sabotage and terror
Cities are bombed and shelled
… only it's 1929 Manchuria
and a dismembered body is found in the Japanese zone
Borya is at the bottom ranks of Harbin's Special District police force. Fate takes him from chasing pickpockets to pairing him with one of the force's premier detectives, changing his life forever. Together they investigate the dismembered body of one of Harbin's foreign businessmen.
The trail takes them from the upscale boulevards of Harbin's New Town, to the seediest neighborhoods of the lower city, and beyond to the frontiers of Manchuria. Slowly they are drawn into a war with the Soviet Union that could tear apart the whole balance of life as they know it…
Can Borya and Inspector Chinn stay alive long enough to solve the crime?
Read an excerpt and the Winning Writers critique
Two Gifts from Tom Sheehan, winner of the 2021 North Street Book Prize for Poetry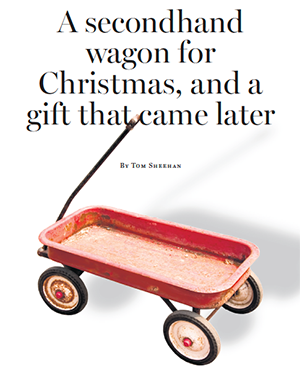 Tom Sheehan, winner of our first prize for poetry in our 2021 North Street Book Prize competition, would like to share with you this article he published in the Boston Sunday Globe this past December, "A secondhand wagon for Christmas, and a gift that came later" (PDF).
Recalling his childhood in the Depression, Tom writes, "I was the family hunter for coal chunks fallen from Boston & Maine Railroad tenders, and that wagon began to accompany me on my scrounging adventures along the tracks. I headed out when the coal box beside the kitchen stove of our third-floor apartment was near empty, chills in the air. I learned you had to fight for survival head-on."
Tom has also made his award-winning volume, The Saugus Book, free for your private reading. Download it here (PDF, 135 pages, please be patient) and read our critique.
BLR Literary Prizes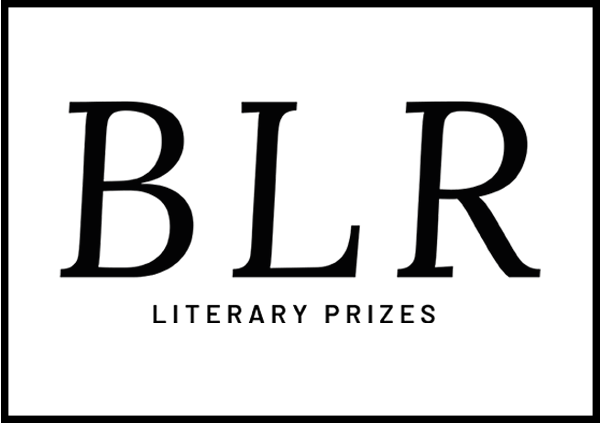 Deadline: July 1, 2023
Bellevue Literary Review's annual prizes recognize exceptional writing about health, healing, illness, the body, and the mind.
• Goldenberg Prize for Fiction
Judged by Marie Myung-Ok Lee
• Felice Buckvar Prize for Nonfiction
Judged by Edgar Gomez
• John and Eileen Allman Prize for Poetry
Judged by Melissa Lozada-Oliva
Each category offers a $1,000 First Prize and $300 Honorable Mention. Winners and honorable mentions will be published in the Spring 2024 issue of BLR.
Poetry: 3 poems per submission
Fiction and Nonfiction: 5,000 words maximum
Only previously unpublished work will be considered.
Entry fee $20.
Visit BLR's website for complete guidelines.
The Sally Albiso Poetry Book Award

Deadline: May 15, 2022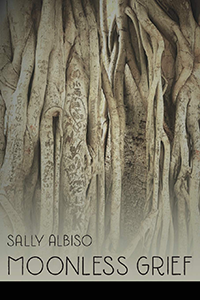 MoonPath Press, an imprint of Concrete Wolf, will award $2,500 and publication to a poet who lives in Alaska, Oregon, or Washington. Our judge is poet Alice Derry.

Submit a manuscript of 60-80 pages of poems without any identifying information. Simultaneous and multiple submissions are accepted. Fee: $10. Enter online at Submittable.
All entrants will receive a copy of Sally Albiso's collection Moonless Grief. The winner will be announced in July 2022 and published late fall 2022. In addition to prize money the winner will receive 50 copies of their published collection. All manuscripts will be considered for publication.
This award honors the exquisite poetry of MoonPath Press author Sally Albiso who passed away in 2019. The award is endowed by her husband John Albiso. Learn more and see the complete contest guidelines at the MoonPath website.
The Masters Review Anthology XII Seeks Emerging Writers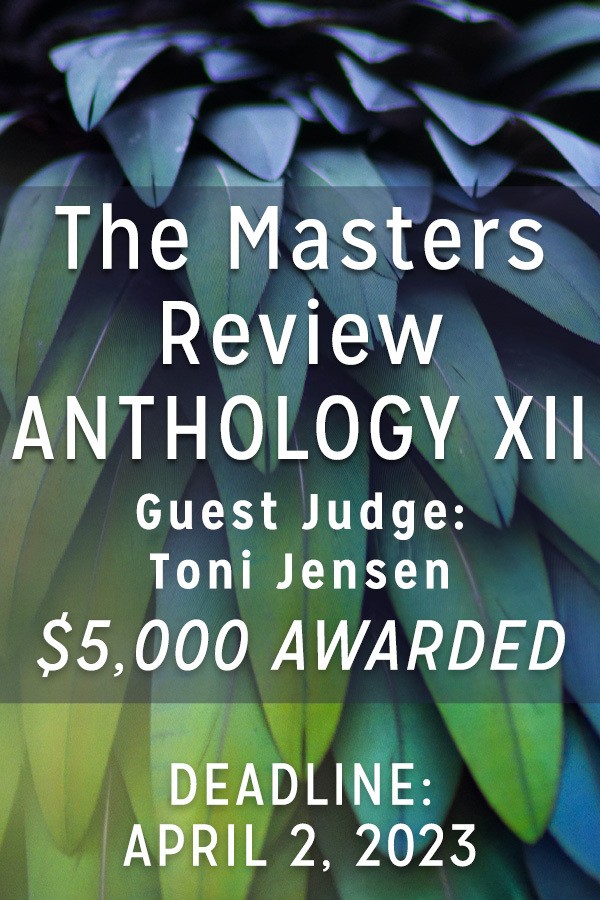 Every year The Masters Review opens submissions to produce our anthology, a collection of ten stories and essays written by the best emerging authors. We are in our 12th year of offering this prize and our aim remains the same: to showcase ten writers who we believe will continue to produce great work. The ten winners are nationally distributed in a printed book with their stories and essays exposed to top agents, editors, and authors across the country. This year's judge is Toni Jensen, the author of Carry: A Memoir of Survival on Stolen Land, a finalist for the Dayton Peace Prize and a New York Times Editors' Choice book (Ballantine 2020). Submit your short stories up to 7,000 words by April 2nd.
The Herd by Ryan Poirier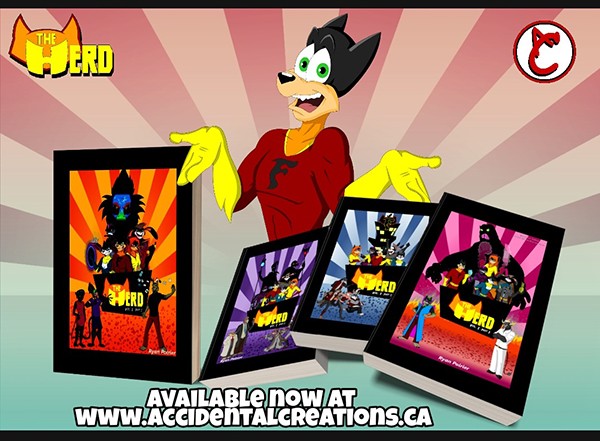 First Prize, Graphic Novel & Memoir, 2021 North Street Book Prize
A superhero origin story about a group of wannabe heroes who find their powers (and problems) at the bottom of a bottle of contaminated fruit juice.
When a disgruntled employee at a fruit juice factory contaminates a new product with a secret formula for their diabolical means, it accidentally results in a city-wide supernatural outbreak! It's up to the factory's owner and a new team of amateur heroes to save Maple City and stop the superpowered pandemic from spreading beyond its borders.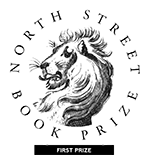 In this comedic satire take on the superhero genre, with an anthropomorphic cast of characters, The Herd is a fun and easy read for any age.
Read an excerpt from The Herd (PDF)
Read the Winning Writers critique
#followtheherd to accidentalcreations.ca!
Critiques for Children's Picture Books
Critiques for Children's Picture Books
Subnivean Awards
What Do US Poet Laureate Emeritus Juan Felipe Herrera and Lemony Snicket Have in Common?

They want to read your writing. The 2021-22 Subnivean Awards are open now, but closing February 21, 2022.
Juan Felipe Herrera, final judge in poetry, wants words that grow wings to singe themselves on the sun. Not a poet, but a fiction writer? Daniel "Lemony Snicket" Handler, final judge in fiction, is ready to read a story that throws caution to the howling wind.
If your poetry is madly ablaze or your fiction is weird, wild and wonderful—or both—consider entering the Subnivean Awards. Winners in each category will receive a blurb about their work by the final judge who selected it, publication in Subnivean, and a $150 prize. Finalists and winners will also be invited to read at a virtual event featuring Herrera and Handler in public conversation.
Learn more at Subnivean.
The Table Read Magazine—FREE Promotion for Writers, Artists, and Creatives

The Table Read Magazine was established in June 2021 to celebrate creativity, arts, and entertainment. We want to offer a platform to creatives around the world to share their work with our audience, and excite our readers with their stories. We work with writers, podcasters, artists, musicians, actors, and more. As long as you're creative and passionate about what you do, we want to celebrate everything you're doing with the people who are excited by it.
Each article is edited to fit the layout and SEO style of The Table Read, and graphics are created to our own style. Posts are then shared across social media, both in quote form and infographics.
If you have a book, blog, magazine, or newsletter that you want to promote then this is the platform for you. Share details of what motivates you, how you use writing to accomplish your goal, and what you have achieved so far. Reach a new audience of excited readers, and inspire a new generation of passionate writers.
There is no cost to you for this opportunity.
Apply to feature on The Table Read.
My Pants by Nicole Kohr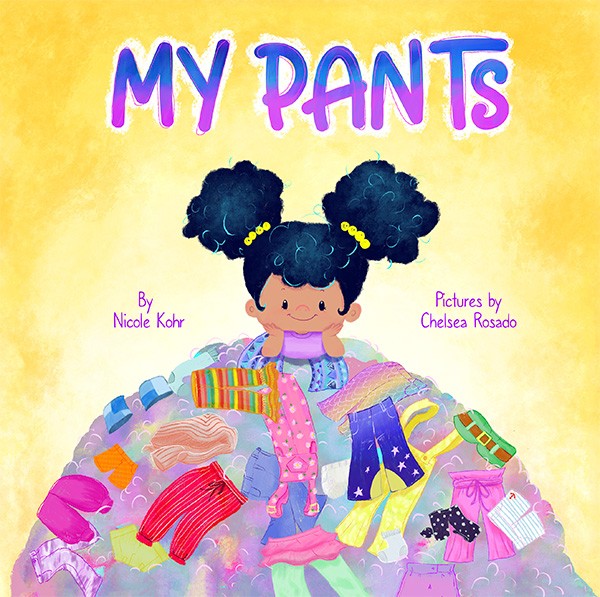 My Pants follows Celana, a relatable and quirky little girl who is obsessed with pants and struggling with everyday social interactions. Her parents take her to multiple doctors who can't seem to give a good explanation for her anxiety.
With eye-catching, brightly colored illustrations, My Pants is a story about inclusivity, advocating for yourself or others, and well, pants. It teaches children new coping mechanisms and includes fun activity pages at the end of the book. It's a must-have for every home and classroom. Fun for all ages (but best suited for ages 3-8).
"As a parent and a self-diagnosed person on the spectrum, I've read a lot of picture books about kids with autism and related conditions, but none were as satisfying, or full of love, as Nicole Kohr's My Pants. Chelsea Rosado's cozy and colorful illustrations show that neurodiversity can be a source of pleasure, a talent for finding wonder in the mundane." [read the full critique]
—Jendi Reiter, judge of the 2021 North Street Book Prize
Read an excerpt from My Pants (PDF)
Buy this book on Amazon
Inheriting Our Names by C. Vargas McPherson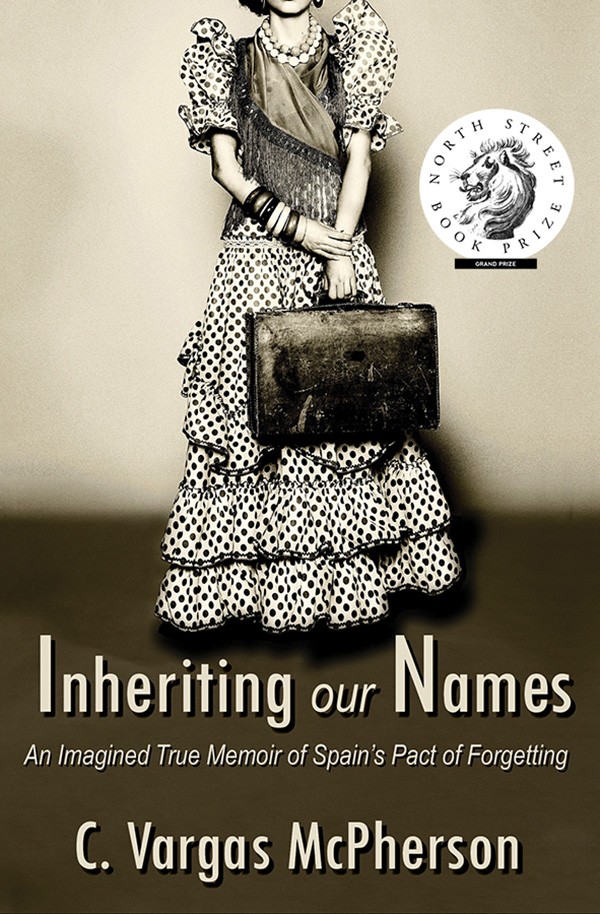 Winner of the Grand Prize in the 2021 North Street Book Prize competition
Three years of war.
Forty years of silence.
Thirty years of forgetting.
One day of remembering.
Inheriting Our Names portrays a family trauma inherited from the Spanish Civil War, suppressed from memory, and passed through successive generations and across continents until one woman returns to Seville to reconstruct—and reclaim—her family's history. A richly layered and lush exploration of transgenerational trauma, grief, and release.
"I love that this book is described as 'an imagined true memoir' and, indeed, it is both searingly honest and richly imagined. I was utterly engrossed by this lyrical, profound story of secrets and revelations, trauma and transformation, and am so glad to have discovered this writer."
—Abigail DeWitt, author of three novels: Lili (WW Norton), Dogs (Lorimer Press), and News of our Loved Ones

"An intensely rich and beautiful book written with the poetic touch of a writer whose heart unmistakably beats with Andalusian blood. This is a story of grief and pain, but also of healing and identity, of three women separated by time and war who weave together in a stunningly passionate examination of hidden history and its effects on the past, present, and future."
—SPR Publishing Review
Read an excerpt from Inheriting Our Names (PDF)
Read the Winning Writers critique
Buy now from Amazon and other fine booksellers worldwide.
Oprelle "Into Pieces" Poetry Contest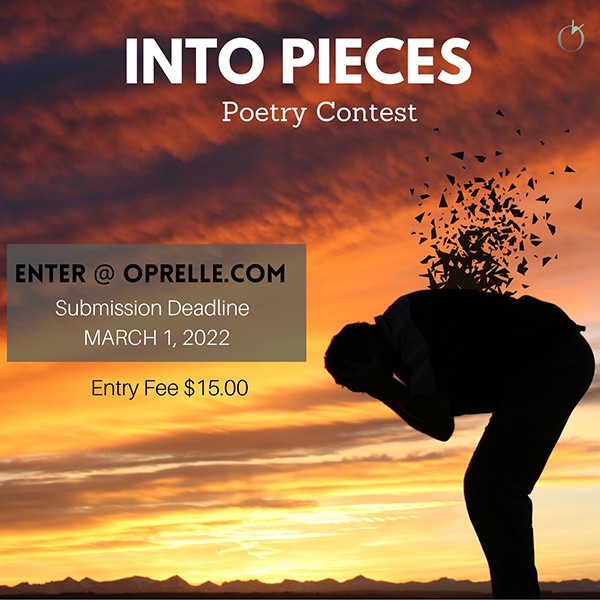 Deadline: March 1, 2022
There are untold stories within each of us…of the things that shatter us into pieces.
Is there something heavy that you carry? Have you been broken, changed, and re-shaped into the person you are now?
Enter your 1-20 line poem today at Oprelle.com.
First Prize $200
Second Prize $100
Third Prize $50
All Winners and Finalists will receive a Certificate.
Best of Luck!
Team Oprelle
Eaton Literary Awards (no fee)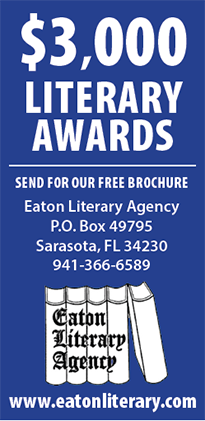 Deadline for short stories and articles: March 31, 2022
Deadline for book-length submissions: August 31, 2022
Eaton Literary Agency has been helping authors since 1984. Our Annual Awards Program attracts quality manuscripts that we can present to publishers on behalf of our authors. We award an annual prize of $2,500 for book-length work (10,000+ words) and $500 for short stories and articles (fewer than 10,000 words).
Entries may be fiction or nonfiction, and must be unpublished. To enter, please email your submission as an attachment in .doc, .docx, or .pdf format to eatonlit@aol.com. Alternately, you may mail a printed copy of your work to Eaton Literary Agency, P.O. Box 49795, Sarasota, FL 34230.
Winners will be notifed in the month after the contest deadline. For more information, please visit our website.
Testimonials from our clients:
"I have been trying for a long time to put my ideas on paper. Using Eaton Literary was the best move I have made. Richard Lawrence and his staff have been instrumental in getting me a publisher for one of my books. Mr. Lawrence has used his considerable talent and contacts in the industry to find me an excellent and generous contract with a highly respected publisher.

"He and his staff have shown a great amount of patience in dealing with my struggles. His method of having the books edited is praiseworthy. I have learned a lot from his letters and comments. A pleasure to deal with an honest man who delivers what he advertises. No false promises, no rush jobs.

"Eaton Literary spells out all requirements in their contracts and letters. Nothing is left to doubt, unlike some I have heard of. This is refreshing. I honestly believe, if given the chance, this company could represent you very well if you are able to meet their requirements."

—J.H.
Critiques for Books and Manuscripts
Critiques for Books and Manuscripts
Critiques for Poems, Stories, and Essays
Critiques for Poems, Stories, and Essays
Critiques
Personalized critiques for your book, manuscript, or shorter work. We guarantee your satisfaction. Learn more.
Three Funerals for My Father by Jolie Phuong Hoang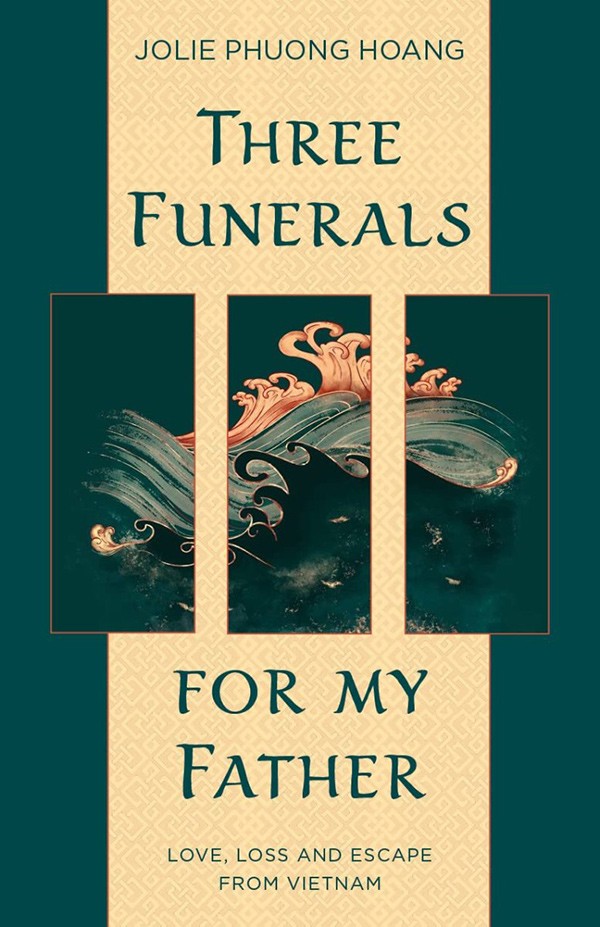 From the author of Anchorless, winner of the 2020 North Street Book Prize for Literary Fiction
What would you risk to save your children?
Jolie Hoang grew up as one of ten children, part of a loving, prosperous Vietnamese family. All that changed when the communists took over in 1975; the family lived in constant fear of being sent to the dreaded "new economic zone". Desperate to ensure the family's safety and to provide a future for his children, Jolie's father arranged three separate escapes. The first was a failure that cost most of their fortune, but the second was successful—six of his children reached Indonesia and ultimately settled in Canada. He and his youngest daughter drowned during the disastrous third attempt.
Jolie Hoang's escape and the aftermath, which included nine days on a boat and 14 months in an Indonesian refugee camp before coming to Canada, was left out of Anchorless because her father wasn't there. However, in Three Funerals for My Father, she shares the harrowing story.
Alternately told from the author's perspective and that of her father's ghost, Three Funerals for My Father is a poignant story of love, grief and resilience that spans three countries and fifty years. It is an intimate story of one family, a testament to the collective experience of the "boat people" who escaped communist Vietnam, and a plea on behalf of the millions of refugees currently seeking asylum across the globe.
"This is a story of familial love in its purest and finest form...a modern classic...should be required reading in any secondary school."
—Alexander McGlashan, 5-star Goodreads review
Buy now from Tidewater Press, Amazon, and other fine booksellers worldwide.
Oprelle's Holiday "COMING HOME" Poetry Contest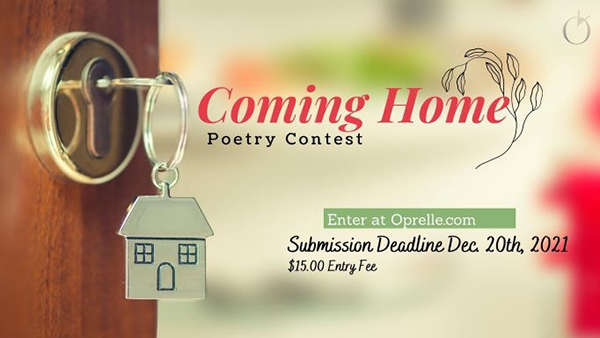 Deadline: December 20, 2021
What does home look like to you? Is it an old farmhouse, a certain person, a childhood bedroom, a river you run to? Think about when you feel most rooted. Where in the world do you feel most at peace, most yourself? Write a poem that takes us there with you.
A home doesn't have to be a building with four walls. It can be a state of being. We want to know what exactly "home" means to you!
First Prize: $200, poem published on oprelle.com, certificate
Second Prize: $100 and certificate
Third Prize: $50 and certificate
The contest is open to anyone age 14 and up who writes poetry. Parents and guardians may submit on behalf of children who are 14-17. Each poem must have 1-20 lines (220 words maximum). Entry fee: $15 per poem. Submit up to two entries. Judge: Susan (Manchin) Dines. Learn more and submit via Submittable or by mail.
HowToDoItFrugally with Carolyn Howard-Johnson

Veterans Writing Award (no fee)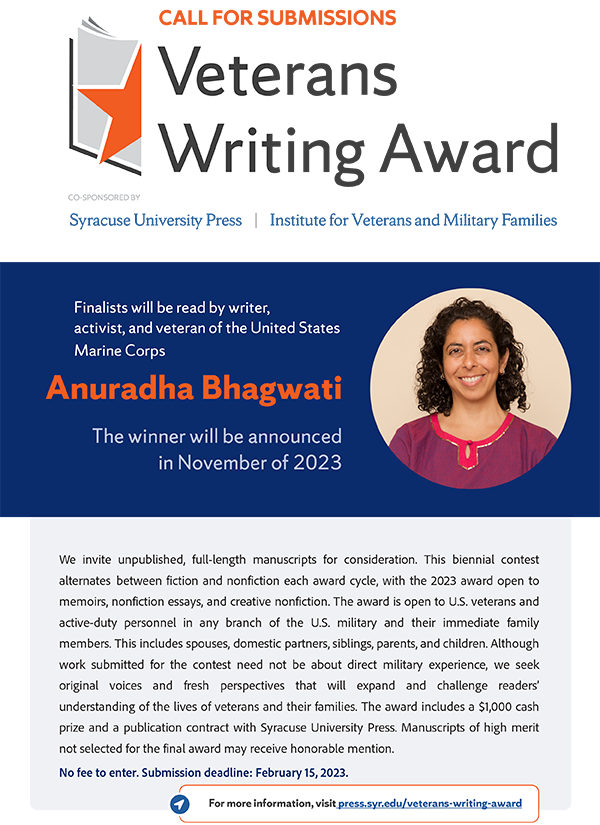 Uncharted Magazine Horror/Thriller Short Story Award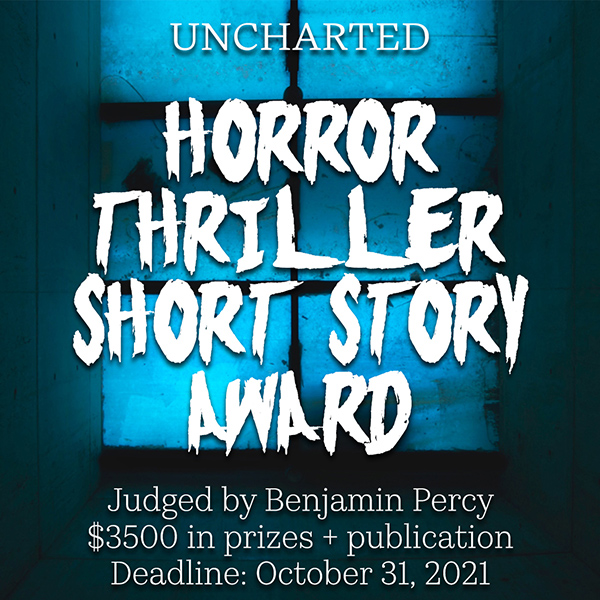 Deadline: October 31, 2021
Writers are invited to submit your spookiest unpublished short stories. Guest judge Benjamin Percy will choose three winning stories from a shortlist. We're excited to offer the winner of this prize $3,000 and publication, while the 2nd and 3rd place winners will receive publication and $300 and $200, respectively along with publication.
Mr. Percy is the author of five novels—most recently, The Ninth Metal (Mariner Books)—three story collections—including Suicide Woods—and a book of essays titled Thrill Me that is widely taught in creative writing classrooms.
Uncharted Magazine publishes Horror/Thriller Short Stories from fiction writers of any background or experience. We want stories that keep us up at night, afraid to turn the corner. Stories that take us into the resonant fear of looming monsters and haunting ghosts. We want stories that thrill us by keeping us on the edges of our seats, hearts pounding, wondering how it will end! Stories with characters who refuse to stay in the shadows! We want stories that thrill us, that make us feel alive, that awaken our desires to explore and go on adventures.
Litwise: How to Nail Your Novel Vision With One Good Idea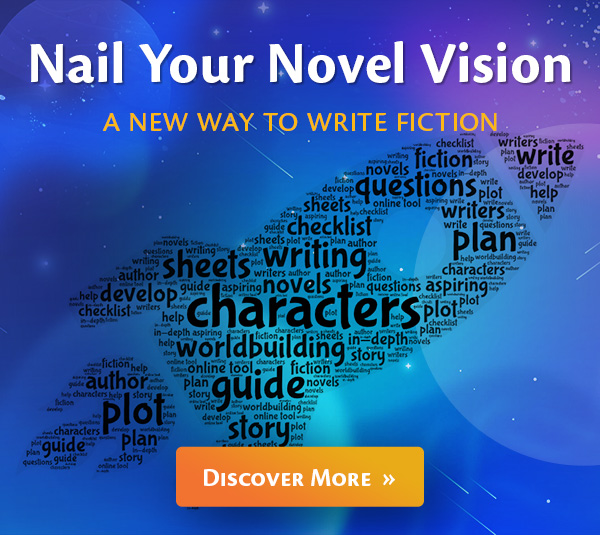 There are so many steps in writing a novel.
Research. Characters. Worldbuilding. Plot. Writing. Editing. There's so much work involved—it's like trying to build a huge sandcastle grain by grain.
Sure, some online tools can help you. A course about plotting, a name generator here, a face designer there, some character questionnaires, cloud backup of your precious files… the list is endless. You end up with 71 open internet tabs and an epileptic PC.
We know. We've been there.
That's why we at Litwise had one good idea: to bring together everything you need to write a novel in one place. One online tool to rule all your writing needs, from research to characters and worldbuilding to version-tracking and backups.
This is the future of writing a novel, and we're building it now.
Explore the future of writing fiction.
Social Media for Writers with Gila Pfeffer

Interested in growing and maintaining your social media presence? Humorist and essayist Gila Pfeffer speaks with Leigh Stein about the importance of social media for writers, with insight on how she sustains and expands her cross-platform audience of 25k+ followers. Read the interview and follow Gila on Instagram and Twitter. Here are some quick tips:
Share other writers' content and always tag/credit properly
Be polite
Think about what value you add to the lives of your audience members. Do you entertain? Inspire? Educate?
Find a supportive community, one person at a time. Your people are out there. Make the effort, it will be so worth it. Take initiative and create engagement/sharing groups on your platforms.
Don't focus on the number of followers; focus on engagement (how much interaction your posts generate) and identifying your "thousand true fans", i.e., the people who like, comment, react and DM regularly. Those are the people who will buy your books and talk about you to their friends. Never take their attention for granted.
Never punch down (aka don't be an asshole)
Be authentic; people can smell BS
Think about what tone/message you want to convey about your brand—and yes, you ARE a brand, like it or not—and be consistent. Think about consistent fonts, colors and filters.
Don't be afraid to change things up and experiment with new content.
At first you'll feel awkward and dumb posting videos and photos of yourself. You'll get over it soon enough. I certainly did.
Pay attention to trends in content (e.g., Reels are doing well because Instagram is pushing them, video content and stories are more popular than static posts)
Generate quality, relevant and compelling content
Have fun!
WRITERTHREADS Writing Tips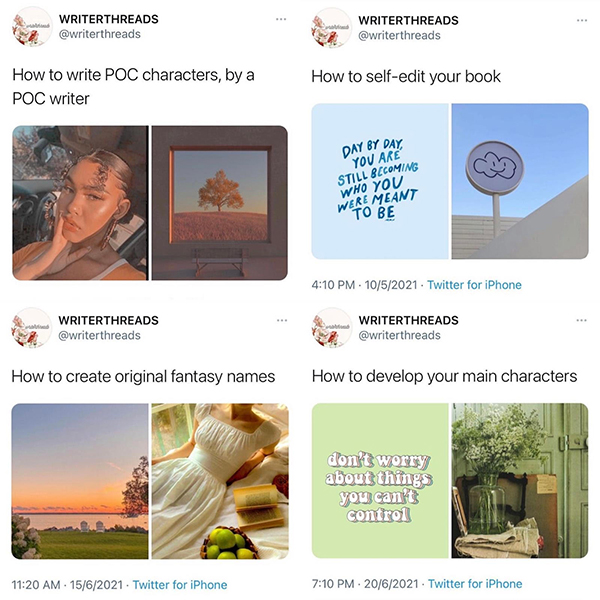 Writerthreads is an interactive platform by writers for writers, with daily posts covering writing tips, memes and prompts. With over 30,000 followers, our aim is for every writer to be the best they can be.
Follow us on Twitter at @writerthreads for daily writing tips, prompts, and memes that are easily accessible for all aspiring writers—over 600 tweets to date! You'll also find us on Discord, Wattpad, Tumblr, and Instagram.
Eyelands Book Awards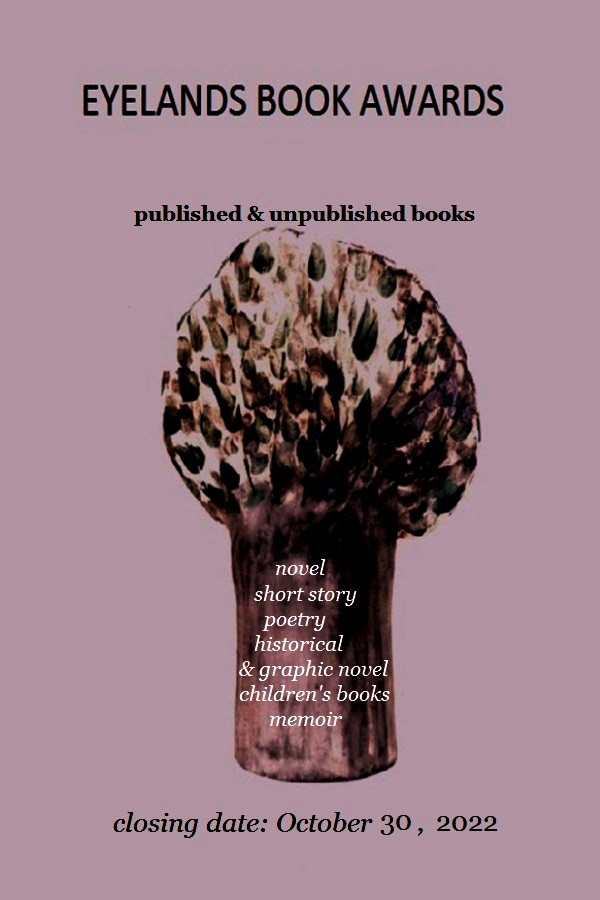 Deadline extended to October 30, 2022
Grand Prize for Published Books
A five-day holiday in Athens plus a special handmade ceramic designed especially for Eyelands Book Awards and publication (excerpts) online on our website. Eyelands will cover all accommodation costs for the prizewinner (but not airfare).
Alternative prize (in case of travel restrictions): online ceremony & translation of the prizewinner's book into Greek
Grand Prize for Unpublished Books
Translation into Greek and publication by Strange Days Books
Ten more prizes, one for each category of every section, also win a special handmade ceramic designed especially for EBA. Certification document for every prize.
Submit books and manuscripts of poetry, novellas, short story collections, novels, children's books, historical fiction/memoirs, and graphic novels.
Entry fee: $30 (27 euros)
Free submission for every winner of previous Eyelands Book Awards.
Discounted submission (20 euros) for the finalists of previous contests.
Discounted submission (20 euros) for every entry after the first.
Discounted submission (20 euros) for every submission made through a publishing house or a university/college/authors club.
Finalists for every category will be announced on November 20 with the winners announced on December 30.
Judges: P.H.C. Marchesi (children's books/graphic novels), Alicia Hokanson (poetry), Andriana Minou (short stories), Djanco Wylie (novels), and Gregory Papadoyiannis (historical fiction/memoir).
Learn more and submit at the Eyelands Book Awards website.
Revision Season Taught by Elana K. Arnold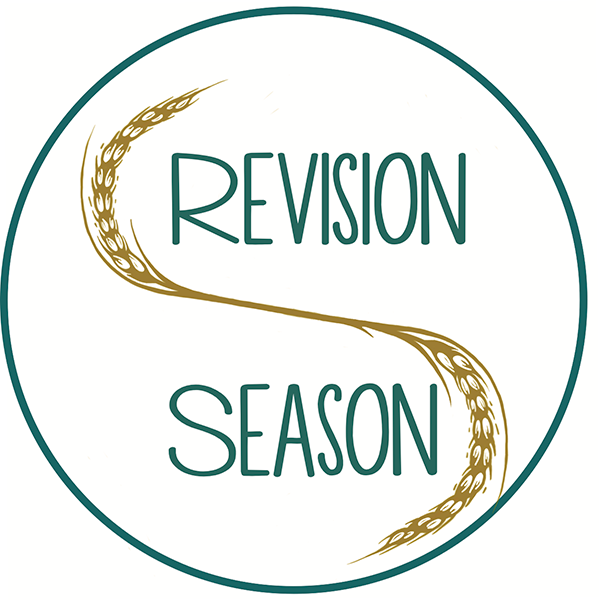 "Elana K. Arnold is one of the finest writers I've had the pleasure of working with—and it's no coincidence that she's also one of the finest revisers. The skill, perspective, and fearlessness that she brings to the task of digging into her own work and emerging with something stronger, more exciting, and more unexpected would be an asset to any writer, seasoned or developing."
—Jordan Brown, Executive Editor, HarperCollins Children's Books
Revision Season is a virtual master class in novel revision led by award-winning author Elana K. Arnold. Each week includes a video lecture followed by a series of assignments designed to help you put the lessons into practice. A weekly live call (recorded if you need to listen later) gives writers the opportunity to ask specific questions. And a private, moderated forum provides a space for Revision Season writers to connect with and learn from each other. By the end of Revision Season, writers will have the tools they need to deepen, enrich, and grow their current manuscript into its next incarnation.
Enrollment is open NOW. Week Zero begins October 10th, 2021. Learn more.
Measureless Silence, poems by Cris Mulvey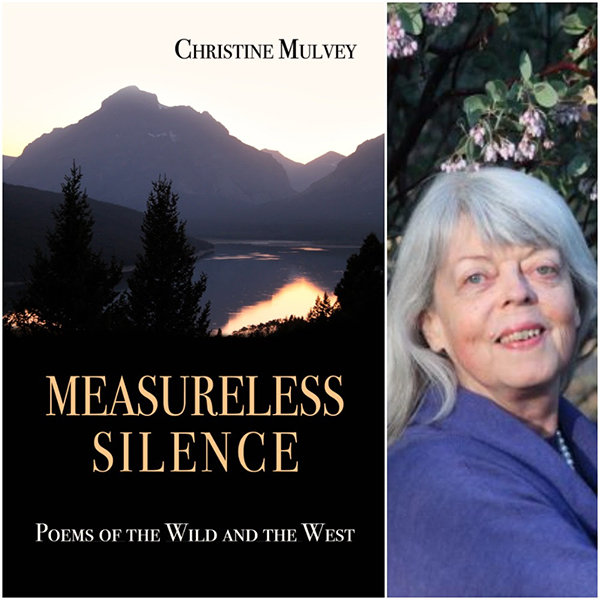 Cris Mulvey, the grand prize winner of our most recent North Street Book Prize, has just released her second chapbook of poetry with Finishing Line Press. She writes, "It is called Measureless Silence and brings together a collection of my poems about the Wild and the West." Proceeds from the sale of the book will be offered to the Glacier-Two Medicine Alliance, which works to protect and steward the lands, water, and wildlife of the Badger-Two Medicine, Glacier National Park, and surrounding areas of Montana.
"There is a music in these poems that works magic with the particularity of the images to create a whole body experience out of which willows, swans and bison rise as if from within our own being, untamed and untameable. In Measureless Silence, Christine Mulvey has composed a symphony of words that sings the wonder and devastation that is our world. Each poem is a summons, whether through the 'wrap of forest' or the harsh light of 'glitz and bling', to discover ourselves as the wild itself: pristine, ravaged, and innocent as snow, as wings, as wind."

—Kim Rosen, author of Saved by a Poem: the Transformative Power of Words
Available now! Order Measureless Silence for $14.99 plus $3.49 for shipping.
Please enjoy these sample poems:
TWO MEDICINE LAKE

Walking onto the frozen lake
beneath these chiseled mountains,
snow puff-powdering the purple air,

ravens rustling by carrying light
like a drink in the curve of their backs,
the ragged cry of their cackling

deepening the thrum of silence:
I am a pine seed stuttering
onto a stainless platter,

the air around me
the color of bluebirds' feathers
twirling into an ocean of sky.


FIR RIDGE

Come with me out to where the soft round shapes
of the fallen snow lie draped across the bushes like the thighs
and hips of a sleeping god curled up on the open bedspread of the land.

Here willow twigs stand frozen, furred by hoar
and under the diamond glint of the bowl of night the river,
black as molten pitch, whispers underneath its skin of ice.

In the silence, only an occasional flumpf of snow
falling from bare boughs, tinkling the air, or the mournful
honking of the swans calling from the lake the whole night through.

Here tell me the story of your lonesomeness, your unheard prayers!
And I will show you how, underneath that ridge inked like a koan
across this boundless white, a solitary bison ploughs his head

in big slow sweeps from side to side
knowing that six feet down
there must be grass.
The Connecticut Poetry Society Presents The Vivian Shipley Award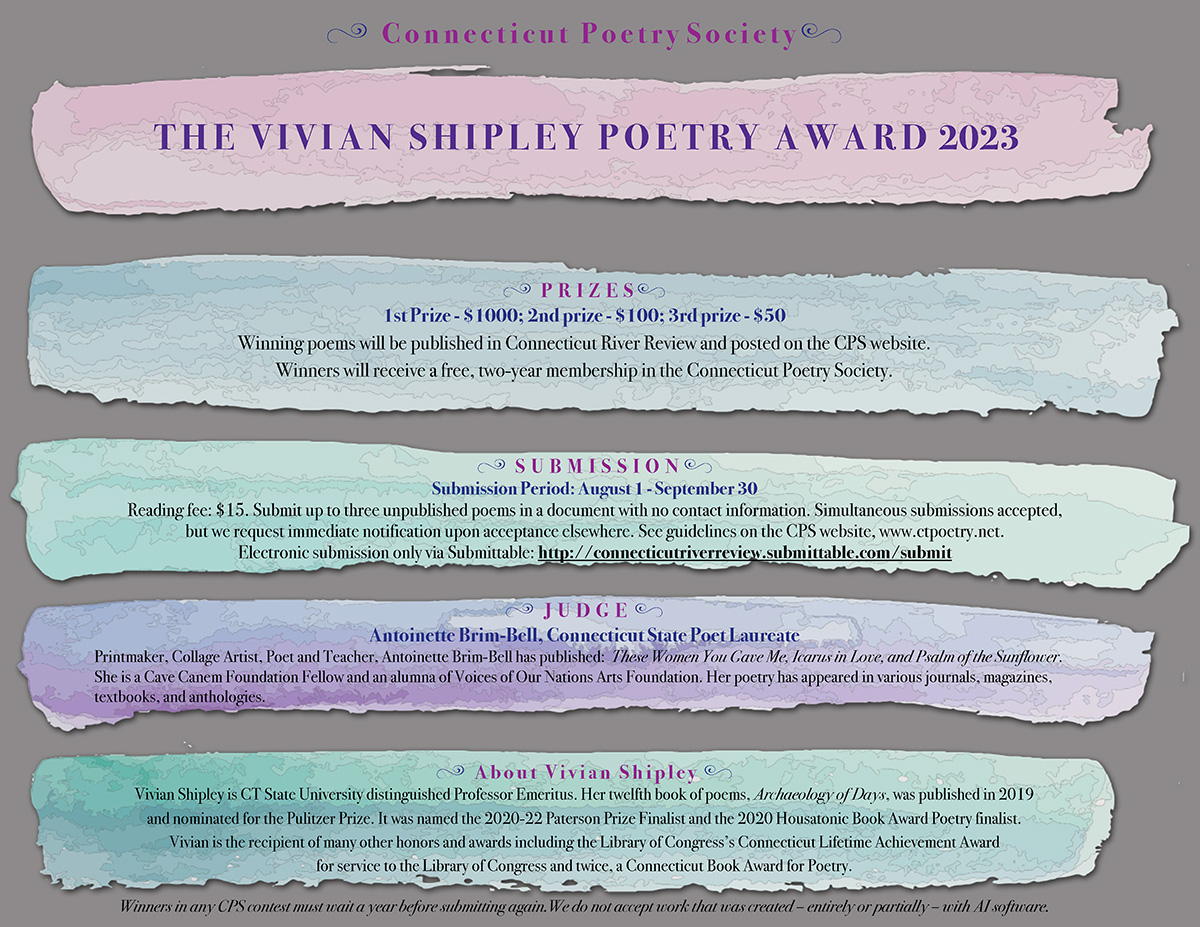 A Hotel Room of One's Own: The Erma Bombeck | Anna Lefler Humorist-in-Residence Program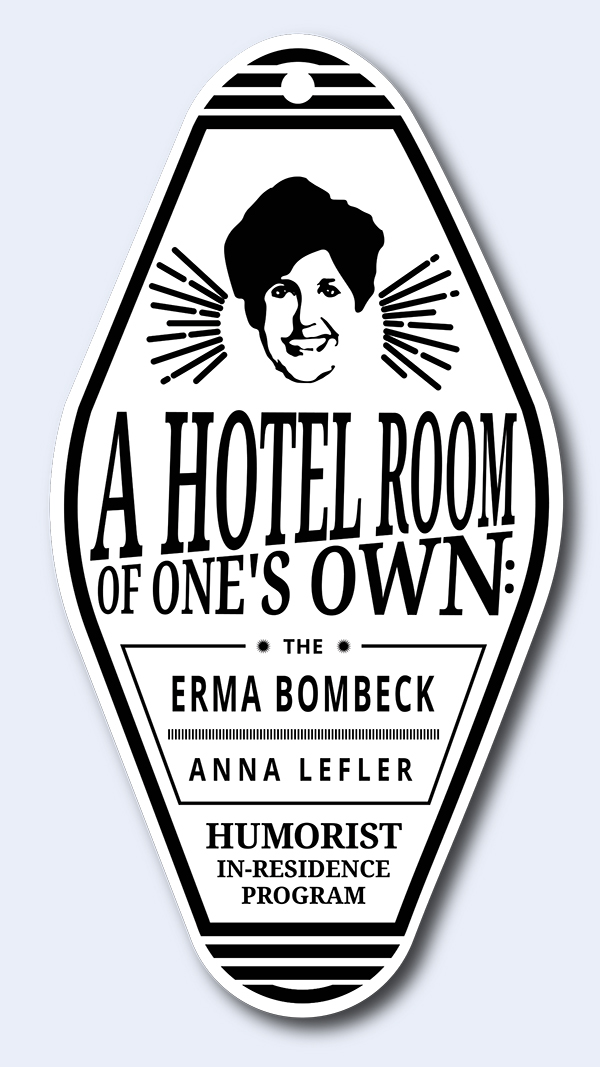 Deadline: October 5
Fee: $25
What writer wouldn't want to attend the wildly popular Erma Bombeck Writers' Workshop and spend two all-expenses-paid weeks at a hotel to write? Free room service. A housekeeping staff. An omelette bar. A TV remote of your own. The sun rising over the Great Miami River (aka, the Dayton Riviera).
And, most importantly, a "Do Not Disturb" sign.
Applications for A Hotel Room of One's Own: The Erma Bombeck | Anna Lefler Humorist-in-Residence Program will be accepted September 5-October 5.
Improvisor Dion Flynn, best known as Barack Obama (and other characters) on The Tonight Show Starring Jimmy Fallon, and comedy writer Monica Piper, longtime head writer for Rugrats, will choose the two grand prize winners. Preference will be given to emerging humor writers. The package is worth approximately $5,000, but the experience is priceless. Cash prizes for finalists and honorable mentions.
Read the announcement and FAQs. Then apply here for what Forbes says "may be the best writer's residency in the country."
Oprelle: What the Haiku! Poetry Contest and "Bigger Than Me" Poetry Contest
Deadline: September 1, 2021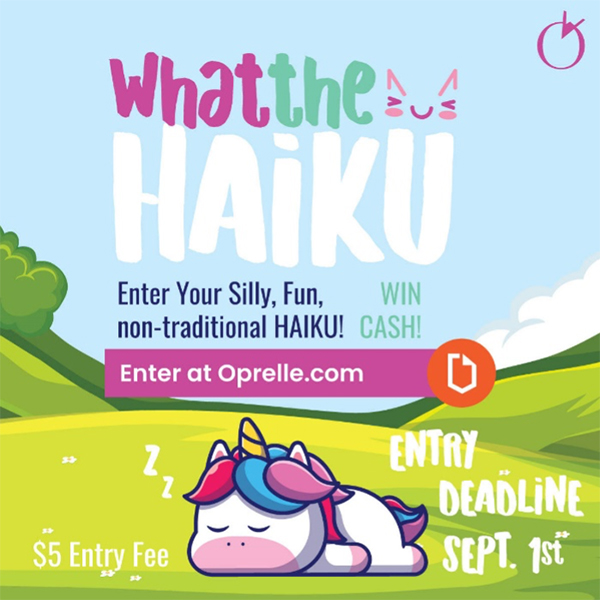 What the Haiku! Poetry Contest
$5 per entry
For just a moment, let's stop taking ourselves so seriously and write a non-traditional haiku! Not to disrespect the form, but to use the nuances of specific syllables (5 – 7 – 5) to express anything out-of-the-box or outrageous! From venting your annoyance, to tossing your best pick-up lines, to musings on space travel. There were no barriers! Just fun with language! Wherever your creativity takes you! We are looking for originality and relevance to current life.
"What the Haiku!" Poetry...just for the fun of it!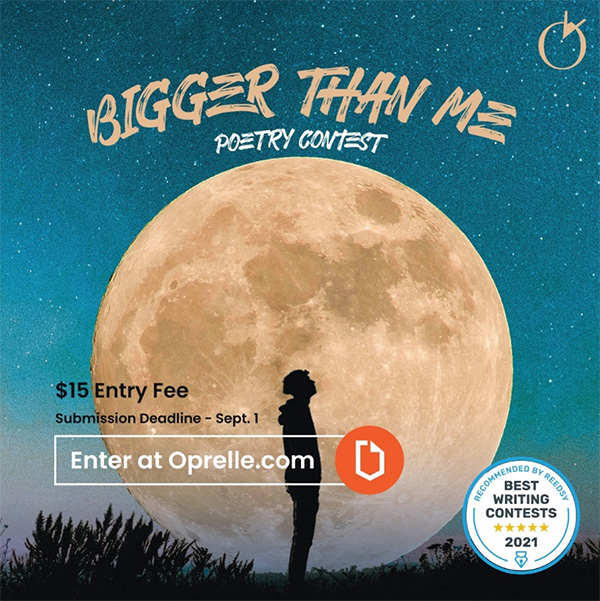 "Bigger Than Me" Poetry Contest
$15 per entry
Go deep for this one. So often we read poetry that touches us on the deepest of levels. We are reminded of the amazing power within our souls, and the energy of everything.
We are particularly looking for poems that seem to attribute happenings to some force that is bigger than ourselves. 1-20 lines.
"The aim of art is to represent not the outward appearance of things,
but their inward significance."
—Aristotle
Oprelle's "Bigger Than Me" Contest is looking for your musings on any topic, such as:
A strong coincidence
A clear sign
A calling
A love story
A unique connection
A path you must take
Road rising to meet you
Divine reciprocity
Power of our thoughts
Strength of a soul
A string of events
The connection of all
AppSumo Brings You the Best Digital Tools for Authors–at a Discount!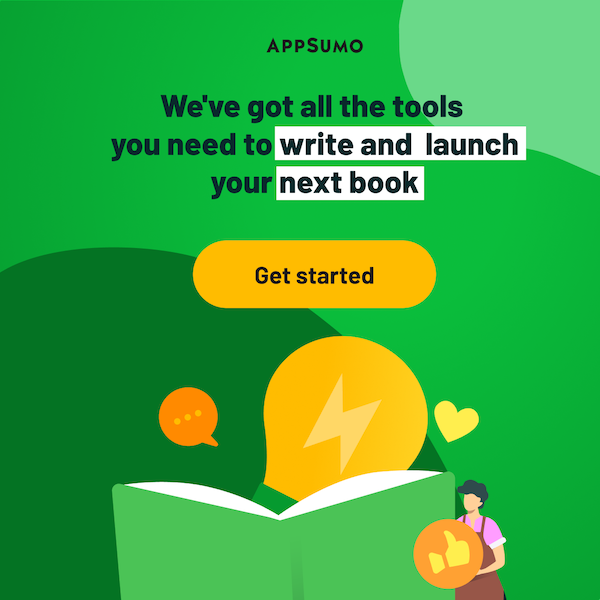 The pen may be mightier than the sword, but modern writers need even more powerful tools in their arsenal. With that in mind, AppSumo, a digital marketplace helping businesses grow and empowering entrepreneurs, has built a collection of discounted tools just for you wordsmiths, scribes, and storytellers. Get the best deals on tools like ProWritingAid, Rytr, and WordHero.

Check out all of the tools at AppSumo.
Puro Chicanx Writers of the 21st Century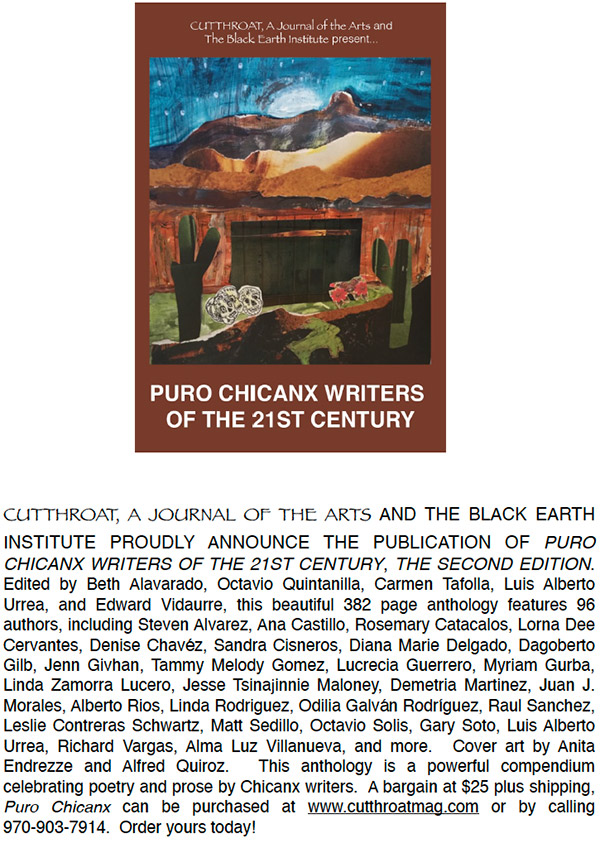 Please enjoy this excerpt from Juliana Aragón Fatula's review of Puro Chicanx that appeared in La Bloga on July 2:
"In this historic anthology, we meet poets, scholars, and la gente anxious to tell their stories. This irreverent, rebellious, inventive, rasquache, distinguished compilation contains poetry and prose by the talent of candid 21st Chicanx writers in the U.S. These writers offer an assemblage that will be used in Chicanx Studies, Ethnic Literature, Chicanx Literature, Creative Writing and Poetry classrooms, and writing workshops. Students in high schools and universities will benefit when this book is added to their literature curriculum to advance in education and lead the world in racial equality and cultural diversity, this book belongs in our schools and libraries. This anthology deserves every award and praise it receives. Lessons learned in these works lend the reader an eye to Chicanx culture often marginalized and undervalued.
"Many of these writers are Chicanx icons in the literary canon. They communicate their own distinctive attitude about impoverishment, social and health issues, and the necessity to educate our children to think one world, one people. They are warrior poets who weave the motherland's tapestry."
Atmosphere Press: Schedule Your Free Publication Consultation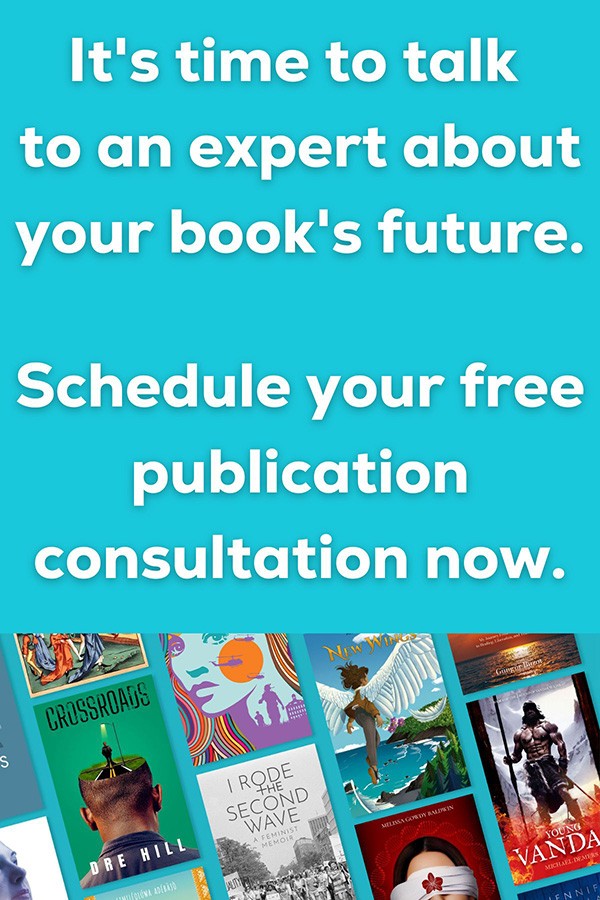 In a world of agents not responding to your emails, traditional presses taking fourteen months just to send you a form rejection, and self-publishing seeming like a last resort, what do you do? You can either let your manuscript get stale as it falls to digital dust on your laptop, or you can start taking things into your own hands.
To help you think through your options, Atmosphere Press is now offering free publication consultations for serious writers to help them explore possibilities and strategize. This call will be helpful, educational, and will be with a true and experienced publishing expert, not a salesperson.
Schedule your consultation now to get some real expert (and human) feedback on your writing and your publication options.
Tania's Writing Realm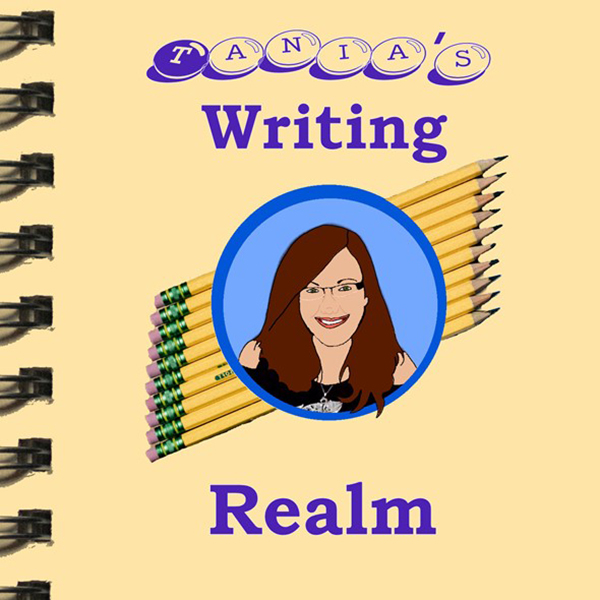 Tania Stephanson is a self-published Indie Author who loves networking with other writers. On her podcast, Tania's Writing Realm, she shares writing contest details, discusses writing and self-publishing topics, and offers fun writing prompts! Find her podcast on most major platforms including Spotify, Apple Podcast, Podbean, Google Podcasts and more. You can also find her on YouTube under the same title. Writing may be a solitary existence, but that doesn't mean you have to feel alone. Check out the Tania's Writing Realm podcast today!
The Easy Graphics YouTube Channel Guides Self-Published Authors to Design Success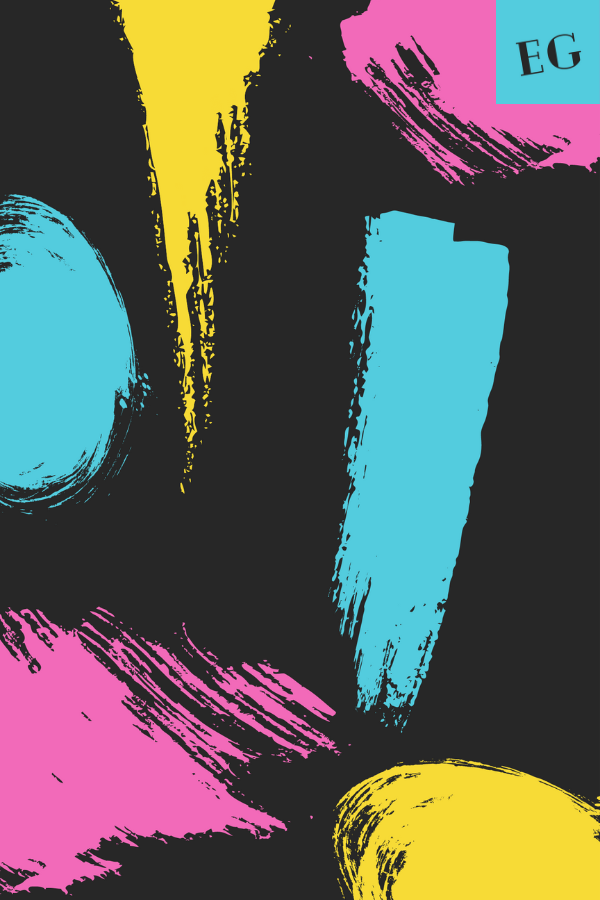 As an independent author or self-publisher, you want to control the entire process from start to finish, including creating your own book covers, interiors, and merchandise products. You don't know where to begin—the struggle is real!
Do you feel like you're in over your head when it comes to designing your own books and merch? Do you want to learn how to independently design your products, but have no idea where to start?
Get useful step-by-step tips for creating book covers, interiors, merchandise products, and more! Easy Graphics is the one-stop channel on YouTube for solving your graphics conundrum as a self-published author.
Learn how to use the tools of the trade to create your own graphics for your self-published business. Your followers will wonder what graphic designer you hired to make such a difference in your content.
View our snappy YouTube tutorials—they're free!
The Poetry Collections of Clifford Brooks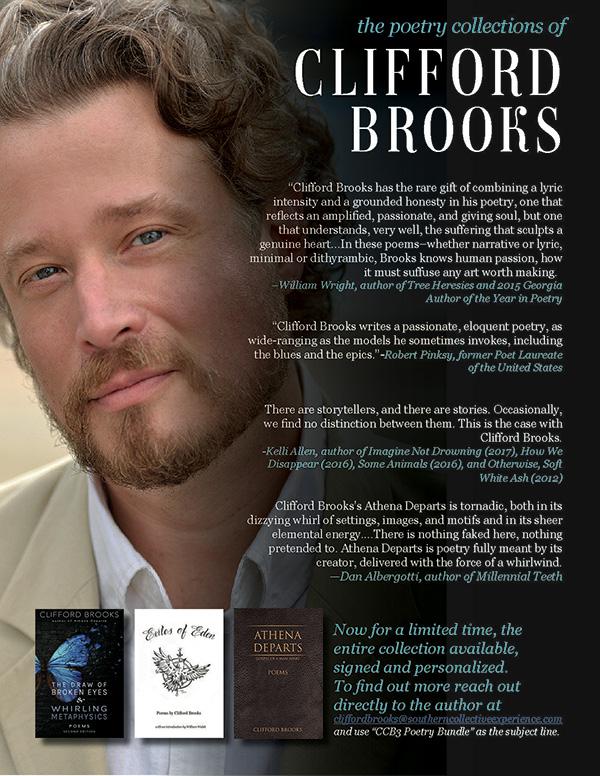 For information on pricing, please email Mr. Brooks at cliffordbrooks@southerncollectiveexperience.com and specify "CCB3 Poetry Bundle" in the subject line. Learn more about Mr. Brooks and read excerpts from his work on his website.
Mr. Brooks is available to critique poems. Submit up to five poems here and you'll receive your critique within two weeks.
Get Your Self-Publishing Questions Answered at Write On.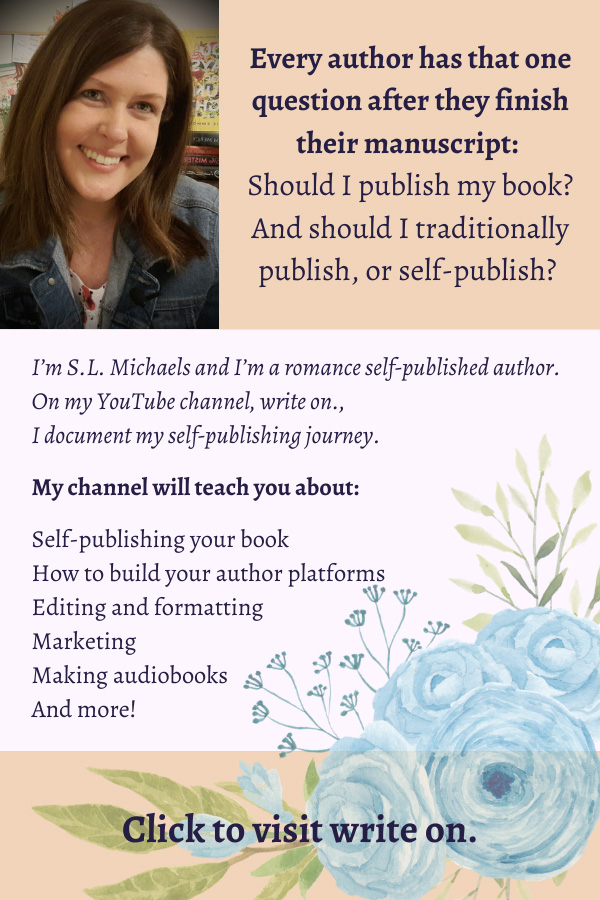 Look, Black Boy by Caleb "The Negro Artist" Rainey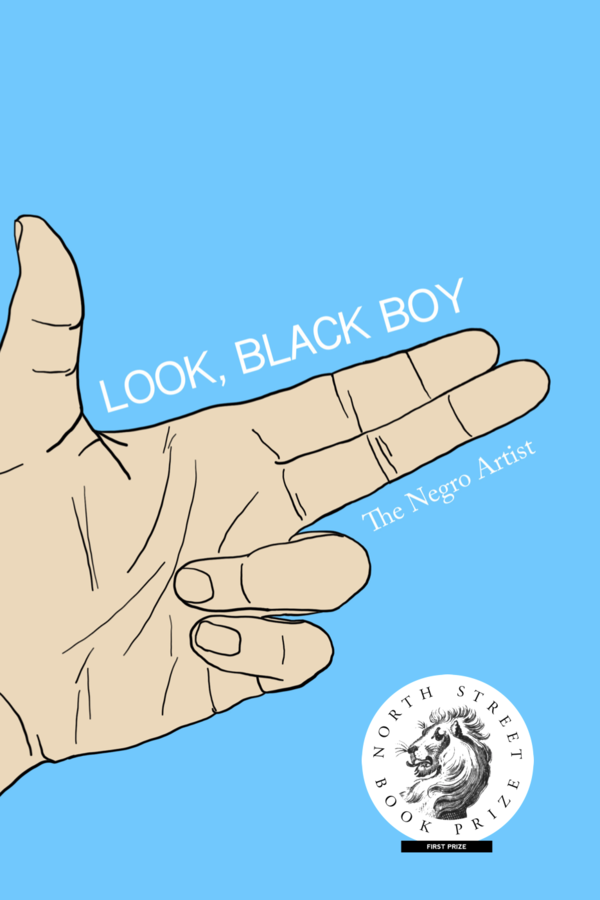 Winner, Poetry, 2020 North Street Book Prize
Caleb "The Negro Artist" Rainey's concise and high-impact poetry collection Look, Black Boy has the rhythmic verve and immediacy of spoken-word poetry, yet loses nothing in its transition to print. Rather, Rainey takes advantage of the visual medium to experiment with line spacing, punctuation, and layout in ways that add dramatic tension to his accounts of Black struggle and joy.
In blunt, powerful words that reminded me of Danez Smith's second collection, Rainey dedicates his book to "everyone who showed me that I was meant to be more than dead." He comes out swinging with the opening poem, a self-examination of times he acquiesced in white people's perceptions of him as an N-word in order to survive. (Rainey writes out the word in question, but as a white reviewer, I will refrain.) An image toward the end of the poem encapsulates the normalization of his erasure:
Because zero equals Black.
In fact,
the cops taught me that
when the bullet hit
a brotha's back in front
of the blue house I used
to memorize my first address.
—Jendi Reiter, North Street judge (see the complete remarks)
Read an excerpt from Look, Black Boy (PDF)
Buy this book on Amazon
HEART Poetry Award

Deadline: August 31, 2023

Nostalgia Press will award $500 and publication in HEART 18 (Winter 2023). Honorable Mentions also published. Visit our home page to view a free digital copy of HEART 17.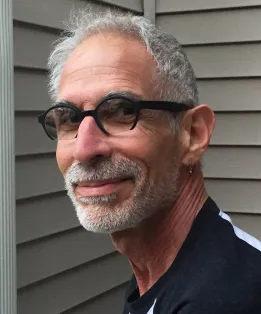 Judge: Grey Held
$10 entry fee covers 3 poems
All contestants will receive the Winter 2023 issue of HEART
Submit prose poems and modern free verse that are insightful, immersing, poignant, and reflective
Submit unpublished work only
On each page, please include your name, address, phone number, and email address (this information will be hidden so your work can be judged blind)
Winners will be announced on the Nostalgia Press website
Submissions will not be returned
Submit online or mail your entry to:
Nostalgia Press
Attn: HEART Poetry Award
115 Randazzo Drive
Elloree, SC 29047
Please enjoy this poem by Mark MacAllister of Pittsboro, North Carolina, winner of our 2022 HEART Poetry Award:
SAFE IN THE BACKCOUNTRY

Your friends ask if you are nervous
traveling the backcountry
what with the animals
the bears! feral dogs!
uncertain footing steep drop-offs
the meth cookers and mushroom poachers

you tell them that you are never safer
than when you stop on an unmarked road
to eat your sandwich and Oreos
in the tailgate shade

and about the miraculous hot shower
in a jungle camp on the border
between Uganda and Rwanda
how on the way back to your tent
you weaved a flashlit route
between sleeping hippos

how perhaps like Antaeus you grow stronger
every time you sleep on the ground
so far from the people you know

how those you have already lost
the ones you expect to lose soon
those you yourself will be lost to
how for that night at least
they are all the same safe distance away
International Women's Writing Guild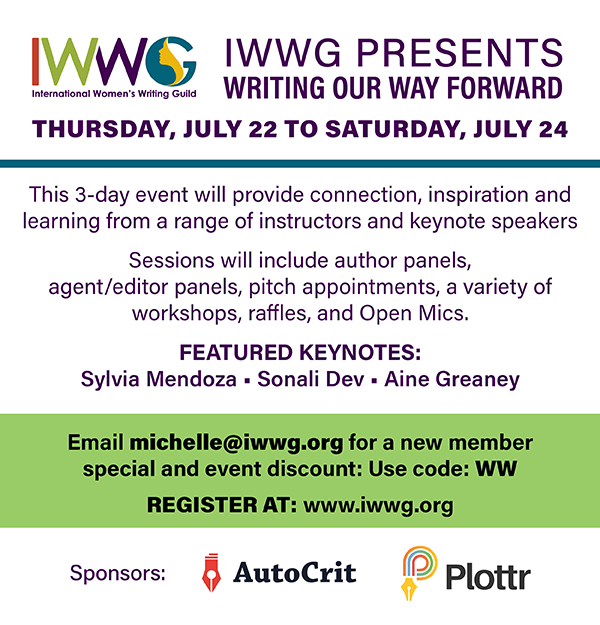 Experimental Poetry Prize sponsored by the Connecticut Poetry Society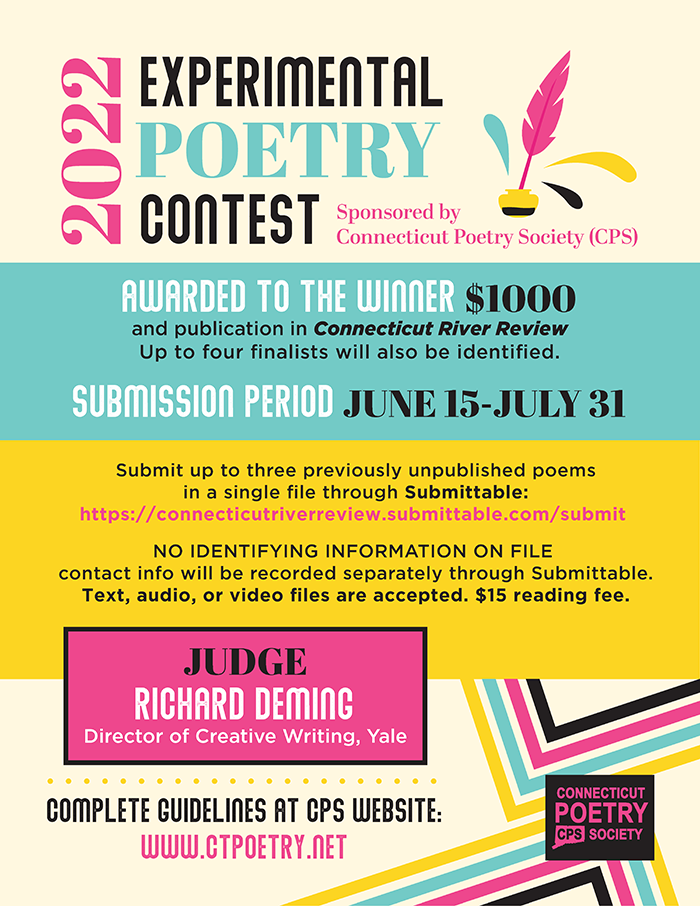 The Daphne Review Online Mentorship for High School Students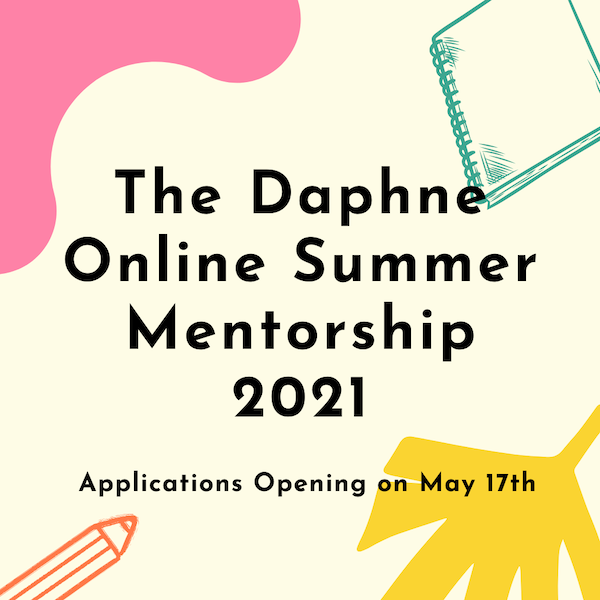 Apply during May 17-31, 2021
Love writing but need professional guidance to help you develop your voice? Apply to the 2021 Daphne Online Mentorship Program! We will be selecting 5-7 dedicated students to work with caring, accomplished professional writers on a 1-on-1 basis.
Recent Daphne mentees have been accepted to Harvard, Princeton, Yale, Stanford, Columbia, and top creative writing programs, e.g., Iowa!
Session I: June 14–July 2
• 4 weeks of working 1-on-1 with a professional writer
• Zoom sessions and online editing/feedback to help hone your craft
Currently seeking online MENTORS! Please send resume to theeditor@daphnereview.org.
Any questions, please email us at theeditor@daphnereview.org.
Hollis Summers Poetry Prize: Call for Manuscripts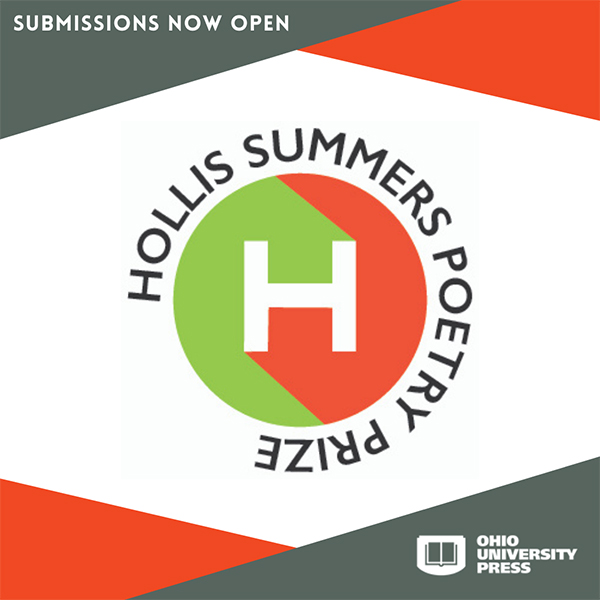 Deadline: December 1, 2021
Named for the distinguished poet who taught for many years at Ohio University and made Athens, Ohio, the subject of many of his poems, this annual competition invites writers to submit unpublished collections of original poems.
Ohio University Press will publish the winning manuscript and the author will receive a $1,000 cash prize.
Submissions are being accepted now at Submittable. There is a $30 entry fee. Previous winners include Idris Anderson, Fleda Brown, Michelle Y. Burke, Joseph J. Capista, Kwame Dawes, Jason Gray, Julie Hanson, Joshua Mehigan, Alison Powell, Roger Sedarat, and Michael Shewmaker.
For further details and instructions, please visit our website.
Southern Collective Experience Presents: Asian American Poetry Chapbook Contest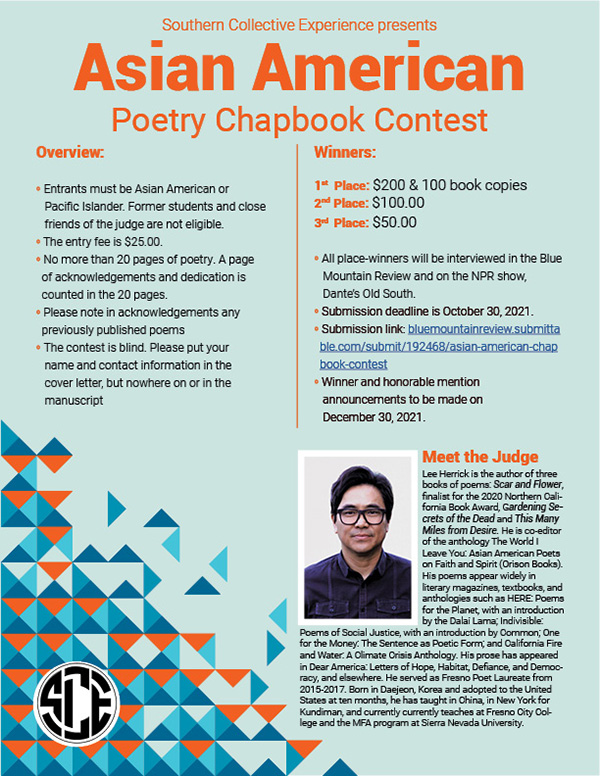 Deadline: October 30, 2021
The Southern Collective Experience is honored to host our new chapbook contest for the Asian American community. Lee Herrick is this year's judge.
1st Place: $200 and 100 book copies
2nd Place: $100
3rd Place: $50
Winner and honorable mention announcements will be made on December 30, 2021. All place-winners will be interviewed in the Blue Mountain Review and on the NPR show, Dante's Old South.
Entry fee: $25. Authors must be Asian American or Pacific Islander. Please submit up to 20 pages of poetry (including any acknowledgements and dedication). Note any previously published poems in the acknowledgements.
The contest is judged blind. Do not put your name or any identifiers on your manuscript. Former students and close friends of the judge are not eligible.