The Blue Lynx Prize for Poetry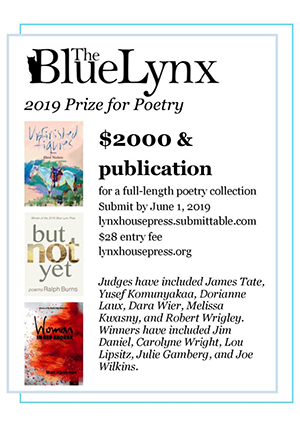 Deadline: June 1, 2019
Lynx House Press seeks submissions of full-length poetry manuscripts for the 22nd annual Blue Lynx Prize for Poetry. The winner receives $2,000 and publication.
The Prize is awarded for an unpublished, full-length volume of poems by a US author, which includes foreign nationals living and writing in the US and US citizens living abroad.
Previous winners include Carolyne Wright, Jim Daniels, Lou Lipsitz, Roy Bentley, Arianne Zwartjes, Doren Robbins, and Lynne Burris Butler. The 2018 winner was Joe Wilkins for his collection Thieve. Lynx House Press has been publishing fine poetry and fiction since 1975. Its titles are distributed by the University of Washington Press.
Poems included in submissions may not have appeared in full-length, single-author collections. Acknowledgments pages and author names may be included, but will be removed prior to final judging. Entries must be at least 48 pages in length. The reading fee for submitting is $28.