The Missouri Review's Jeffrey E. Smith Editors' Prize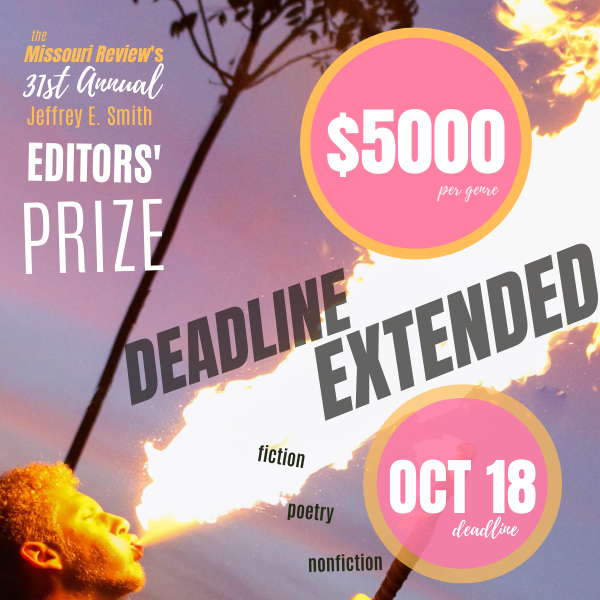 EXTENDED DEADLINE: October 18, 2021
$5,000 Fiction | $5,000 Nonfiction | $5,000 Poetry
Winners receive a cash prize, publication, promotion, and a celebration in their honor. Submit one piece of fiction or nonfiction up to 8,500 words or up to 10 pages of poems. Enter online or by mail. All entries considered for publication. Regular entry fee: $25. All-Access entry fee: $30. Winners will be announced in early 2022.
Each entrant receives a one-year subscription to the Missouri Review in digital format (normal price $24) and a digital copy of the fifth title in our imprint, TMR Books, Private Lives, a new anthology of stories that first appeared in TMR (normal price $7.95). All-Access entrants receive access to the last decade of TMR digital issues, which are accompanied by audio recordings of each issue's features.
Read a prizewinning story by Melissa Yancy, an essay by Peter Selgin, and a selection from poetry winners Katie Bickham, Kai Carlson-Wee, and Alexandra Teague.