The Missouri Review's Jeffrey E. Smith Editors' Prize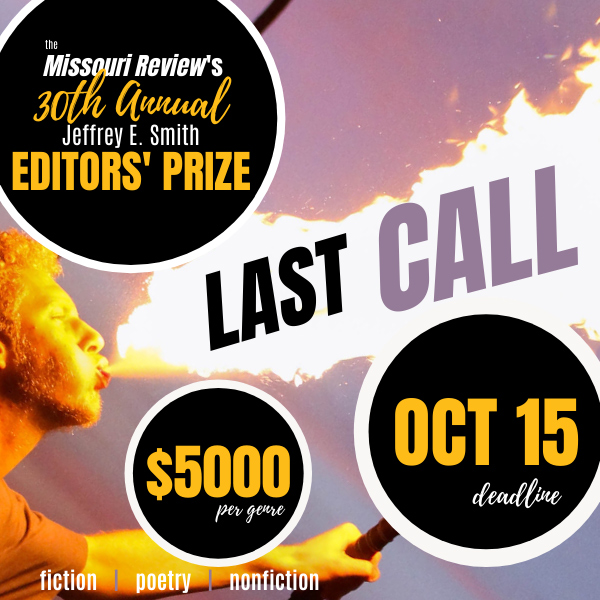 Deadline extended to October 15, 2020, 11:59pm Pacific Time
$5,000 Fiction | $5,000 Nonfiction | $5,000 Poetry
Winners receive a cash prize, publication, promotion, and a virtual event to be determined. Submit one piece of fiction or nonfiction up to 8,500 words or up to 10 pages of poems. Enter online or by mail. All entries considered for publication. Regular entry fee: $25. All-Access entry fee: $30. Winners will be announced in early 2021.
Each entrant receives a one-year subscription to the Missouri Review in digital format (normal price $24) and the digital short story anthology Strange Encounters, forthcoming from Missouri Review Books (normal price $7.95). All-Access entrants receive full access to our ten-year digital archive.
Check out these excerpts from last year's winners, Seth Fried in Fiction, Heather Treseler in Poetry, and Jennifer Anderson in Nonfiction.
Please enjoy these readings and conversations with Heather Treseler and Seth Fried on YouTube.
Questions? Email contest_question@moreview.com.