The Missouri Review's Jeffrey E. Smith Editors' Prize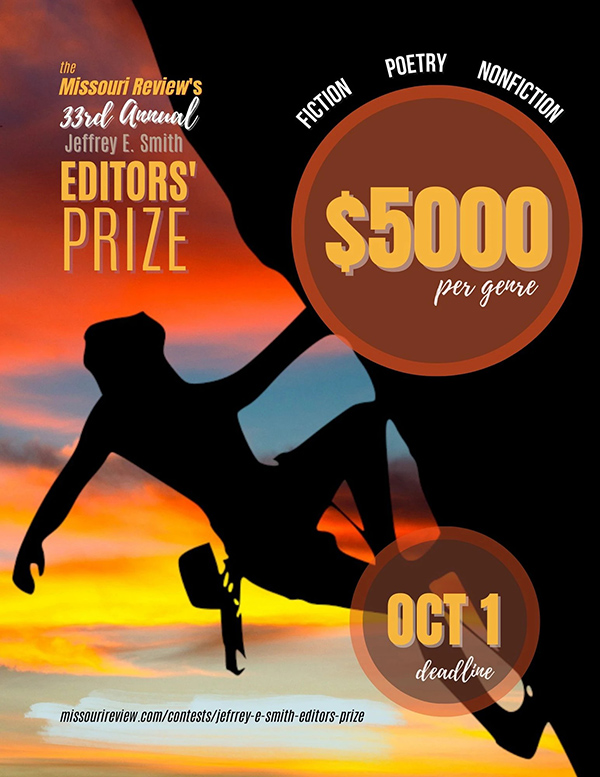 Deadline: October 1, 2023
The Missouri Review invites entries for the 33rd Annual Jeffrey E. Smith Editors' Prize. Winners receive $5,000 and publication in the Spring 2024 issue of TMR, as well as promotion on our website, in our newsletter, and across our social media platforms. Submit one piece of fiction or nonfiction up to 8,500 words or up to 10 pages of poems. Enter online or by mail, following the guidelines here. All entries are considered for publication, whether for the print and digital issues or our online exclusive features, BLAST and Poem of the Week. Regular entry fee: $25. All-Access entry fee: $30. Winners will be announced in early 2024.
Each entrant receives a one-year digital subscription to the Missouri Review (normal price $24) and a digital copy of The Talent: Stories of Authors and Artists, the latest title in our imprint, Missouri Review Books, a short story anthology featuring former contributors (normal price $7.95). All-Access entrants receive access to the last decade of digital issues of TMR, which also offers audio recordings of the stories, poems, and essays featured in each issue.
Past winners have included Alix Christie, Thomas Dodson, Seth Fried, and Amanda Baldenaux in fiction; Jennifer Perrine, Chelsea B. DesAutels, Heather Treseler, and Diane Seuss in poetry; and Matthew Wamser, Robert Stothart, Jennifer Anderson, and Jo Anne Bennet in nonfiction. Check out all the past winners, runners-up, and finalists back to 2006 here. Read a prizewinning story by Melissa Yancy, an essay by Peter Selgin, and a selection from poetry winners Katie Bickham, Kai Carlson-Wee, and Alexandra Teague. Hear from past entrants what it's like to win here, here, and here. Also, be sure to check out Readings & Conversations with several recent winners of the Editors' Prize on our YouTube channel.