The "Coming Home" Poetry Contest from Oprelle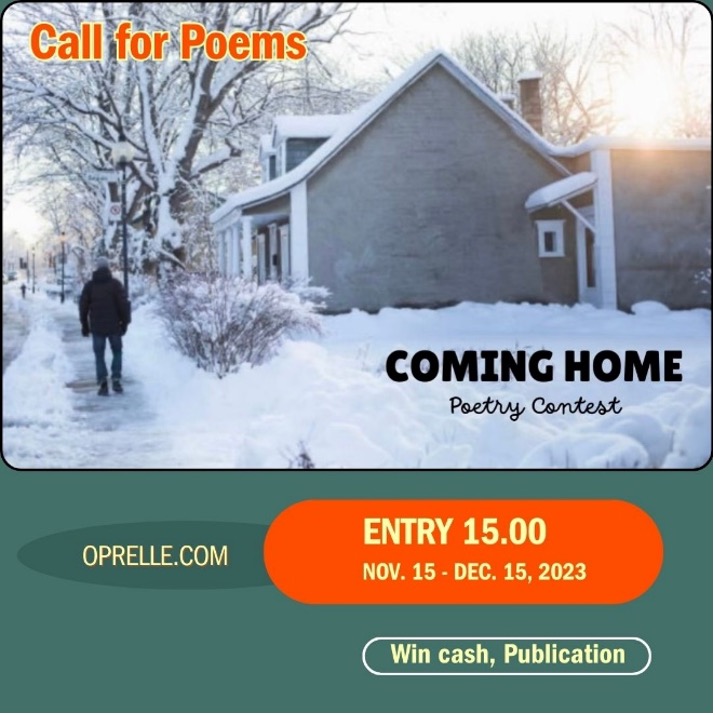 Deadline: December 15, 2023
A home doesn't have to be a building with four walls. It can be a state of being. We want to know what exactly "home" means to you!
PRIZES
1st — $200, Certificate and Publication
2nd — $100, Certificate and Publication
3rd — $50, Certificate and Publication

Please enjoy the winning poem from our 2022 contest:
Visit Home
by Roger Craik

My mother lets her bran flakes stand untouched,
it seems to me, for hours and hours. She smokes,
fills in the crossword as she's done for years.
She cuts it from The Times the day before.

The air grows thick with silence. Once again
despite my resolution that this time
I'll be myself for her, ebullient,
I sense what personality I have

drain into sullenness, taut in the spread
of empty years in every day of which
I'll know I knew what I should say this moment, now...
Instead, I watch a pigeon on a neighbor's roof

until it flaps away and I am left
to muse how habit over fifteen years
has withered us of words. And so I write
these lines you'll read when it's too late to say

my mother lets her bran flakes stand untouched
for hours, and smokes her Silk Cut cigarettes
and does the cryptic crossword from The Times
she's cut out neatly from the day before.