Rockvale Writers' Colony: The First TEN Pages Fellowship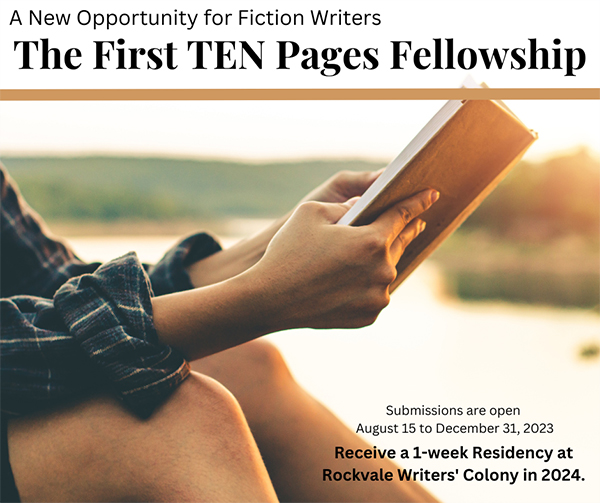 Deadline: December 31, 2023. Rockvale Writers' Colony in College Grove, TN offers a fellowship to writers of fiction. Rockvale exists to support, promote, and educate writers of all backgrounds who write in any genre. We provide a safe, comfortable, and inspiring environment where resident writers can work on a writing project.
The Writing
Writers may submit the first ten pages of an unpublished novella or novel. The work will be evaluated for movement and action, tone, theme, introduction of characters, description of the setting, the voice of the narrator, the introduction of conflict, the inciting incident, and originality. We want to be enticed to continue reading.
The work will be read "blind". Do not put your name on your writing sample or in the title of the file.

The Application
The application fee is $25.
The application requires a paragraph detailing how the fellowship would aid the writer.
The uploaded 10 pages should be presented in one document, either pdf, doc, or docx. It should also be in 12-point font and double-spaced.
The recipient of the fellowship will be announced by the end of January 2024.

The Prize
The recipient of this fellowship will receive a one-week writer's residency at Rockvale Writers' Colony. The residency must be completed by December 31, 2024.
A small stipend of $100 will be given to the fellowship recipient upon arrival at the colony to compensate for travel and food. Expenses beyond $100 are the responsibility of the writer.
Click for your fellowship application. Questions? Please email Sandy at sandy.rockvale@gmail.com.