Tupelo Press Dorset Prize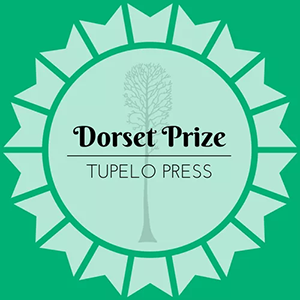 Deadline: December 31, 2018 (postmark or online submission date)
Final Judge: Mary Jo Bang
Prize: $4,500
A $3,000 cash prize and a week-long residency at MASS MoCA worth $1,500 in addition to publication by Tupelo Press, 20 copies of the winning title, a book launch, and national distribution with energetic publicity and promotion. Manuscripts are judged anonymously and all finalists will be considered for publication.
The Dorset Prize is open to anyone writing in the English language, whether living in the United States or abroad. Translations are not eligible for this prize, nor are previously self-published books. Employees of Tupelo Press and authors with books previously published by Tupelo Press are not eligible. Poets submitting work for consideration may be published authors or writers without prior book publications.
Submit a previously unpublished, full-length poetry manuscript with a table of contents. There is no mandatory page count. We suggest in the area of 48 to 88 pages of poems, but all manuscripts will be read and considered with full respect. A reading fee of $30 payable by check to Tupelo Press or via Submittable must accompany each submission. We encourage online submission via our Submittable system. You may also submit via postal mail.
Mail your domestic submission to:
Tupelo Press Dorset Prize, P.O. Box 1767, North Adams, MA 01247

Mail your international submission to:
Tupelo Press Dorset Prize, 60 Roberts Drive, Suite 308, North Adams MA 01247 USA
For mailed manuscripts, request notification of receipt by including a SASP. For notification of the winner, enclose a SASE. Manuscripts will not be returned.
Read the complete guidelines before submitting your manuscript.
Read about all Tupelo Press contests and open reading opportunities.
Please enjoy this poem by Jesse Lee Kercheval, author of America, That Island Off the Coast of France (Tupelo Press, 2019), winner of the 2017 Dorset Prize, selected by Ilya Kaminsky.
The City Where—I'm Told—My Mother Was Young
by Jesse Lee Kercheval

Long ago
the lens of a camera
uprooted
this city

from Sacré-Coeur to the far suburbs,
pressed it between the heavy vellum of memory,
so to reach it is to cross a bridge
much longer, much steeper than the Pont Neuf.

In this paper Paris, my mother is a young girl
waiting for her lover by a stinking canal.
Or so I've been told by people who might
—or might not—lie to my face.

I pour over Atget's photographs,
each street, each boulevard, each arrondissement
falling under his care,
falling into his camera and out of this world.

But photographs are illusions, devoid
of both pot au feu and the garbage
the cook leaves—though Atget photographed
laundries as well as bordellos.

I imagine my mother leaving me a message
by way of Atget. I close my eyes
and think I hear laughter
and telephones ringing—but I'm wrong.

I walk over the bridge Atget made
with his stiff little pictures
and find myself in the Gare du Nord,
all steam, white and gray.

And my mother, ma mere—
is standing on the platform waiting.
She has always been waiting.
Unless—instead—she never did arrive.

Long ago
this city
uprooted

Triste, I imagine her saying, so goddamn sad.