Dzanc Books Annual Contests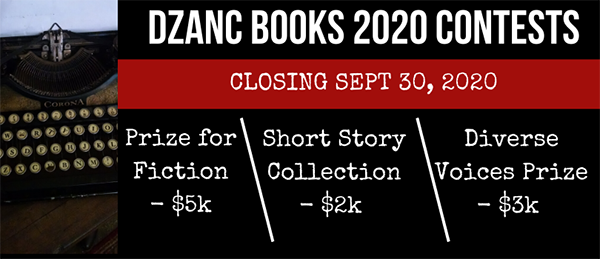 Deadline: September 30, 2020
Award-winning independent press Dzanc Books seeks daring, experimental, and innovative literary fiction and nonfiction for its three annual contests:
the Prize for Fiction, which recognizes bold and well-crafted novels (35,000 words and up) and offers a $5,000 advance and publication;
the Short Story Collection, which seeks unique and powerful book-length collections and offers a $2,000 advance and publication;
the Diverse Voices Prize (no fee), seeking book-length literary fiction and nonfiction from writers in minority, underrepresented, or marginalized communities. The Diverse Voices Prize offers a $3,000 advance and publication. This contest does not have a reading fee.
The winner of the Prize for Fiction will be selected by Anne Valente (Our Hearts Will Burn Us Down and By Light We Knew Our Names), Tina May Hall (The Snow Collectors and The Physics of Imaginary Objects), and Jessie van Eerden, author of Call It Horses, which was chosen as the winner of last year's Prize for Fiction. The winner of the Diverse Voices Prize will be selected by Charles Johnson (Middle Passage, The Words and Wisdom of Charles Johnson), Chaya Bhuvaneswar (White Dancing Elephants), and Robert Lopez (Kamby Balongo Mean River, All Back Full). The Short Story Collection Prize is judged in-house.
Winners and finalists will be announced on January 15, 2021. $25 submission fee per entry for the Prize for Fiction and Short Story Collection Prize; Diverse Voices Prize entries do not require a submission fee. Enter via Submittable.