Two Gifts from Tom Sheehan, winner of the 2021 North Street Book Prize for Poetry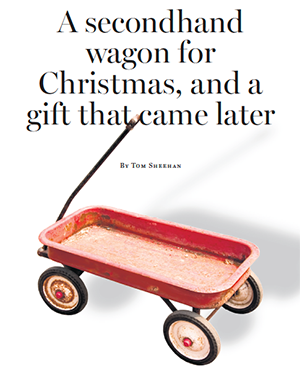 Tom Sheehan, winner of our first prize for poetry in our 2021 North Street Book Prize competition, would like to share with you this article he published in the Boston Sunday Globe this past December, "A secondhand wagon for Christmas, and a gift that came later" (PDF).
Recalling his childhood in the Depression, Tom writes, "I was the family hunter for coal chunks fallen from Boston & Maine Railroad tenders, and that wagon began to accompany me on my scrounging adventures along the tracks. I headed out when the coal box beside the kitchen stove of our third-floor apartment was near empty, chills in the air. I learned you had to fight for survival head-on."
Tom has also made his award-winning volume, The Saugus Book, free for your private reading. Download it here (PDF, 135 pages, please be patient) and read our critique.