Mudfish Poetry Prize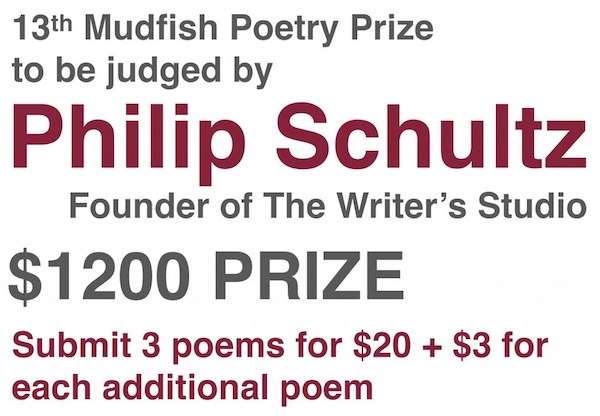 Extended Deadline: September 30, 2017
We are delighted to have Philip Schultz judge the 13th Mudfish Poetry Prize. Founder and director of The Writers Studio in New York, Schultz grew up in Rochester, New York. He earned a BA from San Francisco State University and an MA from the Iowa Writers Workshop. He is the author of numerous poetry collections, among them Like Wings (1978), winner of the American Academy and Institute of Arts and Letters Award in literature; Deep Within the Ravine (1984), awarded the Academy of American Poets Lamont Prize; The Holy Worm of Praise (2002); Living in the Past (2004); the Pulitzer Prize-winning Failure (2007); and The God of Loneliness: Selected and New Poems (2010).
Each entry should include a SASE (self-addressed stamped envelope), a cover page with the poet's name, address, and titles of poems. The author's name should not appear on the poems. You may submit 3 poems for a $20 fee. Each additional poem is $3. Checks should be made out to Box Turtle Press. Postmark your entry by September 30 and mail it to:
Mudfish Poetry Prize
184 Franklin Street
Ground Floor
New York, NY 10013
We are reading entries for this contest NOW! Don't miss out.
Mudfish, a journal of art and poetry (and some fiction), takes its title from the storyteller's stool in Nigerian art. The poems each tell a story. They are resonant, and visceral, encapsulating our unique human experiences. There is a wide range to the subject matter and style, but the poems all have breath and life, a living voice.
Mudfish has featured work from the best established and emerging artists and poets—including John Ashbery, Charles Simic, and Frank Stella—since it burst onto the poetry scene in 1984.
World famous, with a cult following, the journal contains the passionate, edgy, intimate voice of the 21st century. Mudfish is a memorable read, a handsome and generous journal that will surprise and delight and last.