Pavarotti and Pancakes by Francesco Granieri, a North Street First Prize Winner for Memoir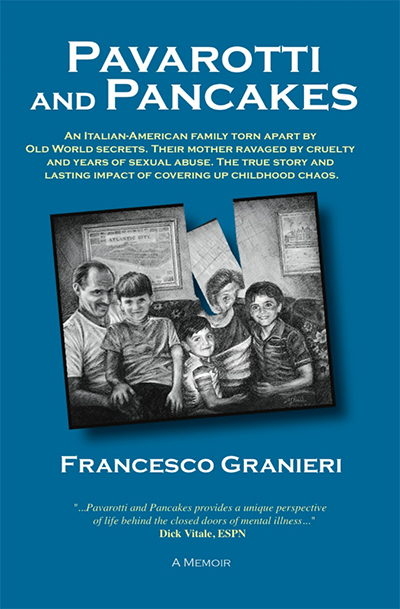 Winner of the 2018 North Street Book Prize for Creative Nonfiction & Memoir
Pavarotti and Pancakes has been called a moving memoir that chronicles growing up with a mother who slid into psychosis because of sexual abuse suffered during her childhood. Part family saga, part cultural history of Italian-American manhood, this tragicomic coming-of-age is set against the rise and fall of Atlantic City, New Jersey.
The author's extended family embodied the best and worst of southern Italian culture: loyalty, pride and a secretive code of silence. They spent decades protecting the family's good name by expertly sweeping abuse and alcoholism under the rug. The author's father, a concrete contractor nicknamed "Frankie the Voice" for his musical talent and guinea charm, brazenly rubbed elbows with members of the Mafia who controlled Atlantic City in the 1980's. His cavalier and chauvinistic approach to life angered his in-laws, who blamed his manly code of incompetency for their sister's misery and depression.
Critics have said that Pavarotti and Pancakes is a cathartic, immersive, and compelling read, with a hopeful ending.
"Pavarotti and Pancakes stood out from other family-trauma memoirs we've read, because the author wants to tell the story of something larger than himself: an Italian immigrant community with gifts and flaws on an operatic scale. Atlantic City herself becomes a character—his mother's story arc writ large, all glittering promise and seamy collapse. Instead of prescriptive platitudes about recovery and forgiveness, Granieri simply lets his agonized love for his mother emerge from the texture of their everyday lives. It comes through in his nostalgia for the long-lost happiness of Sunday breakfasts, or the years of shell-shocked patience as the boys try to concentrate on normal childhood preoccupations of homework, girls, and baseball while stepping over her filthy prone form on the carpet."
—Jendi Reiter, awarding the North Street Book Prize to Pavarotti and Pancakes