Grayson Books Chapbook Competition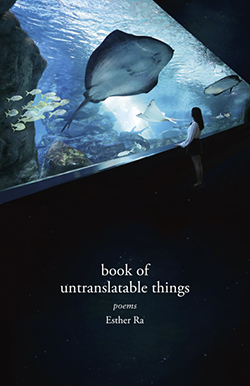 Deadline: January 31, 2019
Prize: $500, publication of chapbook and 50 gorgeous copies
Reading fee: $20
Length: 16-32 pages of poetry
Electronic submissions only
This year's judge, Leslie McGrath, is the author of two chapbooks and three full-length poetry collections, most recently Feminists Are Passing from Our Lives. McGrath teaches creative writing at Central Connecticut State University and is series editor of The Tenth Gate, a poetry imprint of The Word Works Press.
Simultaneous submissions are permissible if we are notified immediately upon acceptance elsewhere. Multiple submissions are also permitted; a fee must accompany each entry. Including acknowledgments of previously published poems is acceptable but not required. When a manuscript is chosen for publication, we will request acknowledgments.
You can find out more about our press by visiting our website.
Please enjoy this poem by the winner of our 2018 competition, Esther Ra. It's from her collection, book of untranslatable things.
city of light

how can I call you anything but alive:
O my city, O Seoul of South Korea

We are a maze of strung brilliance where hopes hang like light
bulbs,
We are a tightly stretched net of bright fish.
We house half of our nation within our cupped hands,
We are ranked #1st on earth for our Wifi

everyone connected and still so unreachable,
everything closer and farther apart

We have torn down the stars by the gnarl of their roots
We have nailed them alive to our neon-bright signs
We have screwdrived our brains to the top-tier tests
We have split through our skulls and skinned open the skies

therefore our hands tremble, and our tongues have grown faint,
and our faces, they waver like flames
we have swallowed our prayers for fear of the flood,
and our thundering hearts fear a cloud
it is a cloud small as the palm of a praying man's hand,
but how sweet it is full of sweet rain

We fear the cloud small as a praying man's hand, for we have
seen what hands do to rip cracks into craters. Give us
our world of asphalt, only keep it from splinter. Give us
fine dust and ash to breathe through our masks. Give us
gray stone to suck if no warm bread exists. Give us
ashes to breathe in, gray flakes for our lungs.

give us this day our daily bread
and tomorrow our lungs and our singing

We have made our lungs dust & purged Seoul of dirt,
We have cleared out the windflapping wake of the war
We have built cornerstones of unshaken concrete,
constructed our walls of glass and slick limbs.
the sun pounds its rage on our color-code cobble
and in air-conditioned booths
We are no longer afraid

nor remember the soft swirls of gneiss
underneath our old streets,
nor the curve of blue roof
that sliced through the sky

With a screech of our axles with the crash of our lifts
We are moving so quickly so swiftly so fast
We have shattered the silence nothing can touch us
no war no damn screaming
no ravines no fleas
no hunger no flood &
no throats sweet with blood

and the eight hundred artillery guns
on the borders of North Korea
they open their mouths and they laugh

For where, O death, is your sting

and where, O life, is your grace