The 2017 Autumn House Press Poetry, Fiction, and Nonfiction Contests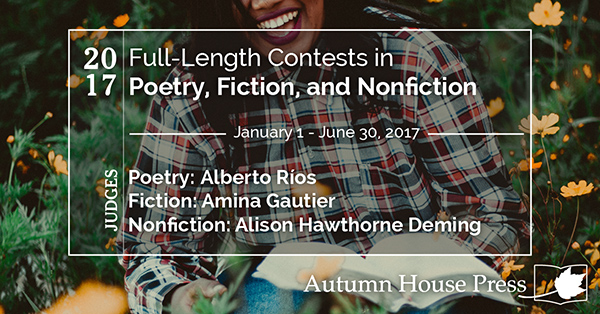 Postmark deadline: June 30, 2017
Autumn House Press is now accepting full-length manuscripts for our annual Poetry, Fiction, and Nonfiction contests! The winner in each genre will receive book publication, a $1,000 advance against royalties, and a $1,500 travel/publicity grant to promote their book.
Judges for 2017 are:
See our complete contest guidelines.
Congratulations to last year's winners: Jane Satterfield's Apocalypse Mix (poetry), Andrew Bourelle's Heavy Metal (fiction), and Katherine McCord's RUN SCREAM UNBURY SAVE (nonfiction). Enjoy this selection from Apocalypse Mix:
Why I Don't Write Nature Poems
Because I'm always wearing the wrong shoes, I rarely stray from the path. There's recollect, there's tranquility and the way the trains punctuate each hour, shrill the shaken fields. Let's bide a bit here, thinking why we love them—the tracks, the transit, a train's a metaphor for so many things in life. Like me, too busy eyeing up the buffet from the back of the line to consider a phalanx of phlox, the tabby stray cavorting in the hedge. I don't see a cow meadow as any kind of invocation. Am drawn to the satellite dish disrupting the view. To the one swatch of sky where the haze hangs. Because, truly, the one time I tried, the saddled mare extended an answer. The hoof on my foot a fine form. Because the genius of the place can drop a scroll of sycamore bark at my feet, and I still can't translate his tongue. Slow study. What happens in the ditch, the dun. Because a cicada's buzz in the topmost branch is all the intel left to get, trilling, a telling: here, here, I am here.