Rattle Chapbook Prize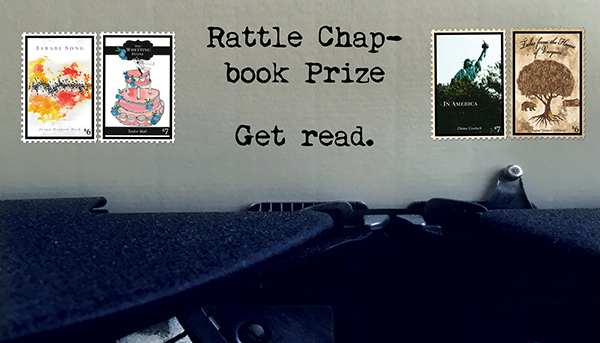 Deadline: January 15, 2021
The annual Rattle Chapbook Prize gives poets something truly special. Every year, three winners will receive: $5,000 cash, 500 contributor copies, and distribution to Rattle's ~8,000 subscribers. In a world where a successful full-length poetry book might sell 1,000 copies, the winning book will reach an audience eight times as large on its release day alone—an audience that includes many other literary magazines, presses, and well-known poets. This will be a chapbook to launch a career.
And maybe the best part is this: The $25 entry fee is just a standard subscription to Rattle, which includes four issues of the magazine and the winning chapbook, even if it isn't yours. Rattle is one of the most-read literary journals in the world—find out why just by entering! For more information, visit our website.
We congratulate our three winners from our 2020 contest:
Please enjoy "I Never Pushed My Daughter" by Tom C. Hunley, published in Adjusting to the Lights:
I Never Pushed My Daughter

in a stroller through the park.
I never got lost in a trance
as the trees seemed to listen as she

tried out sounds in hopes
of inventing words

for the warm feeling
of a full belly, a pink blanket

and for the first time
a song rocking her

to sleep. Instead I read
an online profile that said

she loved pets and purple
and singing and acting and
had hurts that I would have

to enter, scars like ravenous
mouths I couldn't escape

if I got close to her like
entering a haunted house
with ghosts in it who

don't mind being dead but
want me to feel what they felt.

I never held her on my shoulders
up to the monkey bars
giggling, faux afraid of falling.

No, I got her after fire
got her, burned everything
she knew. I could see it

in her eyes. I felt like paper,
like if I touched her it would
torch me, but I told her

this would go away and come back
like traces of lightning bugs
growing fainter and more distant.

I watched Instant Family with her
over and over but only after

she had lived through scenes
she wasn't old enough
to see in movies.

I never tossed her
into the air, laughing,
sure I'd catch her

and if we played tag
a rolling boulder was it
and it wanted to flatten us

and if we played
hide-and-go-seek
we each hid in the darkness

inside of ourselves, neither
of us sure we'd ever
find our way out.