Rattle Chapbook Prize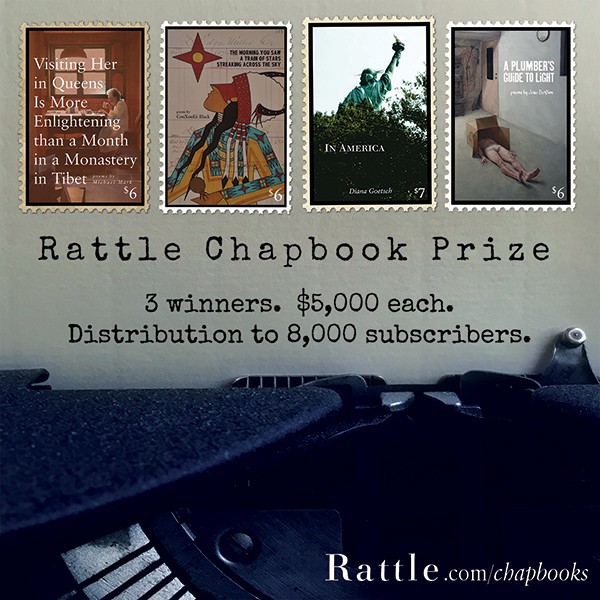 Deadline: January 15, 2023
The annual Rattle Chapbook Prize gives poets something truly special. Every year, three winners will each receive: $5,000 cash, 500 contributor copies, and distribution to Rattle's ~8,000 subscribers. In a world where a successful full-length poetry book might sell 1,000 copies, the winning book will reach an audience eight times as large on its release day alone—an audience that includes many other literary magazines, presses, and well-known poets. This will be a chapbook to launch a career.
And maybe the best part is this: The $25 entry fee is just a standard subscription to Rattle, which includes four issues of the magazine and three winning chapbooks, even if one of them isn't yours. Rattle is one of the most-read literary journals in the world—find out why just by entering! For more information, visit our website.
We congratulate our three winners from our 2022 contest:
Please enjoy this poem from CooXooEii Black's winning chapbook:
The Morning You Saw a Train of Stars Streaking Across the Sky

five years and you forgot
the excitement of being on a mountain.
early morning, before the hunt, blurred hours
between night and day. the crickets chilled
in silence. sheep ridge lay in front of you.
you forgot the sensation of waiting on the sun.
when its light-blue floods over the mountain
and mixes with the dark, everything seems
to ask for the lead.

for the first time, you drove your own truck
with your uncle in the passenger seat. you remember
your first gun shot, elk drop,
sip of beer, fish caught, and war-whoop.
your uncle present for all.
a small moment, sure, to be driving him
but you're proving your coming of age.

he's told you about your dad.
said he's a cool dude. that they text from time to time.
he told you about cali and you can't imagine
your uncle in the city. you can't imagine
being with anyone on the mountain except this man
who used to parachute into smoke for a living.

those mountains are ruthless to the clueless.
you ask your uncle how he learned his way
around them. you asked and you asked and you asked.
he said be prepared to see anything.
so from that moment forward you fixed your eyes
onto the barely warming sky, your family,
your people, younger siblings,
your reservation, and every figure
that has become a father, and you wait
for the coming miracles.