Rattle Chapbook Prize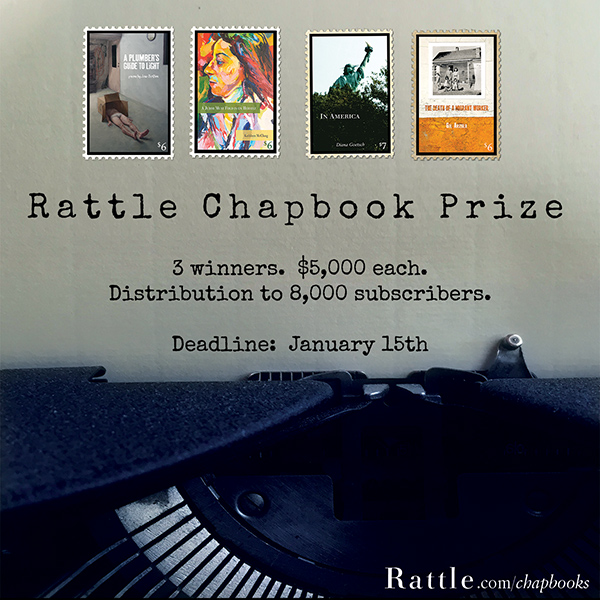 Deadline: January 15, 2022, 11:59pm PST
The annual Rattle Chapbook Prize gives poets something truly special. Every year, three winners will each receive: $5,000 cash, 500 contributor copies, and distribution to Rattle's ~8,000 subscribers. In a world where a successful full-length poetry book might sell 1,000 copies, the winning book will reach an audience eight times as large on its release day alone—an audience that includes many other literary magazines, presses, and well-known poets. This will be a chapbook to launch a career.
And maybe the best part is this: The $25 entry fee is just a standard subscription to Rattle, which includes four issues of the magazine and the winning chapbook, even if it isn't yours. Rattle is one of the most-read literary journals in the world—find out why just by entering! For more information, visit our website.
We congratulate our three winners from our 2021 contest:
Please enjoy this poem from A Plumber's Guide to Light by Jessie Bertron, winner of our 2020 Rattle Chapbook Prize:
ARC
My dad worked the trades for fifteen years.
He learned four names for sheetrock mud,
that nails measure in pennies by their length,
and if he went to bars he could say Rusty Nail
until the words corroded in his mouth
and still they'd bring him scotch.
And through those fifteen years he had three wives
and my two sisters, and then me.
And we all asked him to be better than he was.
It doesn't work like that. You shouldn't ask a hammer
to act like a baseball bat. And if you're on a jobsite
and you call out sheep's-foot, cat's-paw,
cat's-claw, crow's-foot, deck-wrecker,
then you're saying you know what it does.
My father's favorite story is the motel room in Billings
we stayed at on a renovation job. It was
just me and him. When we turned off the TV
we could hear the infield chatter
from the low-A minor league ballpark next door.
We were so close, we'd sit out on the ashtray
of our balcony, and holler at the peanut man,
Toss me a bag! Of course it didn't work,
but we both liked to ask for things we knew
we would not get. And then it did.