Rattle Chapbook Prize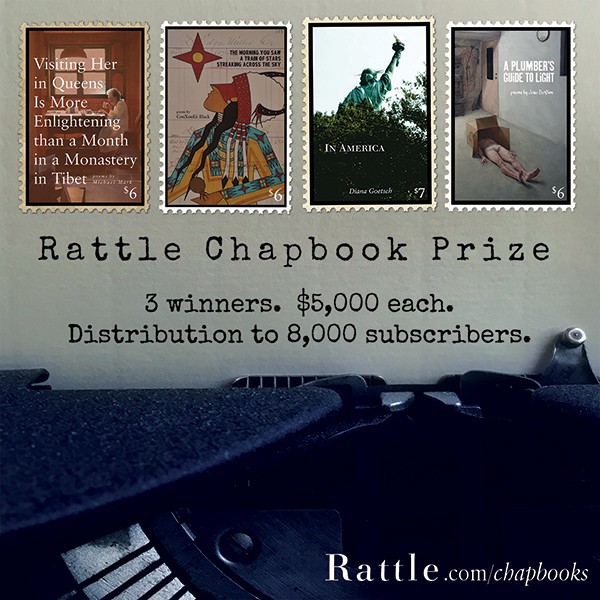 Deadline: January 15, 2024
The annual Rattle Chapbook Prize gives poets something truly special. Every year, three winners will each receive: $5,000 cash, 500 contributor copies, and distribution to Rattle's ~8,000 subscribers. In a world where a successful full-length poetry book might sell 1,000 copies, the winning book will reach an audience eight times as large on its release day alone—an audience that includes many other literary magazines, presses, and well-known poets. This will be a chapbook to launch a career.
And maybe the best part is this: The $25 entry fee is just a standard subscription to Rattle, which includes four issues of the magazine and three winning chapbooks, even if one of them isn't yours. Rattle is one of the most-read literary journals in the world—find out why just by entering! For more information, visit our website.
We congratulate our three winners from our 2023 contest:
Arthur Russell, At the Car Wash (Fall 2023)
Miracle Thornton, Plucked (Winter 2023)
George Bilgere, Cheap Motels of My Youth (Spring 2023)
Please enjoy this poem by 2022 winner John W. Evans. It appears in The Fight Journal, published by Rattle in 2023.
Musicians at the Wedding

All week at the wedding
the musicians keep practicing

over the garage, during the rehearsal,
in the basement at night,

on the back porch while it rains.
Even the grass after the rain

worries someone in the kitchen.
The tables and caterers, the flowers

and the muddy road to the barn
are covered in lights. This is a good time,

someone says, to take five, guys,
or fifty. The musicians are soggy, too.

They start again: five or six bars
of the bridal march, the chorus, the last encore.

On the porch a bartender is humming
the first dance as he bins the ice and juices,

orange and lemon. His cherries
are staked on tiny plastic swords

the wedding guests will make a great show
of plucking hilt-first.

They stand en garde,
a warning term in fencing,

the first sport played in the Olympics.
In the original en garde position fencers

held their back hand in the air
to lift lanterns during duels.

Back and forth to the bar the guests
litter the grass with broken promises.

This is what happens when you fall
in love: you dance all night, you collapse

for one reason or another
into the wet grass.