Rattle Chapbook Prize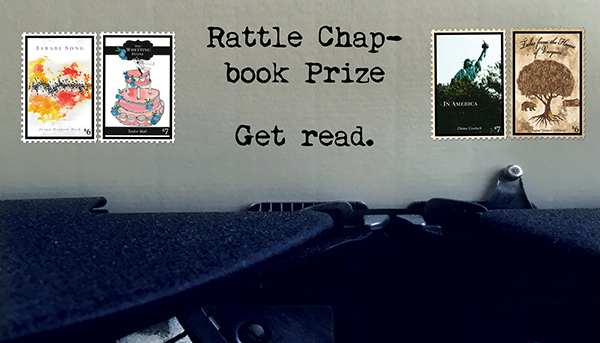 Deadline: January 15, 2021
The annual Rattle Chapbook Prize gives poets something truly special. Every year, three winners will receive: $5,000 cash, 500 contributor copies, and distribution to Rattle's ~8,000 subscribers. In a world where a successful full-length poetry book might sell 1,000 copies, the winning book will reach an audience eight times as large on its release day alone—an audience that includes many other literary magazines, presses, and well-known poets. This will be a chapbook to launch a career.
And maybe the best part is this: The $25 entry fee is just a standard subscription to Rattle, which includes four issues of the magazine and the winning chapbook, even if it isn't yours. Rattle is one of the most-read literary journals in the world—find out why just by entering! For more information, visit our website.
We congratulate our three winners from our 2020 contest:
Kathleen McClung, A Juror Must Fold in on Herself (September 2020)
Tom C. Hunley, Adjusting to the Lights (December 2020)
Jessy Bertron, A Plumber's Guide to the Light (March 2021)
Please enjoy "Hot Iron" by Mather Schneider, published in his 2017 Rattle Chapbook Prize book, A Bag of Hands:
Hot Iron

She uses a flat hot iron
to straighten her hair.
It has a porcelain handle
and burning platypus jaws
and each morning she gets up
and plugs it in the wall.
You can smell it getting hot.
Her hair is a gorgeous blue black
Mexican mane, but her ex
slapped her face
told her she was ugly
and her hair was too curly
every day until it stuck.
It's a delicate operation:
to change who you are
without burning your scalp.
It's been eleven years
since she's seen him, calls
another country home now
but she still gets up
and plugs in that hot iron
every morning. It's ready
when your spit sizzles.