Rattle Chapbook Prize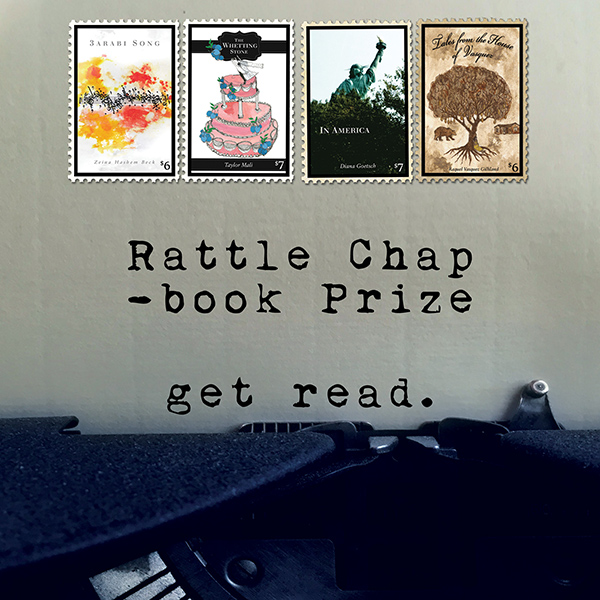 Deadline: January 15, 2019
The annual Rattle Chapbook Prize gives poets something truly special. Every year, at least one winner will receive: $2,000 cash, 500 contributor copies, and distribution to Rattle's 7,000 subscribers.
In a world where a successful full-length poetry book might sell 1,000 copies, the winning book will reach an audience seven times as large on its release day alone—an audience that includes many other literary magazines, presses, and well-known poets. This will be a chapbook to launch a career.
And maybe the best part is this: The $25 entry fee is just a standard subscription to Rattle, which includes four issues of the magazine and all of the winning chapbooks. Rattle is one of the most-read literary journals in the world—find out why just by entering! For more information, visit our website.
We congratulate our three winners from our 2018 contest:
Raquel Vasquez Gilliland, Tales From the House of Vasquez
Nickole Brown, To Those Who Were Our First Gods
Elizabeth S. Wolf, Did You Know? (to be published in 2019)
For a sample from the series, please enjoy the title poem from In America by Diana Goetsch, one of the three winners from 2017:
IN AMERICA

"Why don't you go to Japan and ask the cats?" I said
to the TSA agent when she asked if I was Amish,
because I believe in answering a non-sequitur

with a non-sequitur. I only said it
after I'd been cleared, after I'd been strip-searched
behind frosted glass, and then posted

the bitch's face on Facebook along with her name.
Maybe being trans is like being Amish,
or maybe I went pale when I missed my flight

as Security Agent Pamela E. Starks
conferred with Explosives Expert Gary Pickering
to discuss, based on the "soft anomaly"

picked up by the body scanner, which of them
needs to search me (at one point she
suggested they each take "half").

I suppose I could have come from Amish country,
a place so deep in the heart of America it can't be seen,
and delivered to the airport by horse and buggy—

an Amish horse, oblivious to traffic. Maybe
it's because of my long black dress, or makeup
that makes it look like I'm not wearing makeup—

a goal whose purpose used to elude me,
though I totally get it now, but please don't ask.
You could go and ask the cats in Japan,

though it's bound to earn you a contemptuous frown,
by which they mean to say, "Eat my ass
in Macy's window." How do cats in Japan

know about Macy's? you must be asking.
Beats the hell outta me. They have
no tails—did you know?

Neither do the Amish. Just kidding.
I'm still waiting to hear about
the complaint I filed, the one that,

along with the viral video of them
repeatedly calling me "it," shut down
the TSA website for three days

while they rewrote the rules about me.
"You could be charged for this,"
friends warn me, but in America

it can't be libel if it's true. I learned that
from the cats in Japan, who you can ask—
though it's best not to disturb them.