FanStory: Enter Dozens of Contests for One Low Price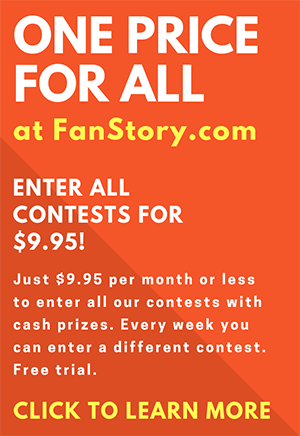 Don't miss these contests. All have cash prizes. At FanStory you can enter all these contests with upgraded membership. Every week enter a new contest with a cash prize. Find out more.
Faith Poetry Contest
We are looking for poems that relate to faith. It doesn't matter if it's spiritual, political, intellectual or emotional as long as faith is clearly represented. Cash Prize!
Deadline: Nov 15
Dialogue Only Writing Contest
Write a story using only dialogue. No narration, descriptions, or sentence tags. Any length. Cash prize to the winner.
Deadline: Nov 20
Haiku Poetry Contest
Write a haiku to paint a mental image in the reader's mind. The challenge is to convey the poem's meaning and imagery in only 17 syllables over three lines. This contest has a cash prize. Deadline: Nov 28
Flash Fiction Writing Contest
Write a flash fiction story that takes place during a hot summer night. Limit: 500 words. Cash prize to the winner. Deadline: Nov 30
3-Line Poetry Contest
Write a poem addressed to a loved one that has a syllable count of either 5-7-5 or 5-7-7. This poem should not contain rhyme. Cash prize for the winning entry. Deadline: Dec 1
I Can't
Write a poem that begins with the words "I Can't". You may add words and change capitalization. For example: "I can't believe". All poetry types accepted, any length. Cash prize to the winner. Deadline: Dec 3
These are just a few of our contests. View the listing.