FanStory: Enter Dozens of Contests for One Low Price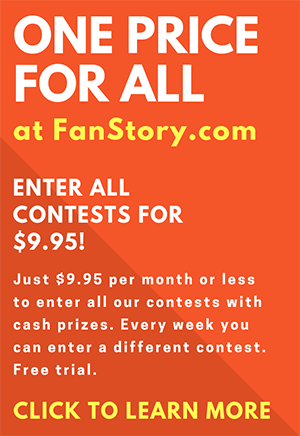 Don't miss these contests. All have cash prizes. At FanStory you can enter all these contests with upgraded membership ($9.95 per month or less). View the full listing.
5-7-5 Poetry Contest
This poem follows the syllabic structure of a Haiku but without any limitation on the topic. Cash prize to the winner.
Deadline: August 17
ABC Poetry Contest
Write a one-stanza, five-line poem. The first letter of each of the first four lines follow the order of the alphabet while the last line can be any letter whatsoever. For example, a poet might choose to use the following letter combination: D-E-F-G-A. See the example in the guidelines. This contest has a cash prize. Deadline: August 19
Flash Fiction
Write a story (on any topic) using exactly 150 words. Omit the title from the word count. Cash prize to the winner. Deadline: August 23
Cinquain Poetry
The format for this type of poem is simple. Each line has a specific number of syllables:
• Line 1: 2 syllables
• Line 2: 4 syllables
• Line 3: 6 syllables
• Line 4: 8 syllables
• Line 5: 2 syllables
Choose any subject. Rhyme is optional. Cash prize for the winning entry. Deadline: August 28
3 Line Poetry Contest
In this poem, the first line should have 5 syllables, the second line 7 syllables, and the third line 5 syllables again. Cash prize to the winner. Deadline: September 3
These are just a few of our contests. View the listing.