FanStory: Enter Dozens of Contests for One Low Price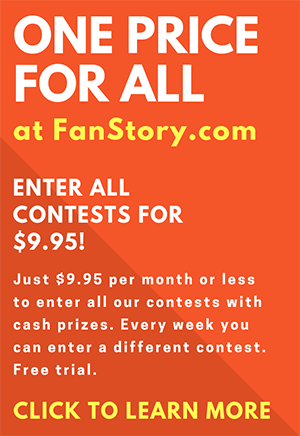 Don't miss these contests. All have cash prizes. At FanStory, you can enter dozens of contests, get feedback for everything you write, and have fun with your writing. Membership is only $9.95 per month. Discounts available! View the discounts.
Share Your Story
A memoir gives us the ability to write about our life with the option to create and fabricate and to make sense of a life, or part of that life. For this writing contest, write about a piece of your life! Win cash!
Deadline tomorrow! June 16th

Four Line Poem
The first line has 1 syllable, the second line has 5 syllables, the third line has 5 syllables, and the last line has 9 syllables. The subject can be anything. Cash prize to the winner.
Deadline in 5 Days! June 20th

Father's Day Poetry Contest
Write a poem about Dad or about being a Dad for this special day.
Deadline in 6 Days! June 21st

Free Verse Poetry Contest
Write a poem with no fixed meter or structure regarding rhyme and lines in each stanza. The winner takes away a cash prize.
Deadline June 30th

20 Line Poem
Write a poem with exactly 20 lines. Any format. Cash Prize!
Deadline July 1st

Two Line Poem
Write an essence poem. This is a poem of two lines with six syllables per line, each containing an internal rhyme and an ending rhyme. See the example. Cash prize to the winner.
Deadline July 3rd
These are just a few of our contests. View the listing.