FanStory: Enter Dozens of Contests for One Low Price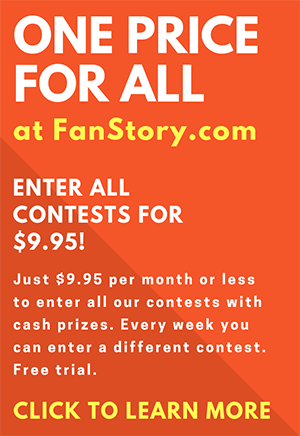 Don't miss these contests. All have cash prizes. At FanStory you can enter all these contests with upgraded membership. Every week enter a new contest with a cash prize. Find out more.
True Story Contest
Share a true story from your life. Write a story that shares a moment, an object, a feeling, etc. This does not have to be a profound memory, but should allow readers insight into your feelings, observations and/or thoughts. Use at least 100 words. No poetry. Cash Prize!
Deadline: Dec 15
5-Line Poem Contest
Write a poem with five lines. It requires the following syllable count: 2-2-5-7-5. Cash prize to the winner.
Deadline: Dec 17
Lune Poetry Contest
Lunes have five syllables in the first line, three syllables in the second line, and five syllables in the final line. Rhymes are fine but not required. The subject matter is open. This contest has a cash prize. Deadline: Dec 22
Rhyming Poem Contest
Write a poem of any type. But there must be a rhyme scheme. How it rhymes is up to you. Cash prize to the winner. Deadline: Dec 30
100-Word Flash Fiction Contest
A drabble is a flash fiction story that uses around 100 words. Write a story on any topic using 100 words. The title does not count towards the word count. The submitted work must have between 98-102 words. Cash prize for the winning entry. Deadline: Jan 4
5-7-5 Poetry Contest
5-7-5 poems have the form of a haiku but may be on any subject. The first line has five syllables, the second has seven syllables, and the third has five syllables. Cash prize to the winner. Deadline: Jan 8
These are just a few of our contests. View the listing.