FanStory: Writing Contests, Feedback, Community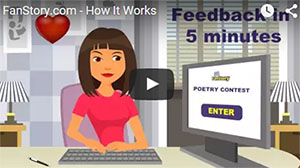 Helpful Feedback. Get detailed feedback for every poem, short story and book chapter that you write.

Contests. Over 50 new contests every month. Always free to paid members. Participate for cash prizes.

Rankings. See how you compare to other writers. Online statistics will show you how you are doing.

Community. Participate in an active online writing community. Improve your writing and get motivated.

Start getting feedback in less than 5 minutes
Upcoming Contest Deadlines
Nonet Poetry Contest
A nonet has nine lines. The first line has nine syllables, the second line eight syllables, the third line seven syllables, etc. Line nine finishes with just one syllable. Winner receives $100 cash. Deadline: May 19.
Love Poem Contest
Write a love poem. All forms of poetry accepted. $100 cash prize. Deadline: May 23.
Non-Fiction Writing Contest
Submit personal essays, memoirs, and other literary non-fiction on any topic. The winner takes away $100. Deadline: May 28.
Unexpected Romance
Write a story that brings two people together, two people who may not realize they belong together but the audience is rooting for them. Win $100. Deadline: June 1.
Palindrome Poetry
This form has three parts: 1) the first half of the poem, 2) the pivot, and 3) the first half repeated but in reverse. See details and example at FanStory. Winner receives $100. Deadline: June 3.
Enter all contests for free with your upgraded membership. Upgraded membership is only a few dollars a month. These are just some of our contests. View our full listing here.
A Letter We Received
"FanStory works! For anyone who has the determination, heart, and soul to write, FanStory is the site to hone your skills and work towards becoming published. I want to thank all of the members who supported me along the way to achieve that goal.
"I premiered my novel, Fatal Beauty, on FanStory 2013-14 and subsequently—from reviews and query letters—found an agent/publisher for the book. Without FanStory, I would never have been able to succeed."
—Bob Hartson, published June 2016