The Antigone Poems by Marie Slaight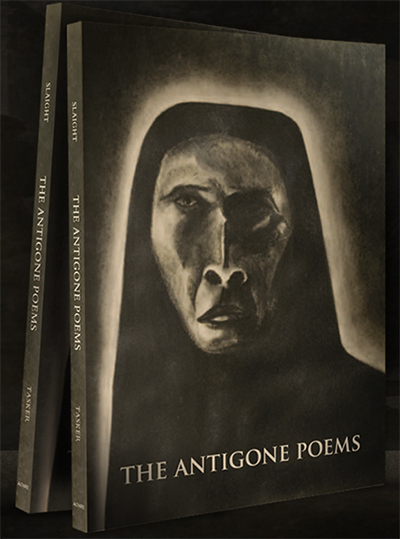 "Surreal and wild... written in ecstasy and the madness of genius..."
The Antigone Poems, featuring poetry by Marie Slaight and drawings by Terrence Tasker, was created in the 1970's, while the artists were living between Montreal and Toronto. Passionate, brutal, and infused with extraordinary lyricism, The Antigone Poems provides a special expedition into the depths of the ancient Sophocles tragedy. It's available in an elegantly bound, print-only edition from Altaire Productions.
A poem from the book:
Earth in torment

Earth in tears

Tired

Wracked

Groaning with effort

To remain.

And are we corpses clutching?

(The gnawed bone, 


The splintered throat.)

Find my earth.

Reclaim my desire.
REVIEWS
This is the most strangely beautiful book to come across this desk in a long time. First, it's always interesting to have a publisher print a work 40 years after it's written without disclosing why. All that we know is that the writer and artist lived in Montreal and Toronto in the 1970's. I guess Tasker's death in 1992 has something to do with this premiere.
First we should know something about Antigone in literature. Well it's an ancient Greek tragedy where Antigone, the female protagonist, is ultimately jailed and sentenced to death, and all you need to know is that everyone—all the principals—die in the end, except for the prison guards. I'm not being flippant, but truthfully, to read these poems, that's all you need to know.
And I ADORE these weird little poems. They are surreal and wild. The charcoal drawings are terrifyingly brilliant. They scare the bejesus out of you and you can't stop turning the pages. It's like bingeing on BREAKING BAD and WAKING THE DEAD both at once. I deem this a holy book—written in ecstasy and the madness of genius and I hope it's reprinted and lasts forever. The poems are untitled. Check this out:
We live our lives

The instant between life and death

To touch death always,

That is the sun.
This copy I hold in my hand—no one will ever get from me. This is ART you cannot buy or sell. It is the flaming center of the volcano that makes us create.
The Washington Independent Review Of Books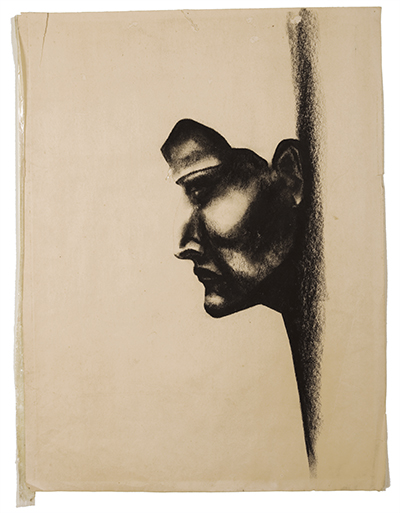 The Antigone Poems is a beautifully made object. Only every other page is printed. The book has a section-sewn binding. Charcoal drawings on French folds are striking and fierce, conveying a strong sense of the otherness of ancient Greece. For the ancient Greeks were not at all like us: their language was a wild cry in the dark, a wailing wind; their battles were savage; their gods hard and desperate; their people superstitious.
I cannot recommend this book highly enough...
Meanwhile, this book—the poems and the drawings, the paper, the cover, the printing— is serious, intelligent, one of a kind, and gorgeous. It is a major find, a supplement to or interpretation of the Sophoclean play as much as is Anne Carson's Antigonick and more unified.... The Antigone Poems can be read quickly but absorbing them, and the drawings, takes more time, contemplative time. Philosophical time. I cannot recommend this book highly enough.
A Review by Kelly Cherry, award-winning poet laureate of Virginia
Rich in allegory and metaphor, this illustrated collection of poetry explores the tragedy of Antigone, the defiant woman of Greek myth.
With a strong first-person narrative, the collection is divided into five chapters featuring fragmented poems that explore love, loss, passion and pain through Antigone's eyes. The book opens with a riveting prelude: "And sing / my bitter praises / to nails / and flint / and flesh." As the collection moves forward, Slaight continues with poems that are spare yet precise in their language and construction. The first chapter introduces Antigone as a woman awakening, through pain, to her senses as well as to her vulnerability and power: "The passion comes angrily…then the awakening of all senses, nerves—open, alive, tingling."... Some of the stronger lines focus on her insight into her role as a rebel: "All love pains / Are an aged protest / Wanting fresh surge; / Decrying the ancient throb / Of memories." Slaight's poems also use this close first-person perspective to unpack Antigone's struggle for independence and identity as a woman—"Fought order, limits, time." ...Throughout, Tasker's haunting charcoal drawings reflect the tone of anguish and despair in Slaight's poetry. A beautifully bound, impressive collection with language as evocative as its illustrations.
Kirkus Review
The Antigone Poems is published by Altaire Productions and is also available from Amazon or any good bookstore.