DISQUIET Literary Prize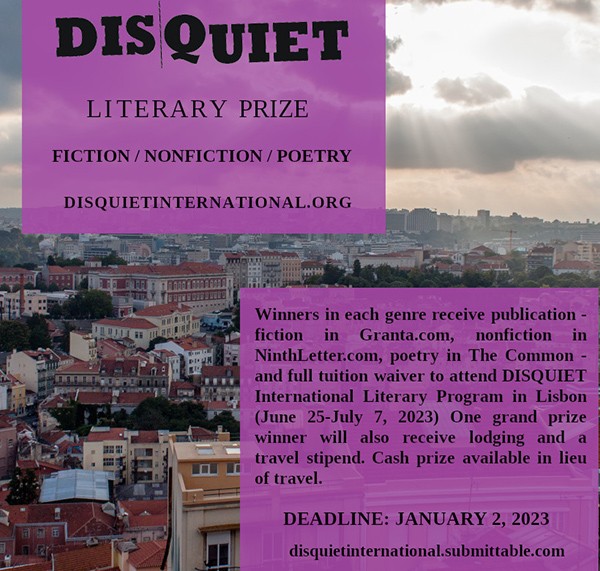 Deadline: January 2, 2023
Submit now to the DISQUIET Literary Prize! This contest is for writing in fiction, nonfiction, or poetry by a writer who has not yet published more than one book with a major press. The first prize winners in each genre will be published:
Winners in each genre will receive full tuition waivers to attend Disquiet in Lisbon this summer (June 25-July 7, 2023) One grand prize winner will receive a full scholarship including tuition, lodging, and a $1,000 travel stipend. Runners-up will receive partial scholarships. Reading fee: $15.
Click for the contest guidelines.
Enter at Submittable.
The DISQUIET International Literary Program is a two-week program that brings writers from North America and from around the world together with Portuguese writers in the heart of Lisbon for intensive workshops in the art and craft of writing.
The program is premised on several beliefs: That the conversations and exchange of ideas that result from meeting writers from around the world pushes one's own work beyond the boundaries of the self. That all writers need a community to support and sustain them. That stepping out of the routine of one's daily life and into a vibrant, rich, and new cultural space unsettles the imagination, loosens a writer's reflexes…To those ends: Come be DISQUIET-ed with us!