Westmoreland Arts & Heritage Festival Poetry & Short Story Contest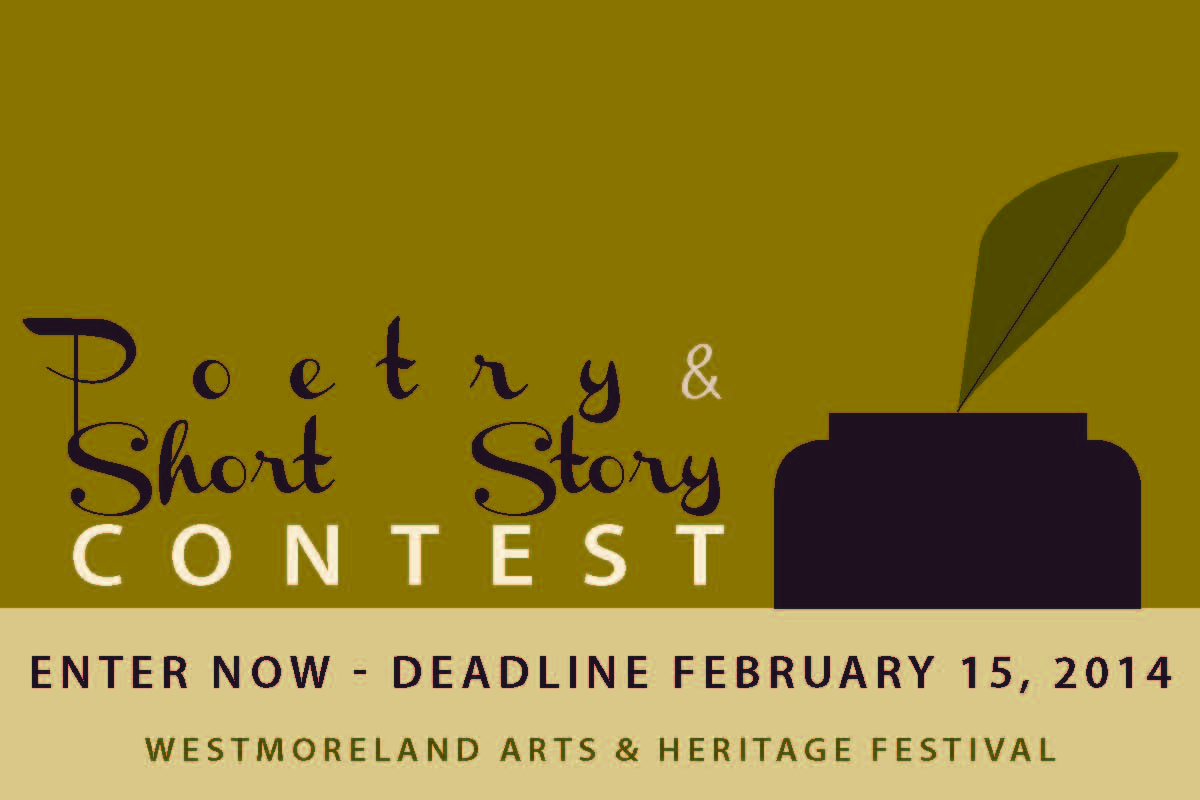 Deadline: February 15, 2014

The Westmoreland Arts & Heritage Festival is currently accepting previously unpublished poetry and short story manuscripts for its 2014 Poetry & Short Story Contest. The contest is open to any living writer writing in English anywhere in the world. Entries will be juried by accomplished writers and poets (see website for juror bios). One juror is chosen to evaluate the poetry entries and a second juror is selected to jury the short story entries.

The 40th Annual Westmoreland Arts & Heritage Festival takes place July 3-6, 2014 at Twin Lakes Park near Greensburg, PA. Winning entries will be on display at the Festival where up to 150,000 patrons will have the opportunity to read the works.

All work must be original, not having been entered in any previous Poetry & Short Story Contest sponsored by the Westmoreland Arts & Heritage Festival. 4,000-word limit for short stories. There is no limit to the length of poems. Each author may enter one story. Each poet may enter two poems. All genres are accepted. The top story and top poem will each earn a $200 award. Total prizes: $1,000.

Entry fees are as follows:
$10 for up to two (2) poems
$10 for one (1) short story
Writers may enter both contests for a $20 entry fee
Please direct questions to Adam J. Shaffer via email at info@ArtsAndHeritage.com or call 724-834-7474. For more information, visit the Westmoreland Arts & Heritage Festival website, www.artsandheritage.com, and click here for an official entry form.

Follow us on Twitter at @WAHFPA

Please enjoy this poem by Sherilyn Lee, winner of the 2013 Westmoreland Award for Poetry:

The Heat that Ripens
after Amy Hempel

The heat that ripens seems
dangerous often because I don't mind
its warnings. Like when it softened
a moment into a kiss
between me and a boy sitting on a rooftop
way too late
one November night,
under an American flag flapping in the breeze,
crack crack crack
snapping to get my attention.
But I was already tangled between his fingers
climbing up the sleeves of my sweater.
His cigar smoldered in the ashtray,
its waft pulled my chest tight but
even burning couldn't bring me back now.