A Friendship Forever by Five Paths Publishing, Winner of the North Street Book Prize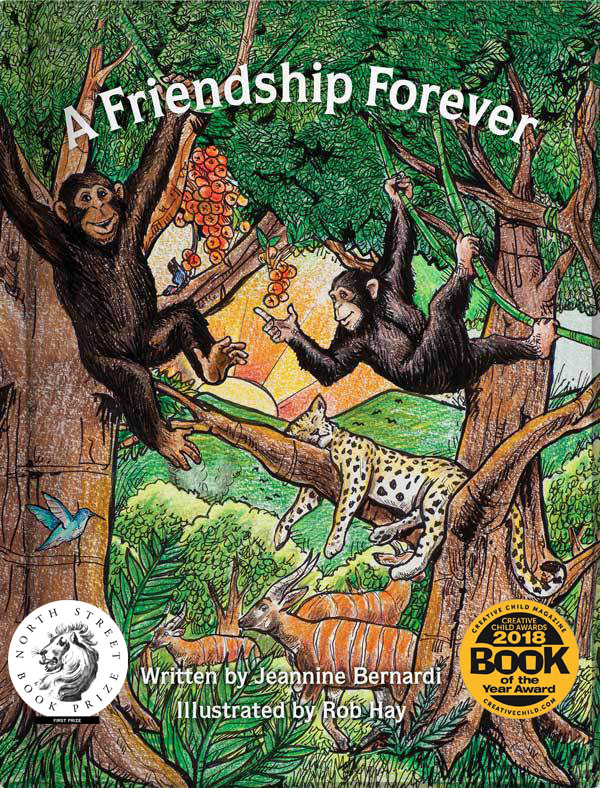 Ayo and Neo, best of friends, grow up together in the African rainforest. The two chimpanzees spend their days swinging through the trees, exploring, eating delicious figs in the canopy, and grooming one another. They have formed an everlasting bond, but things are beginning to change in the forest. Human development is causing disease and destruction, and one day, Neo doesn't come back home. Left to deal with the absence of his friend, Ayo experiences grief and loss.
With the help of a wise old chimp, Ayo learns that although Neo is no longer physically with him, he is in the rainbows, the wind, and the ground on which Ayo runs. The story ends with a message of hope: that Ayo can honor his friend by doing the things he loved to do.
This heartwarming story of friendship and the life of chimpanzees helps children understand and cope with loss, change, and emotions. Beautiful illustrations and an engaging Seek and Find are sure to help open the lines of communication around loss. A Chimpanzee Fact Page offers insight into chimpanzees and the African rainforest.
"A Friendship Forever is a beautiful story that will help children cope with loss, whether it be a pet, friend, or family member. Written in rhyme, the story engages the reader and ends with a hopeful message."
—Dr. Sheryl Ziegler, family psychologist and author of Mommy Burnout.

"Jeannine has done a magnificent job putting all the emotions spurred from loss into perspective—in ways many adults cannot. A Friendship Forever is an extraordinary, loving, and powerful work!"
—William Summer, success coach and neural psychologist