Rattle Poetry Prize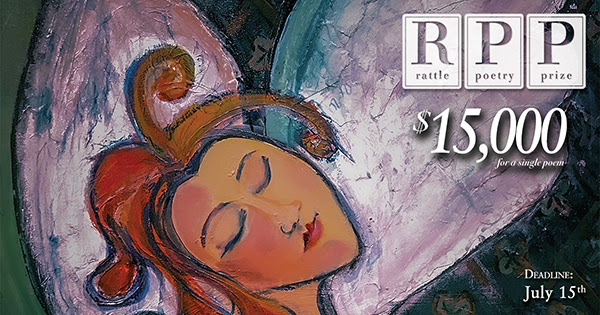 Deadline: July 15, 2023, 11:59pm US Pacific Time
The annual Rattle Poetry Prize celebrates its 18th year with a 1st prize of $15,000 for a single poem. Ten finalists will also receive $500 each and publication, and be eligible for the $5,000 Readers' Choice Award, to be selected by subscriber and entrant vote. All of these poems will be published in the winter issue of the magazine.
With the winners judged in a masked review by the editors to ensure a fair and consistent selection, an entry fee that is simply a one-year subscription to the magazine—and a runner-up Readers' Choice Award to be chosen by the writers themselves—the Rattle Poetry Prize aims to be one of the most writer-friendly and popular poetry contests around.
We accept entries online and by mail. See Rattle's website for the complete guidelines and to read all of the past winners.
Please enjoy "Diary Poems" by Richard Jordan, a finalist in our 2022 competition:
Diary Poems

What led her to write poetry she didn't
show to others? She entrusted verses
to diaries with gold-edged pages, hidden
in a cedar chest. Preserved in cursive
are rondeaux and cinquains. She relished snow,
seashells, roses. There's a bookmarked sonnet
about a grandchild she would never know,
a future that took shape the way she wanted.

My grandma had no training, didn't go
beyond eighth grade. Amid the Great Depression
she worked the mills, saved feed sacks to make clothes.
But here's a line she wrote absent the lessons:
Dusk rolls a coral carpet down the stream.
I've seen that for myself. For real. In dreams.