Rattle Poetry Prize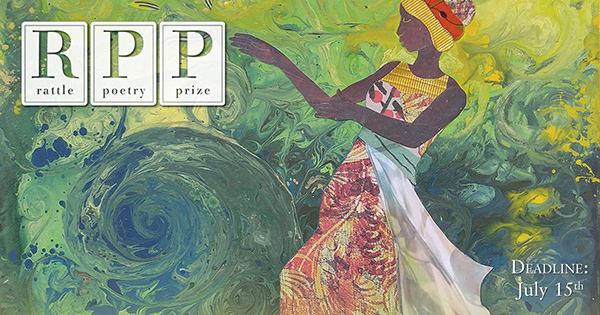 Deadline: July 15, 2019
The annual Rattle Poetry Prize is once again offering $10,000 for a single poem to be published in the winter issue of the magazine. Ten finalists will also receive $200 each and publication, and be eligible for the $2,000 Readers' Choice Award, to be selected by subscriber and entrant vote.
With the winners judged in a blind review by the editors to ensure a fair and consistent selection, an entry fee that is simply a one-year subscription to the magazine—and a runner-up Readers' Choice Award to be chosen by the writers themselves—the Rattle Poetry Prize aims to be one of the most writer-friendly and popular poetry contests around.
We accept entries online and by mail. See Rattle's website for the complete guidelines and to read all of the past winners.
Please enjoy "Equilibrium" by Tiana Clark, our 2015 winner:
| | |
| --- | --- |
| Took me | thirty years to say |
| I'm glad | I don't pass for white. |
| Pressed | those words into the dark |
| creases | in my palm like a fortune: |
| a life line | of futures I wanted to begin. |
| Like the way | the haze of summer heat |
| makes | a drive home different. |
| Right now | even the streetlights |
| have a misty | orb to them. Even |
| the cigarette butt | flicked out |
| of the window | on the highway |
| plumes with embers | skidding |
| toward me | like the tail |
| of a backyard | bottle rocket. |
| I wanted my | hair straighter, |
| nose thinner, | skin lighter. |
| I thought this | is what my white |
| boyfriends | wanted as their hands |
| became | each European request, |
| a Russian | nesting doll I kept |
| un-stacking | until there was only illusion |
| of beauty | split open. Like the Great |
| Gatsby cover | with the disembodied head |
| of a crying | flapper over the neon-scape |
| of city. All | the green beacons we chase |
| as thoughts | of people who don't love us |
| are left back | drifting on the roads as we |
| drive. But | every muscle knows how |
| to get home. | How the smallest part |
| of ourselves | cannot be divided. |
| The last doll | is still whole in my hands. |
| Even the car | can still purr from energy |
| after it's been | turned off. What is left |
| whispering | in us, once we have |
| stopped trying | to become the other? |