Rattle Poetry Prize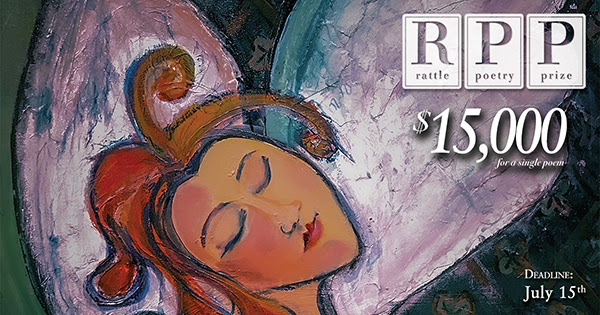 Deadline: July 15, 2021 (11:59pm Pacific Time for online entries)
The annual Rattle Poetry Prize celebrates its 16th year with a 1st prize of $15,000 for a single poem. Ten finalists will also receive $500 each and publication, and be eligible for the $5,000 Readers' Choice Award, to be selected by subscriber and entrant vote. All of these poems will be published in the winter issue of the magazine.
With the winners judged in a masked review by the editors to ensure a fair and consistent selection, an entry fee that is simply a one-year subscription to the magazine—and a runner-up Readers' Choice Award to be chosen by the writers themselves—the Rattle Poetry Prize aims to be one of the most writer-friendly and popular poetry contests around.
We accept entries online and by mail. See Rattle's website for the complete guidelines and to read all of the past winners.
Please enjoy this past Rattle Poetry Prize Winner by Roberto Ascalon, published in Rattle #42, Winter 2013:
THE FIRE THIS TIME,

or How Come Some Brown
Boys Get Blazed Right
Before Class and Other
Questions Without Marks

how much damn broke

does it take to want to

burn just before class

lung green with chaos

how many times the

police come to the door

way past late, your auntie

face forlorn and flashing

in the turning blue, how

much knuckle in a boy

fist gotta break cheek till

body want to go numb

how much brave you

gotta front, pay forward

like a hard stare, like a

work muscle jaw

how many legal papers

say stay or go, right or

nothing, home or jail

love or palm skin

how many words

or promises did dad

mom and god knows

who else have to crush

so that you spit out

your eyes and slouch

like a demon, daring

me to call out your

name, as if it had

power anyway, as if

your own name, when

you strangle it out

your throat spill god

stuff, god, like a broke

egg, baby born into

fire, how come fire

put you to bed instead

of sweet hands, good

hands, why they put bad

hands, why bad hands

why the fire this time

god, why, we ain't done

nothing, nothing yet

nothing yet and nothing

wrong, except the babies

are on fire, on fire, babies

burning by the stairs

before school begins