Rattle Poetry Prize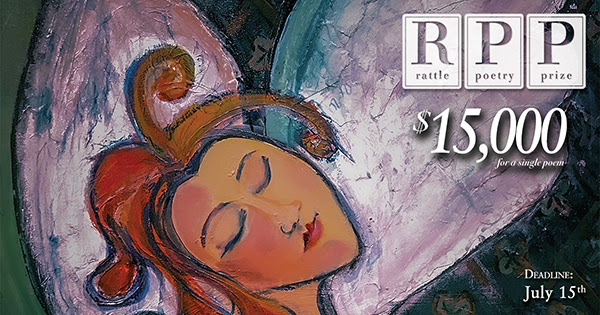 Deadline: July 15, 2022 (11:59pm Pacific Time for online entries)
The annual Rattle Poetry Prize celebrates its 17th year with a 1st prize of $15,000 for a single poem. Ten finalists will also receive $500 each and publication, and be eligible for the $5,000 Readers' Choice Award, to be selected by subscriber and entrant vote. All of these poems will be published in the winter issue of the magazine.
With the winners judged in a masked review by the editors to ensure a fair and consistent selection, an entry fee that is simply a one-year subscription to the magazine—and a runner-up Readers' Choice Award to be chosen by the writers themselves—the Rattle Poetry Prize aims to be one of the most writer-friendly and popular poetry contests around.
We accept entries online and by mail. See Rattle's website for the complete guidelines and to read all of the past winners.
Please enjoy this poem by Rhina P. Espaillat, one of the 2015 Rattle Poetry Prize finalists, published in Rattle #50:
WORK IN PROGRESS

He showed me some, and asked for my advice.
I pointed out a line that wouldn't scan,
a pair of rhymes that cried for a divorce,
and commented—but briefly—on the quotes
in foreign alphabets, unglossed. "Of course,"
he said, and nodded, and took notes,
as if OK with all of it.
And then
I added, "Put back every the and an
and a. It's almost nothing, what they do,
but articles make what they say ring true."
You never know what buttons not to touch,
which almost nothing's going to prove too much.
This morning he submitted work again,
but brusque, defensive, with a hint of spice.
Only fool goes for walk in minefield twice:
next time I'll tell him poem is very nice.