Two Sylvias Press Weekly Muse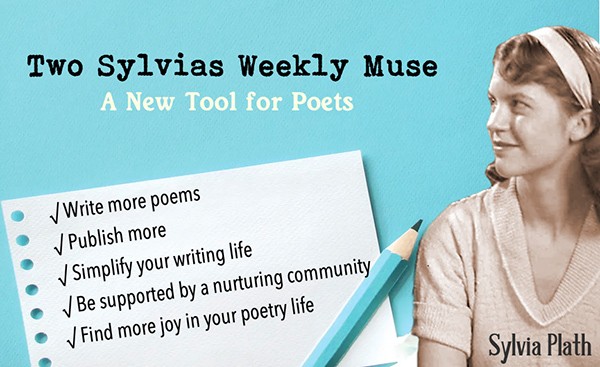 For 2023, Write More Poems, Submit More Work, and Get Organized in Your Poetry Life!
The Weekly Muse is a tool created by poets for poets that arrives in your inbox every Sunday morning to help you write new poems, find new opportunities to submit your work, and organize your week! Filled with exclusive interviews with favorite poets and your questions answered by editors, the Weekly Muse was just named a Substack Bestseller! And the Weekly Muse also has a private Facebook page where you can share poems, give or get feedback on your work from other poets and Two Sylvias Press editors, and find the nurturing community you've been missing.
"I only subscribed for the weekly poetry prompts and exercises, but the Weekly Muse has fast become one of the most valuable tools for me as a poet. I've learned so much and I've had poems accepted for publication from Weekly Muse recommendations! The editors of Two Sylvias Press really care about poets and the amount of time and energy put into the Weekly Muse is apparent. Also, I appreciate how they sometimes jump into the private Facebook page to respond to poems and answer poets' questions. I have become a huge fan of Two Sylvias and the Weekly Muse!"
~ John D., Weekly Muse Subscriber
With the new year ahead, this is the perfect time to try the Weekly Muse. For the price of a 3-4 hour poetry class, you can receive prompts, opportunities, inspiration, and ongoing support ALL year long! Click here for a subscription to the Weekly Muse with a 7-day free trial. Cancel at any time.