Two Sylvias' Weekly Muse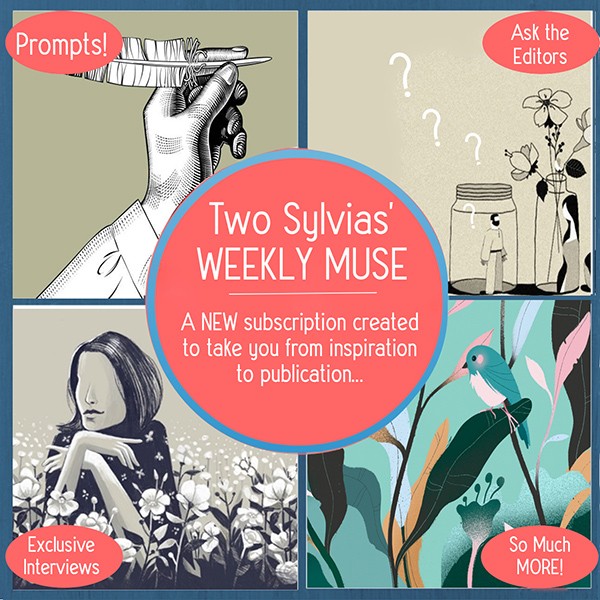 Begins May 1, 2022—sign up now!
Because we've had so many requests to create a way for poets to get weekly poetry prompts along with information to help them publish poems and manuscripts, Two Sylvias Press is thrilled to offer the Two Sylvias' Weekly Muse to help with all your goals from inspiration to publication!
Subscribe to Two Sylvias' Weekly Muse for $18.99/month (less with an annual subscription) and each week you will receive:
Poetry Exercises / Prompts: You will receive one longer writing exercise and one shorter prompt each week to help you write two poems a week (or more!)
Ask the Editors: Our weekly feature where our editors answer YOUR questions on poetry, writing, publishing, submitting, or whatever is on your mind.
A Creativity Reflection Question: You can use these questions when journaling or simply reflect on them as you go about your day.
Exclusive Interviews with Well-Known Poets: We ask our favorite poets questions focused on writing, time management, titles, manuscripts, poetic forms, inspiration, submitting, rejections, and advice to help you on your poetic journey.
Where to Submit Your Work: Each week we share with you places to submit your work—literary journals, anthologies, and other opportunities.
Occasional Surprises: From time to time, we will be giving away FREE Two Sylvias Press publications, discounts on reading fees, and giveaways including FREE Online Poetry Retreats.
An Optional Facebook Group: A space for you to create community, share poems, and meet new poets on similar paths.
We look forward to answering your questions, sending you inspiration, and helping you get your poems out into the world.