From Mormon to Mermaid by Lorelei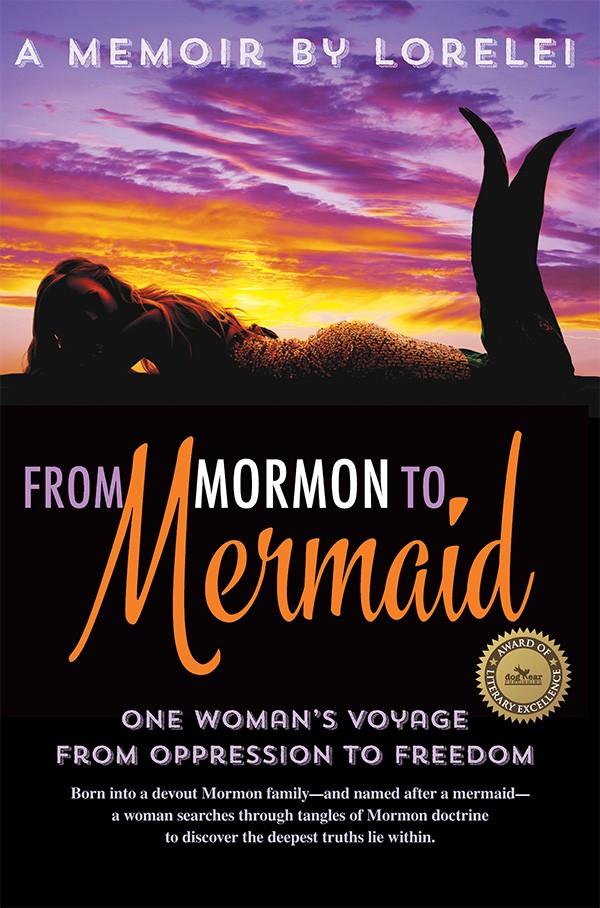 Winner of the 2022 North Street Book Prize for Creative Nonfiction & Memoir
For fifty years Lorelei lived the life of a devout Mormon woman.
As a child, her mother told her stories of her pioneer ancestors who crossed the plains to find religious freedom. She grew up in Salt Lake City, was baptized in the Tabernacle font on Temple Square, performed baptisms for the dead in the Salt Lake Temple, and also played the world-famous Tabernacle organ. She attended Brigham Young University, was sealed to her husband for time and all eternity in the Los Angeles Temple, and always said yes to the many callings her bishops extended to her.
Her life revolved around Mormonism and its clearly outlined path leading to exaltation. Then life's dilemmas thundered around her as she studied and prayed, and the doctrinal foundation she had built her life on crumbled.
From the North Street critique by Jendi Reiter:
The author recalls how her Sunday School teacher told her at age seven, "When the prophet speaks, the thinking is done." Lorelei's father made a convoluted effort to reconcile this directive with believers' free will, but her subsequent life showed that the compromise was unworkable.

Like many traditional religious organizations, the Mormon church depended on an army of female volunteers whose leadership was not acknowledged or compensated. When Lorelei was a teenager, the church threw its financial and political clout behind blocking the Equal Rights Amendment. Decades later, they were instrumental in passing Proposition 8, the (thankfully short-lived) ban on same-sex marriage in California. The author's devotion to the church was continually tested by cognitive dissonance between the amount of labor that women did, and the official stance that excluded them from authority...

First-round judge Annie Mydla said of this book: "At a time when religious fanaticism is growing stronger in our country and worldwide, I'm finding books with an inside view irresistible… The author is not content to escape and then expose the unhealthy aspects of the system she was born into. She also finds something rich and strange within herself… [The mermaid theme] communicates that freedom is not just escape, it also involves the responsibility of creating new and sustainable conditions in which the real self can live every day."
Read an excerpt from From Mormon to Mermaid (PDF)
Buy this book on Amazon