Second Annual Tupelo Broadside Prize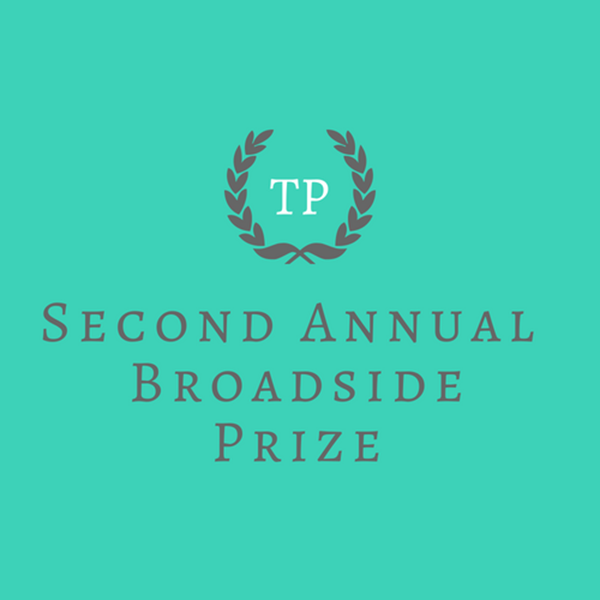 Submission period: June 1-June 30, 2018 (online submission date)
Final Judge: Kevin Prufer
Prize: Three prizes of $350 and broadside publication
The Second Annual Tupelo Broadside Prize is an open poetry competition. The editors of Tupelo Press and Tupelo Quarterly will choose three winners who will each receive $350 in addition to broadside publication by Tupelo Press, 20 copies of the winning broadside, and publication in Tupelo Quarterly.
The Second Annual Tupelo Broadside Prize is open to anyone writing in the English language, whether living in the United States or abroad. Translations are not eligible for this prize, nor are previously published poems. Employees of Tupelo Press and authors with books previously published by Tupelo Press are not eligible.
Please submit 3-5 poems, maximum of 21 lines each, in one file, with the $22 reading fee, between June 1-June 30. Submissions will be accepted via Submittable only.
Attach all poems in your submission as a single document in .doc, .docx, or .pdf form. Be sure that your document is complete and formatted correctly before uploading. Click here to submit.
Results will be announced in early fall and all submitters will be notified via Submittable.
Enjoy one of last year's winning selections, "To Speak of One Is to Speak of the Other", by Susan Tichy.

To Speak of One Is to Speak of the Other
by Susan Tichy


Live trees mourn the dead ones, feed their roots

for years : thin flanks


of a worn-out doe, her twins

won't make it, either


'And I did not weary myself in wishing


that a daisy could see the beauty of its shadow'