Atmosphere Press: Submit Your Book Manuscript Today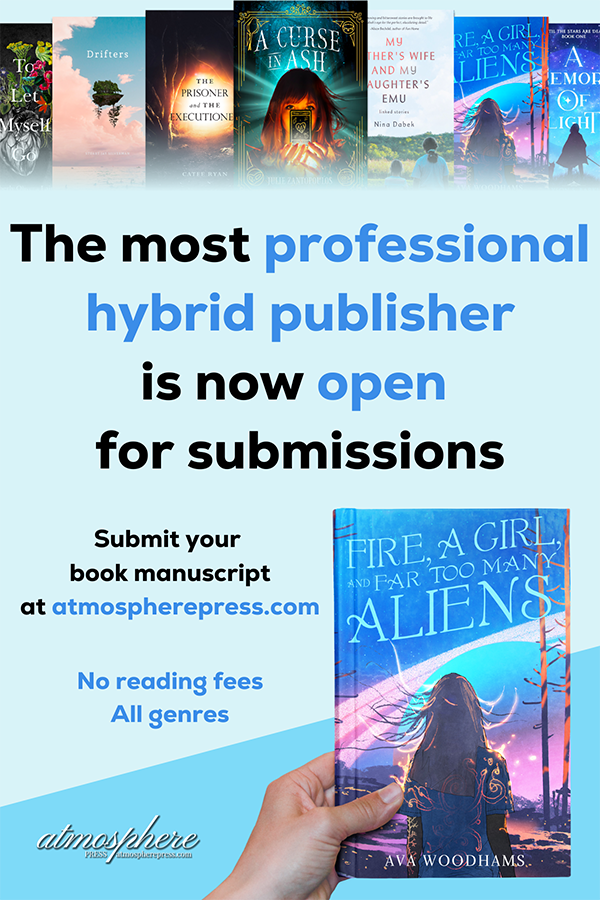 There are a lot of hybrid publishers out there nowadays, and we know the track record for these can be spotty. Some charge a fortune and provide little in terms of services. Some are dodgy about who is actually on their staff, or have secret escalator clauses in their contracts. Some are owned by hazy corporations whose bottom line is all that matters. It's a lot for an author to sort through!
Amidst all the chaos of choice, we're glad to present Atmosphere Press, the most professional hybrid publisher. They have a well-credentialed team of actual people working for them, and a Publication Timeline that's proven successful for nearly 800 books over the last seven years. Founded by an author and PhD in Literature, and with the most author-favorable contract, Atmosphere Press combines the rights and autonomy of charting your own author destiny with the experience and attention to detail that only a true publisher can offer.
They're reading now in all genres with no submission fee, so please send them your manuscript or query and they'll be in touch!