Where the Meadowlark Sings by Ellaraine Lockie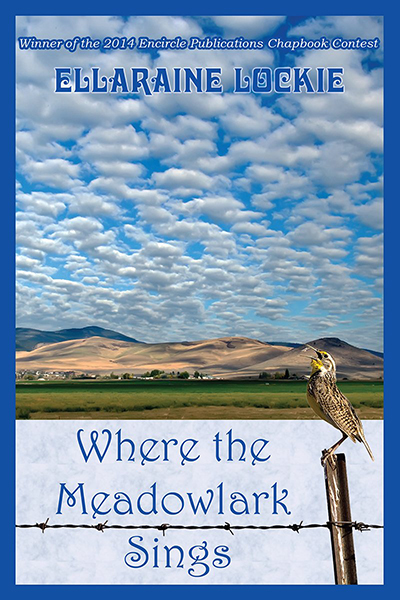 Winner of the 2014 Encircle Publications Chapbook Contest. On sale now!
"Ellaraine Lockie's poems emerge from her Montana homeland...Lockie captures the elegance of the landscape in its 'ripened wheat, cheatgrass and wildflowers', but steers clear of romanticism as she addresses the racism, sexism, and loss of young life in the rural West. In these poems, the history of one-room schoolhouses, vigilantes, cattle rustlers, and depression-era thrift run close to the surface, only a few generations removed from the headlines and newscasts of a disconnected world."
—Tami Haaland, Montana State Poet Laureate; winner of the Nicholas Roerich Prize for Breath in Every Room; author of When We Wake in the Night.
"Visit the abandoned schoolhouse out on this vast Montana prairie, and you're in for an elemental—if not elementary—education in beauty and danger. When modern life wears thin, Ellaraine Lockie's roots run back to Indian times, and bring forth a wild profusion of prairie flowers."
—Dan Veach, Editor of Atlanta Review; recipient of the Georgia Author of the Year Award for his poetry collection, Elephant Water.
"Ellaraine Lockie's Where the Meadowlark Sings takes us on a journey to another place away from the urban sprawl, the spread of modern technology that works the world into a fever we call progress. She takes us to the life of nature and real people who would stomp the stuffing out of you if you cross them but give you their last bite if they thought you were hungry. We who live in crowded cities where freeways serve as parking lots will almost yearn."
—J. Glenn Evans, Founder, Director, and radio show host of PoetsWest; poet; novelist; author of Broker Jim.
Ellaraine Lockie is a widely published and awarded poet, nonfiction book author, and essayist. Her recent work has been awarded the Women's National Book Association's Poetry Prize, Best Individual Collection from Purple Patch magazine in England for Stroking David's Leg, and first prize in the San Gabriel Poetry Festival Chapbook Contest for Red for the Funeral. Ellaraine teaches poetry workshops, is a frequent judge of poetry contests, and serves as Poetry Editor for the lifestyles magazine, Lilipoh. Where the Meadowlark Sings is her eleventh collection of poems.
NOW AVAILABLE ON KINDLE. BUY NOW.
Please enjoy this sample poem, "Brotherhood of the Midnight Snack", which won the San Mateo County Fair Poetry Contest. This poem was previously published in Caesura.
Brotherhood of the Midnight Snack

He makes it at midnight
An ensemble of garlic fried in olive oil
leftover rice and two eggs as top hats

An elaboration on the long-ago
bread fried in bacon grease
and dressed in Lawry's Seasoned Salt
A rite he brought home from college
into which he initiated his little sister
during summer breaks

When we'd eat in the breakfast nook
Lights out to watch fireflies spark the darkness
Curtains breathing in and out of the open windows
after an oven-baked day
Lilacs balming air that carried outdoor
conversations of mosquitoes and crickets

Inside, words sacred between siblings
What really went on at college
and in the fourth grade
Words that built the bridge that would
transport me out of farm life when most stayed

Now between bites of garlic fried rice
We talk of what really goes on in a marriage
a divorce, children, a job
Lights dim to see the birdbath outside the window

The water smooth, polished by the aged moon
An acorn plinks concrete and stills for the night

Purple lilacs shadow the surrounding peace
and a moth flutters a soft motor on the screen
Not a thing except thunder in the throat of distance
to warn us that this would be our last midnight rite