Tupelo Press Sunken Garden Chapbook Poetry Prize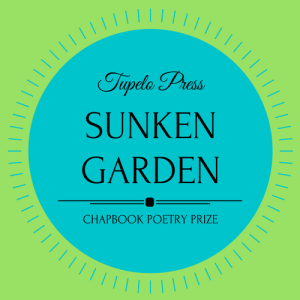 Deadline: October 31, 2018 (postmark or online submission date)
Final Judge: Timothy Donnelly
The Sunken Garden Poetry Prize is a prestigious national poetry prize for adult writers. Established in 2002, the Prize has drawn submissions from around the country that have been judged by renowned poets such as Martha Collins, Patricia Smith, and Tony Hoagland. The winner receives a cash prize, an introductory reading at the Sunken Garden Poetry Festival, and publication of a chapbook. Hill-Stead began partnering with Tupelo Press for the publication of the chapbook in 2013.
The Tupelo Press Sunken Garden Poetry Prize includes a cash award of $1,000, publication by Tupelo Press, a book launch, and national distribution with energetic publicity and promotion. Results announced in winter 2019.
Submit a previously unpublished, chapbook-length poetry manuscript with a table of contents and an acknowledgements page (if applicable). There is no mandatory page count, but we suggest in the area of 20 to 36 pages. All manuscripts will be read and considered with full respect, regardless of length, and no manuscript will be rejected simply because it's shorter or longer. We encourage online submission via our Submittable system. You may also submit via postal mail:
Tupelo Press
Sunken Garden Chapbook Poetry Prize
P.O. Box 1767
North Adams, MA 01247
For mailed manuscripts, request notification of receipt by including a SASP. For notification of the winner, enclose a SASE. Manuscripts will not be returned.
A reading fee of $25 payable by check to Tupelo Press or via Submittable must accompany each submission. Multiple submissions are accepted, each accompanied by a $25 reading fee.
Read the complete guidelines before submitting your manuscript.
Read about the Sunken Garden Festival here.
Read about all Tupelo Press contests and open reading opportunities.
Please enjoy this selection by Chaun Ballard, author of Flight (Tupelo Press, 2018), winner of the 2018 Sunken Garden Poetry Prize:
Midway

So now when the ghost asks me
my age, I say, I'm stomach over
the waistband; I'm button up
and neck-tied; I'm shoes no longer
the last squawking on hard wooden
floors; I'm totem pole carved with faces
of the past; I'm apple for lunch, walnuts,
and pleasant dinners; I'm red cross
bloodletting and good credit; I'm
my father in that faded polaroid
taken somewhere in California;
I'm high school reunion almost
checked the box: maybe; I'm electric
slide and Jesus music, hallelujahs
and morning glory; I'm open
book and lamp light; I'm Achilles
if he lived during the Renaissance;
I'm nearly in danger of not being
a danger; old enough to say,
you were good and died young.