Tupelo Press Sunken Garden Chapbook Poetry Prize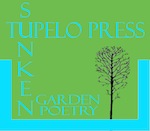 Postmark Deadline: October 31, 2016

The Sunken Garden Poetry Prize is a prestigious national poetry prize for adult writers. Established in 2002, the Prize has drawn submissions from around the country that have been judged by renowned poets such as Martha Collins, Patricia Smith, and Tony Hoagland. The winner receives a cash prize, an introductory reading at the Sunken Garden Poetry Festival, and publication of a chapbook. Hill-Stead began partnering with Tupelo Press for the publication of the chapbook in 2013.
The Tupelo Press Sunken Garden Poetry Prize includes a cash award of $1,000, publication by Tupelo Press, a book launch, and national distribution with energetic publicity and promotion. The final judge for this year's contest is to be Maggie Smith. Results announced in winter 2017.
Submit a previously unpublished, chapbook-length poetry manuscript with a table of contents and an acknowledgements page (if applicable). There is no mandatory page count, but we suggest in the area of 20 to 36 pages. All manuscripts will be read and considered with full respect, regardless of length, and no manuscript will be rejected simply because it's shorter or longer. We encourage online submission via our Submittable system. You may also submit via postal mail:
Tupelo Press
Sunken Garden Chapbook Poetry Prize
P.O. Box 1767
North Adams, MA 01247

For mailed manuscripts, request notification of receipt by including a SASP. For notification of the winner, enclose a SASE. Manuscripts will not be returned.

A reading fee of $25 payable by check to Tupelo Press or via Submittable must accompany each submission. Multiple submissions are accepted, each accompanied by a $25 reading fee.

Read the complete guidelines before submitting your manuscript:
https://www.tupelopress.org/sunken-garden-poetry-prize/

Read about past winners here:
https://www.tupelopress.org/category/sunken-garden-chapbook-prize-winners/

Read about the Sunken Garden Festival here:
http://www.hillstead.org/sunken-garden-poetry-festival/

Read about all Tupelo Press contests and open reading opportunities at:
https://www.tupelopress.org/contests/

Here is a poem by Hadara Bar-Nadav, author of Fountain and Furnace (Tupelo Press, 2015), winner of the 2015 Sunken Garden Poetry Prize:
Cradle

There's the ark
in minature.

There's the vacant
nest in the basement.

Honey-colored limbs,
a fine skeleton, pine.

The elephant and giraffe
plucked out their eyes.

A monkey gutted
himself of clouds.

Turtles fail to circulate,
battery acid caked
beneath their shells.

The stillness and
the stillness.

The pink blanket
in its plastic wrap.

Scent of honeysuckle
and dust.

Let the egg-filled spiders
have their way

and the night cover you.