Tupelo Press Sunken Garden Chapbook Poetry Prize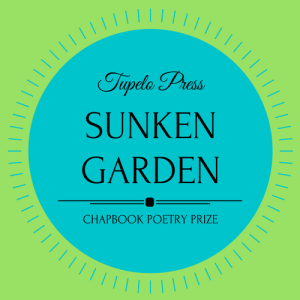 Deadline: October 31, 2017 (postmark or online submission date)
Final Judge: To be announced
The Sunken Garden Poetry Prize is a prestigious national poetry prize for adult writers. Established in 2002, the Prize has drawn submissions from around the country that have been judged by renowned poets such as Martha Collins, Patricia Smith, and Tony Hoagland. The winner receives a cash prize, an introductory reading at the Sunken Garden Poetry Festival, and publication of a chapbook. Hill-Stead began partnering with Tupelo Press for the publication of the chapbook in 2013.
The Tupelo Press Sunken Garden Poetry Prize includes a cash award of $1,000, publication by Tupelo Press, a book launch, and national distribution with energetic publicity and promotion. Results announced in winter 2018.
Submit a previously unpublished, chapbook-length poetry manuscript with a table of contents and an acknowledgements page (if applicable). There is no mandatory page count, but we suggest in the area of 20 to 36 pages. All manuscripts will be read and considered with full respect, regardless of length, and no manuscript will be rejected simply because it's shorter or longer. We encourage online submission via our Submittable system. You may also submit via postal mail:
Tupelo Press
Sunken Garden Chapbook Poetry Prize
P.O. Box 1767
North Adams, MA 01247
For mailed manuscripts, request notification of receipt by including a SASP. For notification of the winner, enclose a SASE. Manuscripts will not be returned.
A reading fee of $25 payable by check to Tupelo Press or via Submittable must accompany each submission. Multiple submissions are accepted, each accompanied by a $25 reading fee.
Read the complete guidelines before submitting your manuscript:
https://www.tupelopress.org/sunken-garden-poetry-prize/
Read about past winners here:
https://www.tupelopress.org/category/submit/awards-and-contests/past-award-and-contest-winners/
Read about the Sunken Garden Festival here:
http://www.hillstead.org/sunken-garden-poetry-festival/
Read about all Tupelo Press contests and open reading opportunities at:
https://www.tupelopress.org/contests/
Please enjoy this selection by Emily Jungmin Yoon, author of Ordinary Misfortunes (Tupelo Press, 2017), winner of the 2017 Sunken Garden Poetry Prize:
An Ordinary Misfortune
by Emily Jungmin Yoon

Mine is the jam-packed train. The too-weak cocktail. This
statement by an American man at the bar: Your life in
Korea would have been a whole lot different without the
US. Meaning: be thankful. This question by a Canadian
girl, a friend: Why don't you guys just get along? The guys:
Japan and Korea. Meaning: move on. How do I answer
that? Move on, move on, girls on the train. Destination:
comfort stations. Things a soldier can do: mount you before
another soldier is done. Say, Drink this soup made of human
blood. Say, The Korean race should be erased from this earth.
Tops down. Bottoms up. Things erased: your name, your
child, your history. Your new name: Fumiko, Hanako, Yoshi-
ko. Name of the condom: Charge Number One. Name of the
needle: Compound 606. Salvarsan means, an arsenic to save.
Ratio 291: 29 soldiers per girl. Actual count: lost. Lost: all.
Shot, shot, shot, everybody. Give thanks.