Cleaver's Form and Form-Breaking Poetry Contest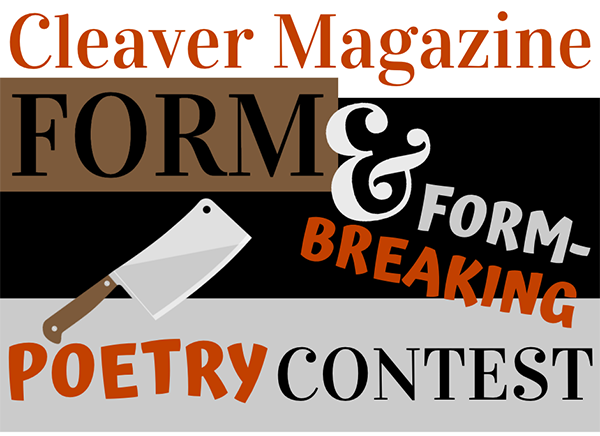 Deadline: March 31, 2023, 11:59pm Eastern US Time
Judge: Diane Seuss
$500 First Prize
$250 Second Prize
$100 Third Prize
Show us your poems that hold up the perfect iambic pentameter of a Shakespearean sonnet or crash it on the rocks of free verse. Show us a villanelle with textbook patterning or show us the villanelle who just crashed her car. Whatever the form, we want to see your poems that use form consciously, whether that's to execute them to perfection or execute their expectations. The one requirement is that your work engages with a form of poetry; whether it gets married to that form or breaks up at the last couplet is up to you.
The initial submission fee is $15 for 1-2 poems of up to 3 pages each, with an option to upload additional poems for $10 apiece.
No previously published work.
Winners will be announced in June. Prior to the announcement, all submitters will receive an email notifying them of any decisions regarding their work.
Prizewinners will be published in Cleaver's Fall Issue, September 2023. Finalists may also be offered publication.