An Incomplete List of My Wishes by Jendi Reiter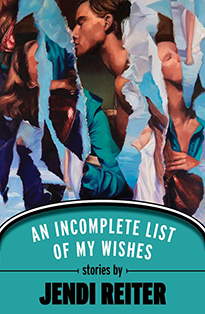 Winning Writers Editor Jendi Reiter's debut short story collection, An Incomplete List of My Wishes, is available from Sunshot Press, an imprint of the award-winning literary journal New Millennium Writings. An Incomplete List of My Wishes was a runner-up for the 2017 Sunshot Prize for Prose.
A middle-aged secretary finds unlikely common ground with the death row inmate who may, or may not, have murdered her daughter.
Superhero comics help a gay bar mitzvah boy cope with his discovery of his father's adulterous double life.
A suburban businesswoman learns how to grieve a long-ago bereavement through her strange attraction to the birthmother of the child she wants to adopt.
An elderly Russian professor crashes a stranger's wedding to prove that he is not losing his memory, inadvertently healing a decades-long rift between friends.
In these and other stories, Reiter explores the fraught relationships among queer and straight family members, the search for a post-traumatic spirituality, and the fine line between soulmates and intimate enemies.
The stories in An Incomplete List of My Wishes have won prizes from such journals as The Iowa Review, New Letters, Bayou Magazine, Solstice Lit Mag, and American Fiction. New York Times bestselling novelist Jacqueline Sheehan says of this collection, "Truth and humor are woven intricately, ripe with emotion and stripped down to the bone. You will read these again and again."
Read "Memories of the Snow Queen", a short-short story from this collection, at Grimoire.