Grayson Books Poetry Prize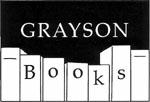 Deadline: August 15, 2018
This is open to all poets writing in English. Electronic submissions only. Use Submittable to submit your 50-80 page manuscript electronically.
The winner will be awarded a $1,000 prize, publication, and 10 copies. The reading fee is $25.
Please do not put contact information on the manuscript.
Simultaneous submissions are acceptable if we are notified immediately about an acceptance elsewhere. Acknowledgments may be included with your submission, but are not required.
Patrick Donnelly is this year's judge. He is the author of four books of poetry and the director of the Poetry Seminar at The Frost Place in Franconia, NH.
Please enjoy this poem by Sharron Singleton from her 2017 winning manuscript, Our Hands a Hollow Bowl.
Dostoyevsky and the Buddha

The World Will Be Saved by Beauty
Dostoyevsky

I was born into the world…for the salvation of the world
Buddha

Perhaps we'll be saved
by the beauty
in what is lacking
as emptiness
makes of our hands
a hollow bowl

or by the beauty
of the unsaid—
the note blown across
the mouth
of the empty bottle

by what is reduced
and waiting—
broth boiled down
to its hoard of gold

by all that is about
to be—

and suspended from the tap,
the drop
that swells with light
before it falls.