Grayson Books Poetry Prize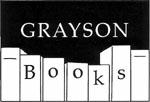 Deadline: August 15, 2016
The 2016 Grayson Books Poetry Prize is now open to submissions. This is open to all poets writing in English. Use the submission manager to submit your 50-80 page manuscript electronically or send your work in the mail with two cover pages (one with complete contact info, one with no contact info), reading fee of $25, and SASE for results to Grayson Books, P.O. Box 270549, West Hartford, CT 06127.
The winner will be awarded a $1,000 prize, publication, and 10 copies. Simultaneous submissions are acceptable if we are notified immediately about an acceptance elsewhere. See www.graysonbooks.com.
Benjamin Grossman will serve as judge. He has published several poetry collections as well as an award-winning chapbook. His most recent book is Space Traveler (University of Tampa Press, 2014). He teaches at the University of Hartford.
We are pleased to announce the publication of There Are Things We Live Among by Patrick Moran, the winner of our 2015 contest.