Grayson Books Poetry Prize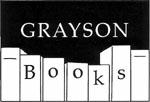 Deadline: August 15, 2020
The 2020 Grayson Books Poetry Prize is now open. All poets writing in English are invited to submit. Electronic submissions only, please. Use our submission manager to enter your 50-90 page manuscript. The winner will be awarded a $1,000 prize, publication, and 10 copies. Reading fee: $25.
Please do not put contact information on the manuscript. Acknowledgments may be included with your submission, but are not required. Simultaneous submissions are acceptable if we are notified immediately about an acceptance elsewhere. Multiple submissions are fine; each must be accompanied by a fee.
Brian Clements is this year's contest judge. He is the author of 15 print and digital poetry collections. His work also includes editing anthologies such as An Introduction to the Prose Poem and Bullets into Bells: Poets and Citizens Respond to Gun Violence.
Please enjoy this poem by Doug Ramspeck, our 2019 winner. It's from his collection, Distant Fires, published by Grayson Books this year.
Into the Curvature of Earth

We imagined, sometimes, that my brother
was swimming out to where there was nothing

but the tactile wheel of waves, the brine
and the wet. And in this vision he was slipping

forever into one more envelope of wave,
ranging farther and farther from his family

and friends. This was after he was out of prison
that first time, after he wouldn't respond

to any phone call or letter, and living,
we were told, in Twin Falls, Idaho,

with a pregnant addict. Often I sat
in my father's kitchen, and we discussed

my brother as though he had ventured out
into some choppy sea at night, the epithelial

moonlight so faint atop the waves it must
have seemed a dream. So when we learned

he'd been arrested once again, we imagined
the servitude of years as one more dark expanse

of liquid into which he was reaching with his arms.
And we pictured him ranging so far from shore

it was unlikely he was ever coming back,
but was leaning his weight into the rotation

of the planet, the centrifugal force of it
drawing him toward the world's lip.