Grayson Books Poetry Prize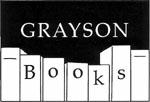 Deadline: August 15, 2021
The 2021 Grayson Books Poetry Prize is now open. All poets writing in English are invited to submit. Electronic submissions only, please. Use our submission manager to enter your 50-90 page manuscript. The winner will be awarded a $1,000 prize, publication, and 10 copies. Reading fee: $25.
Please do not put contact information on the manuscript. Acknowledgments may be included with your submission, but are not required. Simultaneous submissions are acceptable if we are notified immediately about an acceptance elsewhere. Multiple submissions are fine; each must be accompanied by a fee.
Rosemerry Wahtola Trommer is this year's contest judge. Her most recent poetry collection, Hush, won the Halcyon Poetry Prize, and her work has appeared in O Magazine, A Prairie Home Companion, PBS NewsHour, Poetry of Presence, and in her daily poetry blog, A Hundred Falling Veils. She cohosts Stubborn Praise, an online poetry reading series, along with James Crews, and cohosts Emerging Form, a podcast on the creative process.
Please enjoy these poems from Thief by our 2020 winner Jennifer Stewart Miller.
Because the pear tree

is as fluffy-white and absurd as a prize poodle,
and thunder clouds sidle into the blue sky like thieves;

because the maple's new leaves are as tiny
and perfect as the hands of a fetus,

and anyone can see that some toucans
lead secret lives as tulips;

because all the shades of green we've named are not
enough, and over and over we sow the seeds,

and peony buds bulge like bellies pregnant
with overdue babies,

while the lawn mower droning in the distance
aspires to be a hive of bees—

in spring, I should know better, but still—
I want to sink down on my knees.


Blizzard Aubade

All night long, the snowplows plowed up
our shawling dreams—my love,
we were scraped down to the road
and salted to sleep again and again.

What was frozen melted and froze anew,
and still it kept snowing—joys and regrets
piling up, drifting into corners and against
doors. Wind howled at our windows.

Like a woolly mammoth, morning lumbers
toward us. As it was long ago—thick wool
of forgotten eons—we drowse in our
downy burrow, bodies spooned, respiration

slowed. Our history is buried in snow.
What was human is only mammal now.