Two Sylvias Press: Online Poetry Writing Retreat for October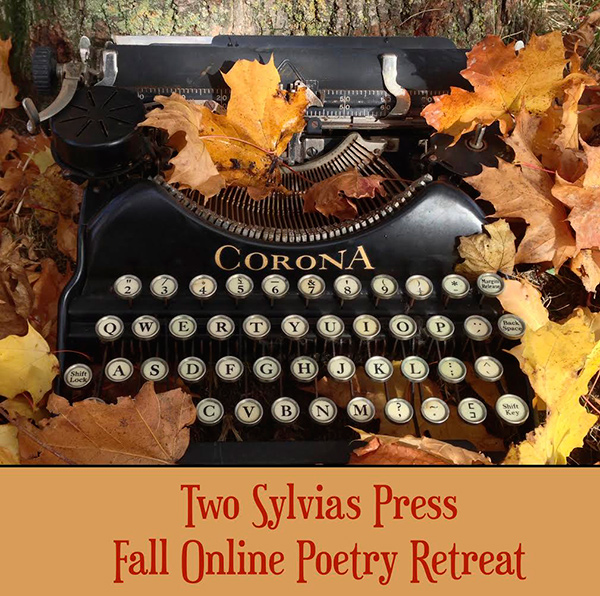 WHAT YOU NEED: Access to email and a desire to write new poems.
WHAT WE PROVIDE: Poem prompts, sample poems, a Two Sylvias Press publication, a PDF of Fire On Her Tongue: An Anthology of Contemporary Women's Poetry (a 377-page resource of some of the best poets writing today), as well as reflection questions/activities to guide and inspire. All prompts, writing exercises, and inspiration sent daily or weekly to your email (your choice!)
And at the end of the retreat, the editors at Two Sylvias Press will critique two of your poems and offer ideas on where to submit them!
Let Two Sylvias Press help inspire NEW poems throughout October
All levels of poets are welcome (from beginning writer to published author)
Praise for Two Sylvias Press Online Poetry Retreats
"The Two Sylvias Press Online Poetry Retreat was an absolute delight. Two Sylvias Press provided fresh, engaging prompts accompanied by captivating sample poems. In addition, they kept a steady stream of encouragement going for the duration of the retreat, which helped me move confidently into my manuscript feeling supported, connected, and valued. Their end-of-retreat critiques were insightful, specific, and thought-provoking. I highly recommend this workshop to anyone looking to approach writing with greater depth and joy."
—Catherine K.
Space is limited! Click here to register today to write poems with Two Sylvias Press in October.