Puro Chicanx Writers of the 21st Century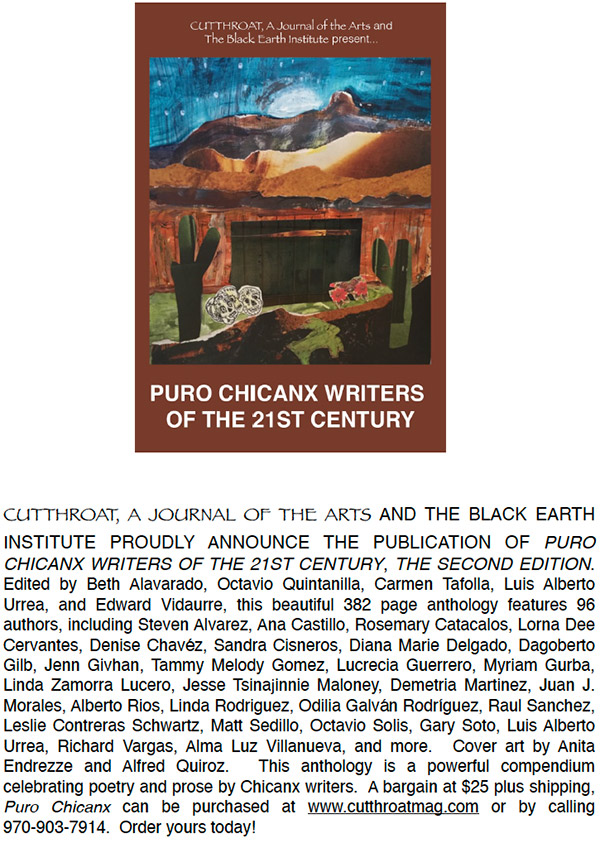 Please enjoy this excerpt from Juliana Aragón Fatula's review of Puro Chicanx that appeared in La Bloga on July 2:
"In this historic anthology, we meet poets, scholars, and la gente anxious to tell their stories. This irreverent, rebellious, inventive, rasquache, distinguished compilation contains poetry and prose by the talent of candid 21st Chicanx writers in the U.S. These writers offer an assemblage that will be used in Chicanx Studies, Ethnic Literature, Chicanx Literature, Creative Writing and Poetry classrooms, and writing workshops. Students in high schools and universities will benefit when this book is added to their literature curriculum to advance in education and lead the world in racial equality and cultural diversity, this book belongs in our schools and libraries. This anthology deserves every award and praise it receives. Lessons learned in these works lend the reader an eye to Chicanx culture often marginalized and undervalued.
"Many of these writers are Chicanx icons in the literary canon. They communicate their own distinctive attitude about impoverishment, social and health issues, and the necessity to educate our children to think one world, one people. They are warrior poets who weave the motherland's tapestry."