The Backwaters Prize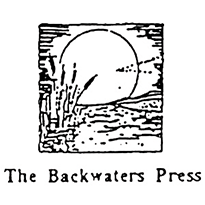 Submission period: April 1-May 31, 2016
The Backwaters Prize is an annual award, open to all poets working in the English language, given to the author of the best submitted manuscript of original poems. The prize is $2,000 cash and publication of the winning manuscript. Our judge this year is Henri Cole. We adhere to the CLMP code of ethics for administering a literary contest. Submit online through Submittable.
After a hiatus of some years, The Backwaters Press revived The Backwaters Prize in 2012. Our 2004 winner, No Accident by Aaron Anstett, also won the Balcones Award from Austin College for the best book of poetry published by a small press in 2004, the Nebraska Book Award for Poetry, and was a finalist for the Colorado Book Award for 2004. Our 2013 winner, Susan Elbe, was also awarded the Julie Suk Award from Jacar Press for 2014 for the Best Poetry Book published by an Independent Press.
We congratulate our 2015 winner, Kim Garcia, for her winning manuscript, DRONE. Final judge Heid E. Erdrich chose her manuscript from more than 200 submissions. Kim's book will be published in September 2016. Ms. Erdrich said,
"Kim Garcia's DRONE imagines the contemporary paradox of war in which we can pilot an 'unpiloted' aircraft. These compassionate poems reveal as much concern for our presumed enemies as for those listening and watching at a distance. We sense a great humanity behind this beautifully crafted book-length meditation centered on a woman's perspective on war."