Moment Magazine-Karma Foundation Short Fiction Contest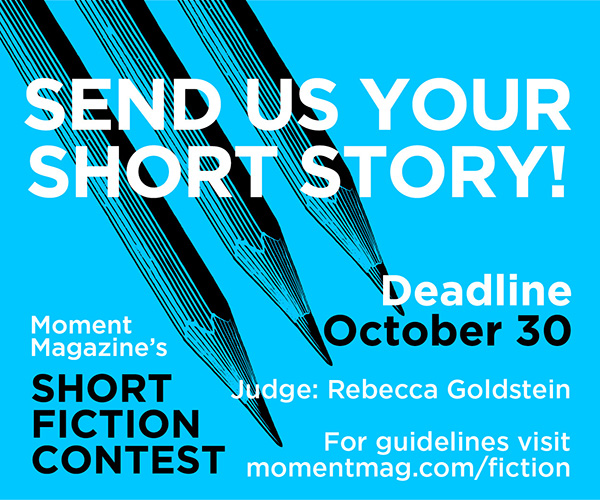 Deadline: October 30, 2023
The Moment Magazine-Karma Foundation Short Fiction Contest encourages writers to submit stories related to Judaism or Jewish culture or history.
Established in 2000, this contest has brought in distinguished judges and special guests including Joyce Carol Oates, Robert Pinsky, Walter Mosley, Nicole Krauss, Erica Jong, Jonathan Safran Foer, Geraldine Brooks, Andre Aciman and Dara Horn. This year's judge is Rebecca Goldstein.
The contest is now accepting submissions for the 2023 contest. For each entry, submit an original, unpublished short story—maximum length 5,000 words— with Jewish themes. Entry fee: $25. Moment will award up to three prizes, including $1,000 for first place.
"Winning the contest, and being treated so kindly by everyone from Moment, was as magical an experience as I've had. And to appear on the same bill as Andre Aciman, Debra Granik, and Joan Leegant—what a thrill! That Moment and the Karma Foundation, in the face of ever-dwindling interest in fiction—nay, in reading—continue to sponsor the Short Fiction Contest is a testament to those institutions' enduring belief in the written word, and I'm over the moon to have been recognized by two organizations so vital to Jewish culture (and culture, period)." —Jed Cohen, 2018 contest winner