Measureless Silence, poems by Cris Mulvey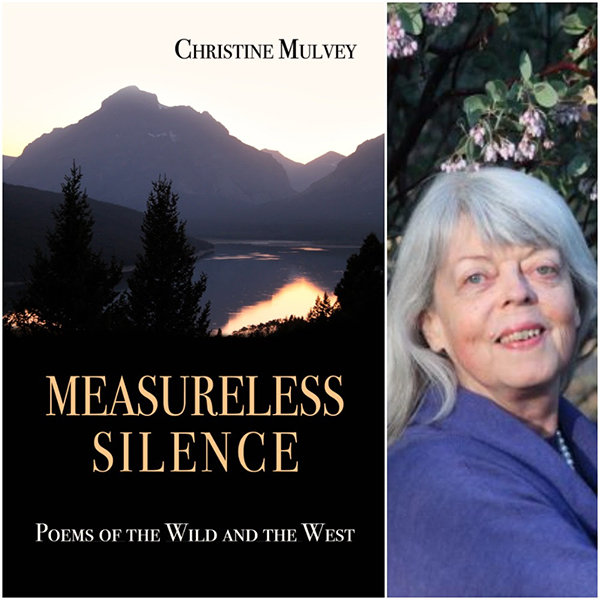 Cris Mulvey, the grand prize winner of our most recent North Street Book Prize, has just released her second chapbook of poetry with Finishing Line Press. She writes, "It is called Measureless Silence and brings together a collection of my poems about the Wild and the West." Proceeds from the sale of the book will be offered to the Glacier-Two Medicine Alliance, which works to protect and steward the lands, water, and wildlife of the Badger-Two Medicine, Glacier National Park, and surrounding areas of Montana.
"There is a music in these poems that works magic with the particularity of the images to create a whole body experience out of which willows, swans and bison rise as if from within our own being, untamed and untameable. In Measureless Silence, Christine Mulvey has composed a symphony of words that sings the wonder and devastation that is our world. Each poem is a summons, whether through the 'wrap of forest' or the harsh light of 'glitz and bling', to discover ourselves as the wild itself: pristine, ravaged, and innocent as snow, as wings, as wind."

—Kim Rosen, author of Saved by a Poem: the Transformative Power of Words
Available now! Order Measureless Silence for $14.99 plus $3.49 for shipping.
Please enjoy these sample poems:
TWO MEDICINE LAKE

Walking onto the frozen lake
beneath these chiseled mountains,
snow puff-powdering the purple air,

ravens rustling by carrying light
like a drink in the curve of their backs,
the ragged cry of their cackling

deepening the thrum of silence:
I am a pine seed stuttering
onto a stainless platter,

the air around me
the color of bluebirds' feathers
twirling into an ocean of sky.


FIR RIDGE

Come with me out to where the soft round shapes
of the fallen snow lie draped across the bushes like the thighs
and hips of a sleeping god curled up on the open bedspread of the land.

Here willow twigs stand frozen, furred by hoar
and under the diamond glint of the bowl of night the river,
black as molten pitch, whispers underneath its skin of ice.

In the silence, only an occasional flumpf of snow
falling from bare boughs, tinkling the air, or the mournful
honking of the swans calling from the lake the whole night through.

Here tell me the story of your lonesomeness, your unheard prayers!
And I will show you how, underneath that ridge inked like a koan
across this boundless white, a solitary bison ploughs his head

in big slow sweeps from side to side
knowing that six feet down
there must be grass.