Refugee, poems by Pamela Uschuk from Red Hen Press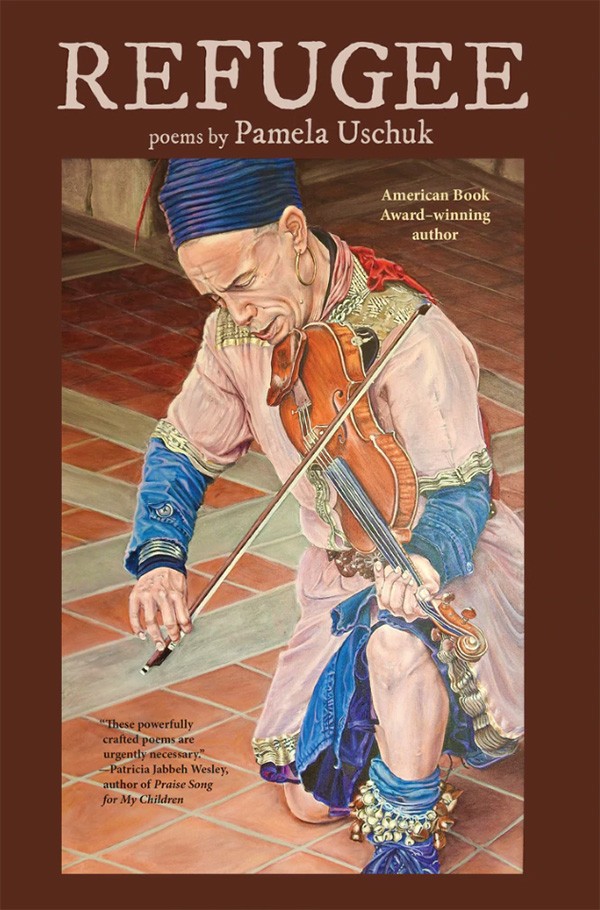 Refugee deals with refugees of many kinds—political refugees, refugees from racism, from domestic violence, from environmental destruction and disease, specifically cancer—and their stories of cruelty and courage, hardship, and hope to overcome the most daunting of circumstances.
Taking the reader across our country through the landscapes of Colorado, Tennessee, North Carolina, and Arizona, Refugee addresses the nature of seeking shelter. We are all refugees looking for a haven from whatever oppresses our lives. What constitutes a refugee is at the heart of the collection that confronts and explores xenophobia, sexism, gun violence, domestic violence, corporate greed, and their ties to environmental destruction and political and economic tyranny.
An ovarian cancer survivor, the author also writes about her own courageous confrontation with death. These inspiring poems call for a change in consciousness in the forms of action and compassion. They call for the reader to thrive. This collection is steeped in rich, sensual imagery that draws inspiration and healing from the natural world. Truth lies in recognition of the interdependence of all life. Refugee is an odyssey to find grace and unity in a besieged and divided contemporary American society.
PRAISE FOR REFUGEE

"A mordantly tender triumph rich with natural imagery."
— Starred Review in Kirkus Review of Books, November 11, 2022.

"the(se) poems elevate love, companionship, and community as the refuges in which we gather our strength and remember what in this world is so beautiful that it demands we fight for it. In a world where it seems there is nowhere left to run, Uschuk's Refugee offers more than just a vital shelter: it offers the road we need forward."
— Andrew Najberg, North American Review, Fall 2022

"Refugee reveals itself through a tapestry of well-crafted poems of urgency and the hope for meaningful change. Uschuk, winner of an American Book Award, here rejects the assumption that nature poetry is apolitical or unengaged with the social realm, instead asserting that climate crisis is inseparable from human crisis, domestic and international. She also rejects the myth of the solitary poet and draws on community, which she defines as an ecosystem of people, flora, and fauna. Through poems that powerfully render a world where individual action holds value and every life is one that matters, Refugee chronicles the many ways in which environmental and political disaster, cancer, and racism affect our ability to exist, live, and thrive."
— Tara Ballard, Rain Taxi, Summer 2022

"There is a position in yoga called 'the shining heart'. This is how Pam Uschuk has approached her poems in Refugee. Pam Uschuk is on fire. She has carried her song and vision across deserts and over mountains. Witness and beauty undivided."
— Luis Alberto Urrea, author of House of Fallen Angels

"With tenderness, expansive compassion, and profound gifts of radiant description, Pamela Uschuk considers so many ways people may be estranged and lost in this precious, difficult world. With brave ferocity, her poems in Refugee navigate new vision and reconnection, so desperately longed for right now and always."
— Naomi Shihab Nye, author of The Tiny Journalist