Two Sylvias Press Poetry Chapbook Prize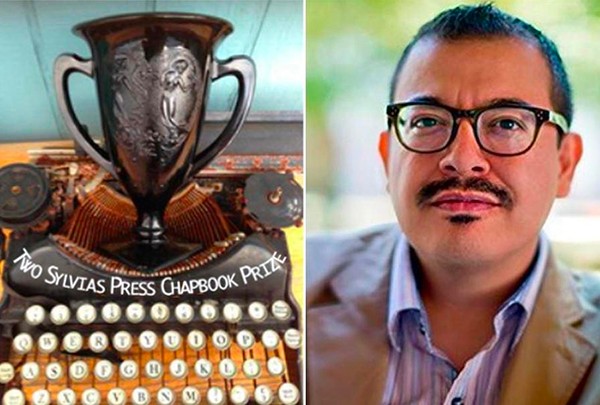 Deadline: May 31, 2023
Judge: Eduardo C. Corral, winner of the Yale Series of Younger Poets Competition
Prize: $500 and publication by Two Sylvias Press, 20 copies of the winning book, and an amethyst Depression-era glass trophy (circa 1930)
The Two Sylvias Press Chapbook Prize is open to all poets (previously published or not). Manuscripts should be 17-24 pages long. Simultaneous submissions are accepted. All manuscripts will be considered for publication.
Eduardo C. Corral is the author of Guillotine, longlisted for the National Book Award, and Slow Lightning, which won the Yale Series of Younger Poets Competition. He's the recipient of a Guggenheim Fellowship, a Lannan Foundation Literary Fellowship, a Whiting Writers Award, a National Endowment for the Arts Fellowship, and a Hodder Fellowship from Princeton University. He teaches in the MFA program at North Carolina State University.
Past Winners: Majda Gama, Saúl Hernández, Meg Griffitts, Cecilia Woloch, Jasmine An, Lena Khalaf Tuffaha, Hiwot Adilow, Stella Wong, and Christopher Salerno.
Created with the belief that great writing is good for the world, Two Sylvias Press is an award-winning publisher that has been featured in O, The Oprah Magazine, The New York Times Magazine, Forbes, NPR, and other noted outlets. Two Sylvias Press offers the popular National Poetry Month Writing Prompts and an Online Poetry Retreat created for writers who would like to generate new work with daily poetry prompts and creative inspiration. They also sell the nationally recognized Poet Tarot Guidebook: A Deck of Creative Exploration and the Weekly Muse, a project to help poets write and publish more poems.
Click here for full guidelines for the Two Sylvias Press Chapbook Prize
Thank you for your support of our indie press during this time! Looking forward to reading your poems!